Classic Chicken Divan – From Scratch!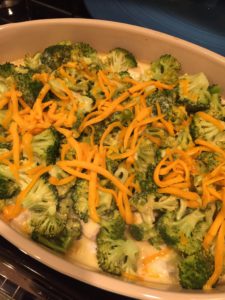 No "cream-of-Something", no artificial flavors, no preservatives – just creamy, tasty chicken goodness!  That's the secret behind this Classic Chicken Divan recipe I made the other night for friends.  I checked my freezer and had 4 nice chicken breasts, so a chicken divan casserole sounded perfect.  It bakes in the oven without a lot of fuss, so I can enjoy the guests while the oven does all the work.



I'd bought 4 large bone-in chicken breasts on sale at the market a while ago, and had been rolling around in my head what I wanted to do with them.  When I decided on Divan, I knew I'd have to de-bone and skin these breasts to make the recipe work.  When I do it, I just dig a finger into the bone at the base of the breast and give a good yank – when you know the right spot, you can pull it right off the bone.  Check out the video below for more help.
Chicken Divan from Scratch
No "cream-of-Something", no artificial flavors, no preservatives – just creamy, tasty chicken goodness! That's the secret behind this classic chicken divan recipe.

Total Time
1
hour
15
minutes
Ingredients
2

heads

Broccoli

sliced into bite-sized pieces

4

whole

Chicken Breasts, skinless, deboned

sliced into 1" cubes

1

tbsp

Vegetable Oil

for browning

4

tbsp

Butter

3

tbsp

Flour

1

cup

Chicken Broth or Stock

1/2

cup

Dairy (cream, 1/2 & 1/2, or plain yogurt)

1/3

cup

White Wine or Sherry

1

cup

Cheddar Cheese, shredded

stick with a young cheese, or the oil will separate out

1

pinch

Nutmeg

(Less than 1/8 tsp)

Salt & Pepper, to taste
Instructions
If you have a covered casserole (I love my Le Creuset for this!) that's ideal. Or spray a 9X13″ baking pan with oil.

Preheat the oven to 325F.

Steam the broccoli for about 4 minutes until it turns bright green. Set aside.

Saute the cubed breasts in hot oil until lightly browned. Do not overcook. Drain.

In a saucepan, melt the butter. With a wire whisk, stir in the flour, one tablespoon at a time. Let this roux ("roo") cook for 4 minutes or so, until it begins to brown and floury taste is gone.  

Slowly (it will be super-hot) add the broth to the roux, then the wine and dairy, whisking over low heat until the sauce thickens, about a minute.

Add a dash of nutmeg (and by "dash" it means "less than you can measure in your tiniest measuring spoon.") 


Stir in all but 1/4 cup of the cheese until it's melted and smooth. Add salt and pepper to taste (I used about 3/4 tsp of salt and 1/4 tsp pepper, but depending on the cheese and broth you use, you may need more or less.)


Place the cubed breasts in the baking dish. Top with broccoli. Pour the sauce over the top and add the remaining cheese. Cover with lid or foil and bake for 35 to 45 minutes – removing the lid/foil for the last 10.

Video
Notes
Here's a good video on de-boning a chicken breast.
I made some rice, using my remaining chicken stock for liquid, and sauteed some zucchini with lemon pepper for a side.  An easy dinner for four, and I was able to do it while having wine and conversation!
I love using my ceramic-on-steel casserole for making this dish.  There's no fussing with foil (whereupon I always burn myself trying to put it on/take it off).  The heavy lid works perfectly to keep the chicken moist, and when you want to brown the top a bit, you just take it off! Couldn't be simpler.  
And as always, leave me a comment or variation on this recipe.  It's always fun to see what others have come up with.