A while ago, I needed a dish to take to a gathering.  Potatoes seemed to fit with the overall plan, so I started researching and came across Hasselback Potatoes. But I wanted the Best Hasselback Potatoes. So I started to improvise.
I liked the idea of the Hasselback method – making thin slices in each potato so that the edges get crispy while the inside stays soft and creamy. But to make a family-size portion of those is such a chore! There had to be an easier way.
---
Read the Best Cooking Magazine Ever – Cook's Illustrated
---
So I decided to try a hybrid version of the Hasselback method. Instead of slicing only partway through the potato to create a fan, I would just pop them into my veggie slicer and slice them all very thin. Then after coating them with cream and adding the cheese, I could simply stack them upright in my baking dish and achieve the same effect – crispy edges and creamy middles – in one-quarter the time.
I coupled the technique with the best Hasselback potatoes recipe I've found, using tangy Gruyere cheese and plenty of cream.
With a little up-front preparation, this recipe is not hard to pull off, and the results are spectacular – both visually and in taste.
Make It Easy On Yourself
First, make sure you have a very large bowl to mix the potato/cream mixture. Your regular mixing bowl won't be enough – try a large popcorn bowl or the bowl you proof your bread in. It will make life a lot easier.
Another helpful addition would be a covered baking dish. I used my large Le Creuset enameled stoneware dish. First I peeled several potatoes and laid them out in the dish to gauge how many I would really need. They should pack pretty tightly to get the right effect.
If you have a food processor, that's great. I used my Mouli-style slicer and whipped through all the potatoes in just a few minutes. Once sliced, they go straight into your big bowl.
Get Your Hands Messy
When mixing the cream and cheese into the potatoes, just dig your hands right in and toss them around. You want each slice coated with cream. Then, once that's done, it's really easy to just stack a palmful of slices in your hand like a deck of cards and pack them around your dish, starting from the outside and moving inward. Be creative if you want! Just be sure the edges are sticking up, and pack them tight.
Having a covered dish will really help, as you need to remove the cover during the last part of the baking time.
---
Here are some good selections from Amazon:
---
Print Recipe
Hasselback Potato Gruyere
The perfect side dish for the holidays.  Creamy potatoes with crispy edges, in a tangy cheese sauce.  This simplified recipe is still all-natural, and sure to get lots of "oohs" and "aahs" at your next gathering.  
Ingredients
3

oz

Gruyere cheese

grated

2

oz

Parmigiano-reggiano cheese

grated

2

cups

Heavy Cream

2

med cloves

Garlic

minced

1

tbsp

Thyme Leaves

fresh

Salt and Pepper

to taste

3 to 3 1/2

lbs

russet potatoes

peeled

2

tbsp

Butter

Milk

if necessary
Instructions
Using a 2 quart baking dish, lay out your peeled potatoes in the dish to make sure you have enough to TIGHTLY pack the dish. If you're short, peel a few more.

Grease the baking dish (if you have a Le Creuset covered casserole, this is the time to use it – it's perfect.)

Using a slicer or food processor, slice the potatoes uniformly, about 1/8″ wide. Place the potatoes in a very large bowl – the biggest you have.  You'll need the room.

Combine cheeses, setting aside 1/3 of the mixture in a small bowl for later.

Add cream, garlic and thyme to cheese mixture. Add 1/4 tsp pepper and 1 tsp salt – or more to taste.

Add cream mixture to your large bowl of potatoes. Set the casserole close by. With your hands, toss all the potato slices until every surface is coated with the cream mixture. Separate the slices with your fingers to make sure.

Pick up a handful of slices and straighten them like you would a deck of cards. Gently press them vertically into the dish. The cream will help them stick together. Keep adding slices by the handful, starting at one end and working toward the other, packing them tightly in the dish. By the end, you'll be stuffing the slices in! Pull out any wayward pieces.

When you get to the little ragged bits, pour the remainder over the middle of the dish.

If needed, add a little milk to bring the liquid up to just under halfway on the baking dish.

Cover tightly with a lid or foil and back for 45 minutes. Remove the foil and bake another 30 minutes. Pull out the dish and sprinkle the reserved cheese mixture of the top and transfer back to the oven for another 20 minutes, or until top is golden brown. Let rest for about 10 minutes and serve.
Notes
I use my Le Creuset covered casserole dish for this. It's perfect to have something with a lid – when I use foil, I always burn my fingers getting it on and off – especially in a 400F oven!
If you enjoyed this recipe, why not try some of my others – like Oven Baked Macaroni and Cheese, or my Kansas Bierocks Recipe. Bake them ahead and stock your freezer for a quick meal.
Let me know how it turned out by leaving a comment below.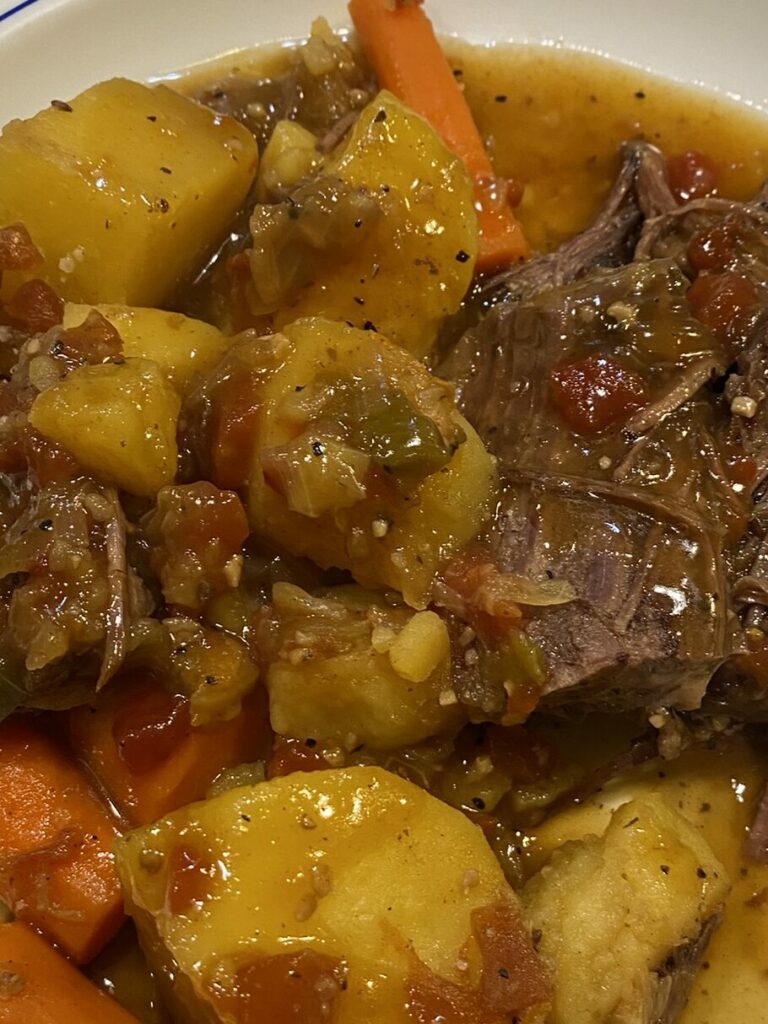 Instant Pot Chuck Roast from Baking Naturally! This pot roast recipe will become your go-to…