If you've never had a bierock (we pronounce it BEER-OCK in Kansas where I grew up), you are really missing a treat. This authentic Kansas Bierocks Recipe using ground beef comes from Ellis, Kansas, center of the Germans-from-Russia (Volga-Deutsch) settlements that sprung up all over Kansas and Nebraska in the 1870s.
The Volga-Deutsch Heritage
I am very proud of my Volga-Deutsch heritage. Frankly, it distresses me when I run into people from Kansas or Nebraska who have lost all connection with this history. My family migrated to America in 1876 from a small village near Saratov, Russia, on the Volga river, having lived there for over 100 years. The Germans were invited to Russia by Catherine the Great – a German herself – who knew that there were plenty of landless second-sons in Germany who would jump at the chance to start a new life with their own land. Unfortunately, as Russia was still struggling throwing off the yoke of feudalism, the Germans found themselves far away from home in a land that insisted on treating them like serfs.
---
Maybe you're interested in learning more about your own Volga Deutsch ancestry.  If so, here a good book to start:
In the mid-to-late 1800s, the Volga-Deutsch began migrating to America.  The Protestant branches settled mostly in Nebraska and places north, while the Catholics favored Kansas.  While they brought many local customs to the region (many of which are still visible today), they also brought hard, red winter wheat.  This variety was perfected on the cold steppes of the Russian heartland, and it changed everything about agriculture in Kansas.  Suddenly, where you had only one harvest, you could now have two!  (Today's farmers rotate fall-planted wheat with soybeans to rebuild the nitrogen content in the soil.)  This wheat has made Kansas the breadbasket of the world, to this day.
I mentioned the customs brought from Russia – and bierocks are one of these.  A bierock is a soft, slightly sweet bread roll, filled with ground beef (or sausage, or whatever-you-have), onion and cabbage or sauerkraut.  You can also add cheese, as I have.  In fact, you can pretty much add whatever you want – this is the kind of meal a family would prepare out of anything they had on hand.  The only must-haves are the cabbage and sweet dough.
Back in the 80s, I lived in Lincoln, Nebraska for about eight years, and there they have a fast-food place called Runza.  A Runza is simply a different version of this – made fast-food style. I recommend them, too.  If you happen to come across one, give them a try!
Why Use This Kansas Bierocks Recipe?
You can find easy bierock recipes on the internet that call for frozen Rhodes bread dough, or canned crescent roll dough.  Don't fool yourself: Those are poor imitations of the real thing.  And frankly, with all the thawing and rolling and messing with super-sticky frozen dough, you're better off just making your own dough the way you like it.  Further, my recipe calls for whole wheat flour.  This gives the bierocks a slightly nutty flavor that I find a bit heartier than all-purpose flour versions.
If you're planning on adding cheese, I recommend using something that will melt well, without separating into fat and protein.  You may love the flavor of an aged cheese, but the older a cheese is, the more likely you're going to get separation and a big oil slick on your baking sheet.  I tend to stick with good, young  monterey jack or colby cheese – but try a gruyere or provolone sometime!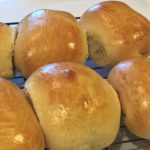 Print Recipe
Whole Wheat Bierocks with Cheese
You can find "easy" bierock recipes on the internet that call for frozen bread dough, or canned crescent roll dough. Don't fool yourself: Those are poor imitations of the real thing. And frankly, with all the thawing and rolling and messing with super-sticky frozen dough, you're better off just making your own dough the way you like it.
Ingredients
4 1/2

tsp

Active Dry Yeast

2 packs

3/4

cup

Sugar

plus 1 tbsp for yeast

1

cup

Warm Water

110F

1

tbsp

Salt

2

cups

Warm Milk

8

cups

Flour

I used 1/2 whole wheat and 1/2 unbleached organic all-purpose flour

8

tbsp

Melted Butter

2

lg

Eggs

plus one extra if you'd like to add a shiny egg-wash to the rolls

2

lbs

Ground Beef

I used 1 lb beef and 1 lb spicy sausage

2

Yellow Onions

chopped

2

lbs

Cabbage

about 1/2 a large head

2

cups

Grated Cheese

your choice (I usually use a mild cheddar)

Salt and pepper

I used 1 tsp salt and 1/4 tsp pepper.

1

tsp

Caraway seeds

the original calls for 1 tbsp, but I only use 1 tsp in mine.
Instructions
In a small bowl, combine yeast and 1 tbsp sugar.  Whisk in 1 cup warm water.  In another bowl, combine salt, warm milk and 3/4 cup sugar.

In a large mixing bowl, combine 4 cups of flour, melted butter and eggs.  Mix with paddle or spoon, then add yeast mixture and the milk mixture.  Mix to combine.  Add remaining flour, 1 cup at a time.  Switch to a dough hook when the dough gets too tough for the paddle – around 6 cups.  Using the dough hook knead the dough for about 8 minutes.  Or, turn the dough out on a floured surface and knead until dough is smooth and elastic.  Return to a large, greased bowl.  Cover with plastic wrap and let rise for 1 to 1 1/2 hours.
Filling
In a large pot (you'll need ALL the room!) brown the hamburger or sausage, leaving the fat.  Add the chopped onions and cook until translucent.  Add the cabbage and caraway, salt and pepper to taste.  Cook the cabbage al dente – not to mush, but still firm enough to resist your teeth a bit when you bite.

Add caraway.  It's a heavy-duty spice, so I cut it back from the original 1 tablespoon, but you can give it a taste before you use it and see if it's good for you.  You can also try some red pepper flakes for a little punch.

When the dough has risen, turn it out again onto a heavily floured board or surface.  You'll need to cut it into 24 somewhat even pieces.  I cut the big lump in 1/4, then stretched those pieces out and cut them into 6 pieces.  A little variation is fine.  Cover your pieces with plastic wrap while you work rolling them out. (I find rolling it all out and cutting round circles just doesn't work as well.)

Roll a piece of dough into a ball, then with a rolling pin roll it out to about 1/8″ to 1/4″ thick. Even at 1/8″ you'll have plenty of bread, so don't worry about making them too thin.  You should have a circle about 6″ in diameter.

Place 1/2 cup filling in the center, then top with 1 tbsp of cheese.  Pull up opposite sides of the circle and pinch them together.  Pull the OTHER sides together and do the same.  Pinch up the sides to seal all the way, fold all this under the roll and place that side down onto a greased sheet or baking pan.  (If you like, you can brush each roll with the egg wash – just beat one egg with a little water until it's a light yellow, then use a pastry brush to coat the top of each roll).

Bake the rolls at 350 for 25 minutes, until the rolls are golden brown.
Notes
Why whole wheat?  I enjoy the nuttier flavor as well as the added fiber.  It goes perfectly with recipes calling for stronger spices like caraway.  If you're looking for different fillings, check out my new post with spicy sausage or pizza stuffing!
If adding cheese, stick with the younger, softer varieties. Harder cheese can separate during baking, making your rolls really greasy.
You can serve immediately, or let them cool, store in plastic freezer bags and reheat them anytime. They keep very well in the freezer.
You can change up the ingredients to make your own favorite "Hot Pockets" at home.  I find about 2 minutes in the microwave heats them up perfectly for lunch.  See some variations in my post More Whole Wheat Bierocks!
Questions or comments? Please leave a note below and I'll respond right away.