More Whole Wheat Bierocks!
If you've ever bought the commercial-grade Hot Pockets brand snacks, you've had to wonder what was in them, right?  I mean – how can you put something in the microwave and never, ever know if it's going to be a pizza-cicle on the inside or molten cheese-lava?  It's positively diabolical!  And the ingredients?  I've seen fewer chemicals in my students' old chem lab experiments.  So to spare us all the agony of boiled palates and pickled innards, I'd like to show you how to make homemade hot pockets.



The basic idea is borrowed from my old Kansas bierock recipe – a soft bread outside with meat and cheese on the inside.  Nothing artificial, no preservatives – just chewy, meaty, cheesy goodness!
There are two parts to the recipe – the bread and the filling.  Starting with the bread, you can follow the recipe on my bierocks page if you would like to try the traditional Kansas version, or continue on and see some of the variations I've made.
Whole Wheat Bierock Dough
4 1/2 tsp active dry yeast (2 packs)
3/4 cup sugar, plus 1 Tbl for yeast
1 cup warm water (110F)
1 Tbl salt
2 cups warm milk
8 cups of flour (I used 1/2 whole wheat and 1/2 unbleached organic all-purpose flour)
8 Tbl melted butter
2 eggs
In a small bowl, combine yeast and 1 Tbl sugar.  Whisk in 1 cup warm water.  In another bowl, combine salt, warm milk and 3/4 cup sugar.
In a large mixing bowl, combine 4 cups of flour, melted butter and eggs.  Mix with paddle or spoon, then add yeast mixture and the milk mixture.  Mix to combine.  Cover with plastic wrap and let sponge for 1/2 hour, or until frothy.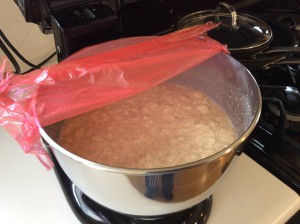 Remove the wrap and stir in the remaining 4 cups of flour.  Turn out the dough (it will be sticky) onto a well-floured surface.  Knead the dough, adding all-purpose flour until it's no longer sticky, but smooth and elastic – about 8 to 10 minutes.
---
 Why whole wheat?  I enjoy the nuttier flavor as well as the added fiber.
---
Spray the large bowl with cooking spray and place the kneaded dough in the bowl, turning to coat.  Cover with wrap and let rise for another 1 1/2 hours – or until double.  (Mine only took 1 hour).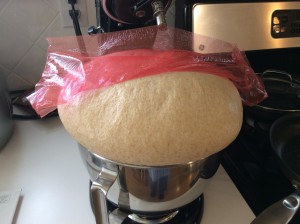 While the dough is rising and/or sponging, you can work on the fillings.  To be honest, I opened up the fridge and just looked around.  I had ground beef, ground sausage, two small blocks of cheddar cheese, and half a bag of Mexican cotija cheese (sometimes called Mexican parmesan.)  Perfect!  I'll make three different types of bierocks – a ground beef pizza, a spicy sausage Italian, and a ground beef, broccoli and onion with cotija cheese.
Ground Beef Pizza Filling
1 lb ground beef
1/2 onion, chopped
6 oz cheddar cheese, grated
2 tsp Italian spices or spice blend
1 tsp salt (if not in the spice blend)
dash of red pepper flakes
1 small can tomato paste (not sauce)
Brown the ground beef and onion until the onion is translucent.  Drain well.  In a small bowl, mix beef, spices, salt and tomato paste until blended.  Set aside.
Spicy Sausage Italian Filling
1 lb Italian sausage
1/2 onion, chopped
4 large mushrooms, sliced or chopped
6 oz cheddar cheese, grated
1/2 tsp of salt
1 small can tomato paste (not sauce)
Brown the sausage, onion and mushrooms until the onion is translucent and the mushrooms are softened.  Drain well.  In a small bowl, mix sausage, salt and tomato paste.  Set aside.
---

If you prefer to add or remove anything, go ahead!  I used what I had on hand.  Just be careful with anything with too much moisture – it can leak out of your hot pocket during baking.
---
 Broccoli and Cotija Cheese Filling
Cotija cheese is found in the cheese section, near the grated parmesan.  It has a more intense flavor than parmesan and is quite salty and dry – perfect for this recipe.
1 lb ground beef
1/2 onion, chopped
1 small head of broccoli, or 1 small thawed bag of frozen broccoli cuts
1/4 head cabbage, chopped
1/2 cup grated Cotija cheese
Salt/pepper to taste (the cheese is salty, so you won't need much)
1 tsp caraway seeds
Brown the ground beef, onion and cabbage until the onion is translucent.  In a bowl, mix the beef, cheese, salt, pepper and caraway.  If using fresh broccoli, blanch the head in hot water for about a minute before chopping.  If using frozen, DRAIN WELL on paper towels and set aside.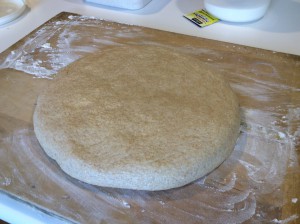 When the dough has risen, turn it out again onto a heavily floured board or surface.  You'll need to cut it into 24 somewhat even pieces.  I cut the big lump in 1/4, then stretched those pieces out and cut them into 6 pieces.  A little variation is fine.  Cover your pieces with plastic wrap while you work rolling them out.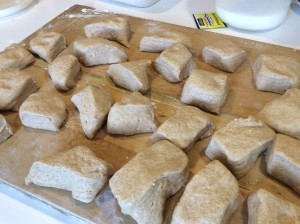 Roll a piece of dough into a ball, then with a rolling pin roll it out to about 1/8″ to 1/4″ thick.  Even at 1/8″ you'll have plenty of bread, so don't worry about making them too thin.  You should have a circle about 6″ in diameter.
Place 1/2 cup filling in the center, then top with 1 Tbl of cheese.  Pull up opposite sides of the circle and pinch them together.  Pull the OTHER sides together and do the same.  Pinch up the sides to seal all the way, fold all this under the roll and place that side down onto a greased sheet or baking pan.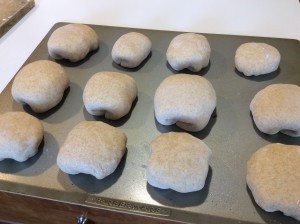 Bake the rolls at 350 for 25 minutes, until the rolls are golden brown.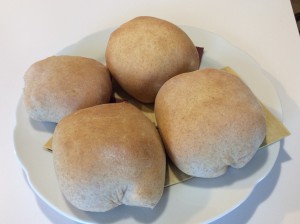 You can serve immediately, or let them cool, store in plastic freezer bags and reheat them anytime.  They keep very well in the freezer.
As always, leave a comment below.  I'd love to hear from you!