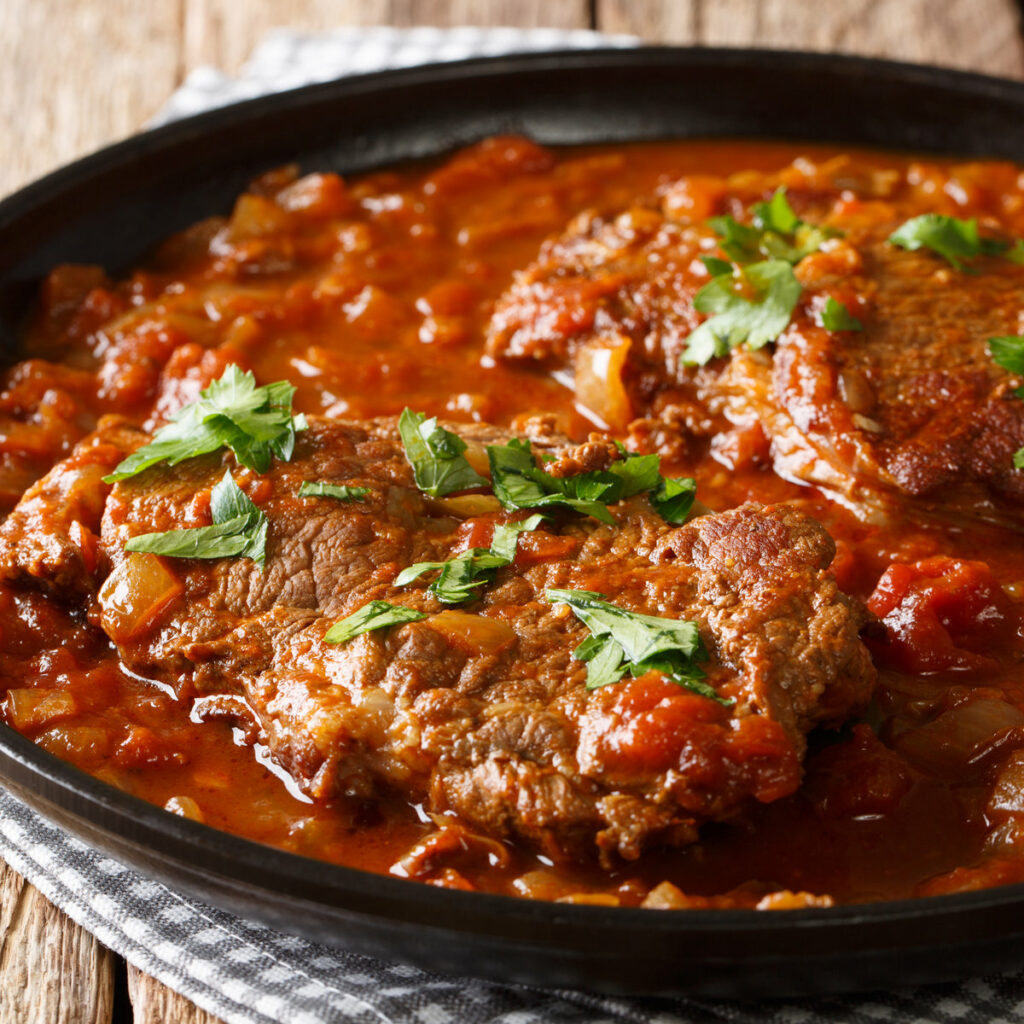 Cube steak is another inexpensive cut of meat that – with proper treatment, can yield a delicious meal for the whole family. (See also my round steak recipe for London Broil Recipe here). This Cube Steak with Red Gravy recipe is one my mom used to make all the time. With five kids to feed, it was a lifesaver . . . literally.
What is "Cube Steak"?
Cube steak (also known as "Minute Steak", depending on where you grew up) is a rather tough little cut of meat taken from the rump area. Because it's so tough, it's almost always pre-tenderized prior to packaging.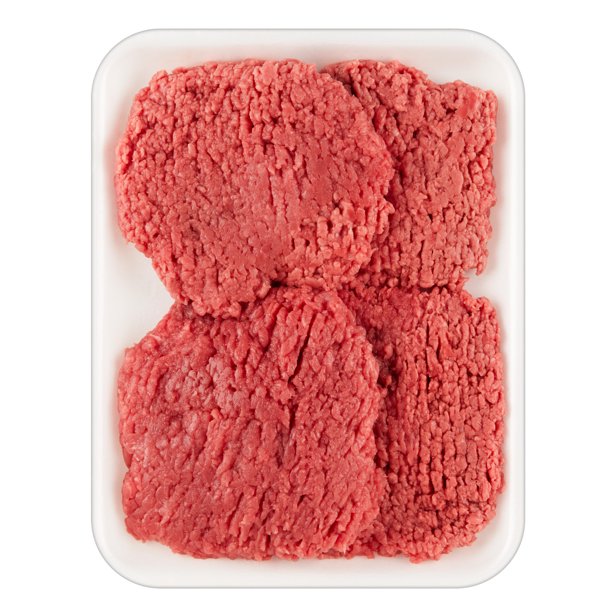 The tenderizing breaks up the tougher areas of this cut and makes it easy to cut and chew, making it a very versatile cut. Without tenderizing, the meat is often cubed (hence the name) and used as stew meat – a cut that requires very long cooking time to make it edible. But the tenderized version can be used in lots of different ways – for example, the ever-popular Chicken Fried Steak.
You can tenderize your own steak, if you want. Just purchase some fresh cube steaks and check out this video on how do to it. And if you're looking for the tenderizer – check out the Amazon link below.
Today, we're making CFS's cousin, Cube Steak with Red Gravy. It's just as southern, but I find it more fun and flavorful.
Tips for Cube Steak with Red Gravy
When it comes to cube steak, you just need a good browned surface. This carmelization provides a lot of flavor to both the meat and the gravy, so don't take it out too early. Pat the steak dry to avoid steaming, give it a good dredge on both sides and fry. Make sure your oil is shimmering hot.
If you have trouble with the crust falling off when you remove the steak from the pan, take extra care in drying the steak before dredging – or, you can dredge and then set the steaks on a rack to dry for an hour while you prepare the peppers and onion.
The red gravy is really up to you. There simply is no standard recipe for red gravy! It's all about your taste and what makes your family happy. I like to use an orange bell pepper and some Sambal chili paste in mine – I like the color from the pepper and the zing from the chili paste. But you can add dried red pepper flakes and green pepper if you want. Even mix it up with the wild variety of Mexican peppers out there! The sky's the limit.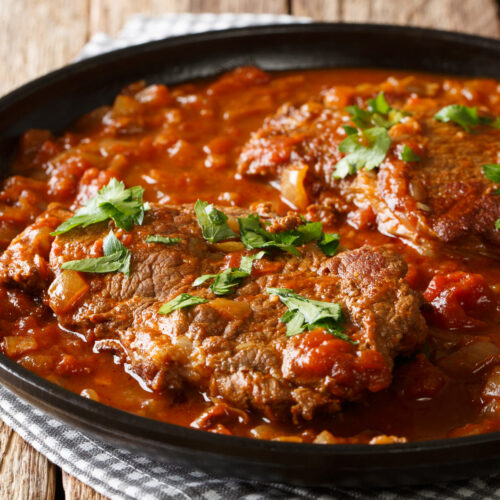 Print Recipe
Cube Steak with Red Gravy
Cube steak, pan-fried and smothered in a rich red sauce with tomatoes, peppers, onions and garlic. Feeds and army in just minutes!
Ingredients
2

lbs

Cube Steak

tenderized

1

lg

Yellow Onion

diced

1

lb

Pepper (green, yellow, or even poblano or serrano)

Seeded and sliced

1

15 oz

Crushed tomatoes

3

cloves

Garlic

minced

1

cup

Beef stock

I use "Better Than Bouillon" stock paste

2

tbsp

Vegetable oil

1

tsp

Sambal pepper paste

or 1/2 tsp red pepper flakes

1

tsp

Basil

Flour

Salt and Pepper
Instructions
In a large, heavy cast-iron skillet, begin heating vegetable oil on high to about 350°F

Prepare steaks by patting dry with paper towels.

Mix one half cup flour with 1 tsp salt and 1/2 tsp pepper. Dredge steaks in flour.

When the oil is shimmering hot, lay each steak in the skillet, laying away from your body to avoid spattering. Do not crowd – fry two at a time.

Fry steaks on each side for about 2 minutes on each side, until you see the edges turning golden brown.

Remove steaks to a dish. Reduce heat on the skillet. Add onion, pepper, Sambal paste and garlic. Saute while stirring for about 5 minutes

Add tomatoes, beef stock and basil. Simmer for 5 minutes, then add the meat with juices. Cover and simmer for 30 minutes.

Serve with mashed potatoes for the truly traditional dish.
Cube Steak with Red Gravy Deserves a Good Skillet
This One-Pan Meal is best prepared in a heavy, cast-iron skillet. Nothing gives a good hard sear on meat like cast iron. And cast-iron is something that will last a lifetime – so buy the best quality you can.
"Oh, but cast-iron is so hard to clean!" Nah. When seasoned properly, a cast-iron skillet can be just as non-stick as that chemical-coated thing you're using – and it won't wear out in a year or two! Check out this video on the Dos and Don'ts of Cast Iron Care (and YES, you can clean it with soap and water):
If you invest in a cast-iron skillet, I recommend these from Smithey Ironworks. They are made in the USA of quality materials, and they feature a highly polished surface, which will help you develop a natural non-stick surface after some seasoning time.
THE SMITHEY IRONWORKS DIFFERENCE
Smooth cooking surface. The entire interior of the Smithey skillet is machined smooth. That means food sticks less and it's a breeze to clean.
Optimal weight. Lighter than most, our 10.5-inch skillets tip the scales at 4.8 lbs for the perfect balance of heat retention and ease of use.
All natural. No toxic chemicals, no space-age materials, just iron.
Lasts forever. Treat your cast iron properly and it will last many lifetimes.
Just Click This Banner Below to Browse the Smithey Selections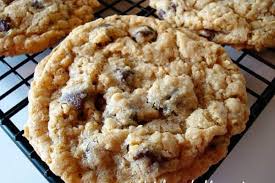 What is the secret to chewy chocolate chip cookies? Who doesn't like Chewy Chocolate Chip…