Instant Pot Chuck Roast from Baking Naturally! This pot roast recipe will become your go-to recipe for pot roast, especially when coupled with the ease and convenience of an Instant Pot. Tender, flavorful and best of all easy.
How To Select the Right Roast for Your Instant Pot Chuck Roast
You've probably browsed the meat section of your supermarket for a dinner roast and wondered Which of these is best for what I need?
When selecting a roast for the instant pot, slow cooker or oven, save your money and go for the less-expensive (but potentially tough) cuts of meat. Because you're cooking slowly or under high pressure, the cooking will break down the fibers that bind the meat together. This creates that pull-apart tenderness we expect with a properly cooked pot roast. And you don't need to spend a lot of money to get it.
Chuck roast is the perfect selection for this Instant Pot Chuck Roast recipe. You can often find these roasts marked down for quick sale, and they are worth every penny. In about an hour-and-a-half, with minimum fuss, you can serve a meal that will feed the whole family for a fraction of the cost of a frozen, tasteless pre-prepared meal.
While you're at the store, pick up some potatoes, carrots, an onion and a garlic bulb. When you're done, you'll have a delicious, one-pot meal!
Mies-en-Place to Make Your Prep Simpler
I find many cooks avoid dishes like pot roast because they think there will be a big mess to clean up afterward. But if you follow this order, you'll find you produce minimal mess, and most of it is tidied up before you start serving the roast!
Put the carrots and potatoes in a clean sink and give them a wash.
Prep the cutting board and have the onion and garlic nearby.
Slice up the meat into manageable chunks and salt liberally, then sprinkle with pepper.
Prepare your broth and put it in a small bowl with the Worcestershire, Ro-Tel and Liquid Smoke.
Mix the starch with water and set aside.
While you're searing the beef, peel the carrots and potatoes.
Chop the onion and garlic, then the potatoes and carrots.
When the beef is seared, place it on a plate and throw in the onions and garlic.
When they are done, throw in the bowl of broth mixture.
Place the beef and set the lid!
Now you have an hour to clean up the few things you've used and all you have left is the potatoes and carrots and the starch. Easy-peasy!
Speaking of easy, if you're looking for another quick tasty meal on a budget, check out my Cube Steak with Red Gravy.
The Secret Ingredients in Baking Naturally's Instant Pot Chuck Roast
Many pot roast recipes call for tomato paste or perhaps a can of diced tomatoes. From my travels, I've found a punchier alternative – Ro-Tel™ Diced Tomatoes with Green Chilies. Just one can will add the right amount of heat to your pot roast!
Additionally, I add a few drops of Liquid Smoke™. Liquid Smoke is an all-natural ingredient made from condensing the smoke from burning wood. It's not artificial – it's real smoke captured in a bottle. Liquid Smoke adds a depth to the roast that can't be created outside a campfire.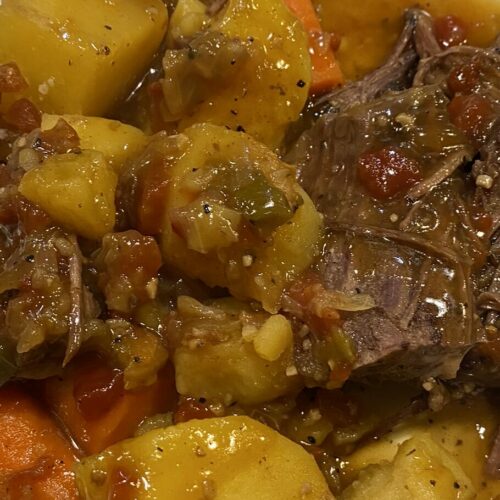 Print Recipe
Instant Pot Chuck Roast
Instant Pot Chuck Roast from Baking Naturally! This pot roast recipe will become your go-to recipe for pot roast, especially when coupled with the ease and convenience of an Instant Pot. Tender, flavorful and best of all easy.
Ingredients
3

lb

Beef Chuck Roast, boneless

2

tbsp

Vegetable Oil

1/2

cup

White Wine

optional

1

lg

Yellow Onion

quartered

4

cloves

Garlic

chopped

1

can

Ro-tel Tomatoes with Peppers

or 1 tbsp tomato paste

1

tbsp

Worcestershire Sauce

5

drops

Liquid Smoke

optional

1

cup

Beef Stock or Bouillion

1/4

tsp

Dried Thyme

8

med

Carrots

peeled and chunked

8

med

Potatoes

peeled and quartered

2

tbsp

Corn Starch

for gravy

Salt

Pepper
Instructions
Cut the roast in 2 or 3 pieces to make it easier to sear in the instant pot.

Salt all sides of the meat thoroughly. Sprinkle with pepper.

Set the Instant Pot to "saute" on Normal. Add vegetable oil just to coat the bottom. Once the oil is hot, add two pieces of the roast and sear – about 3-4 minutes per surface. Do Not Crowd! Once all the pieces are seared, remove the meat to a bowl.

Add the chopped onion and white wine (or water), deglazing the bottom of the pot to loosen and incorporate the browned bits. Add garlic and cook until onions are just beginning to turn translucent.

Add Ro-tel (or tomato paste), Worcestershire sauce, Liquid Smoke and stock or bouillon. Place the roast on top and sprinkle with thyme.

Set the Instant Pot lid in place and close the steam vent. Set the pot to pressure cook for 1 hour on high pressure. At the end of the timer, let the pot sit for 10 minutes, then release the steam.

Remove the lid and add the potatoes and carrots. Re-set the lid and pressure cook for another 5 minutes on high, again letting it sit for 10 minutes and releasing the steam after that.

Open the pot and remove the meat and vegetables to a serving dish. Mix the cornstarch with 2 tablespoons of water. Set the pot to "Saute" on high and whisk in the starch until cooked and thickened.
I Don't Have an Instant Pot – What Do I Do?
Here's my recommendation. Find it at Amazon: