You've probably come across packages of "Country Style Ribs" in your grocery.  If you're like me, you wondered "So, what's the difference between these and just regular 'ribs'?"  Well, they're not the same, and that means you need to prepare them a little differently than you would a regular rack of pork ribs.  This recipe for Oven Baked Country Style Ribs is super-simple, and produces a batch of fall-off-the-bone, juicy little meat-sicles.
Country style ribs are not really ribs, but are found closer to the pork shoulder.  They are sold bone-in or boneless, but this recipe works fine with either version.  They are a great bargain as far as meat goes – we find them on sale quite often.  And the flavor – well, the meat texture is very similar to rib meat (hence the name), and they cook up beautifully, with plenty of marbling for a juicy cut of meat.
This recipe focuses on the cooking technique, and leaves the variation wide open for you to experiment with.  Though it uses just salt, pepper and some BBQ sauce, you can change it up however you prefer.  Perhaps a dry rub on the ribs during the first baking?  An herb spice mix?  You could carmelize the meat with any sugar-infused substance during the last hour for a unique take on this very versatile cut.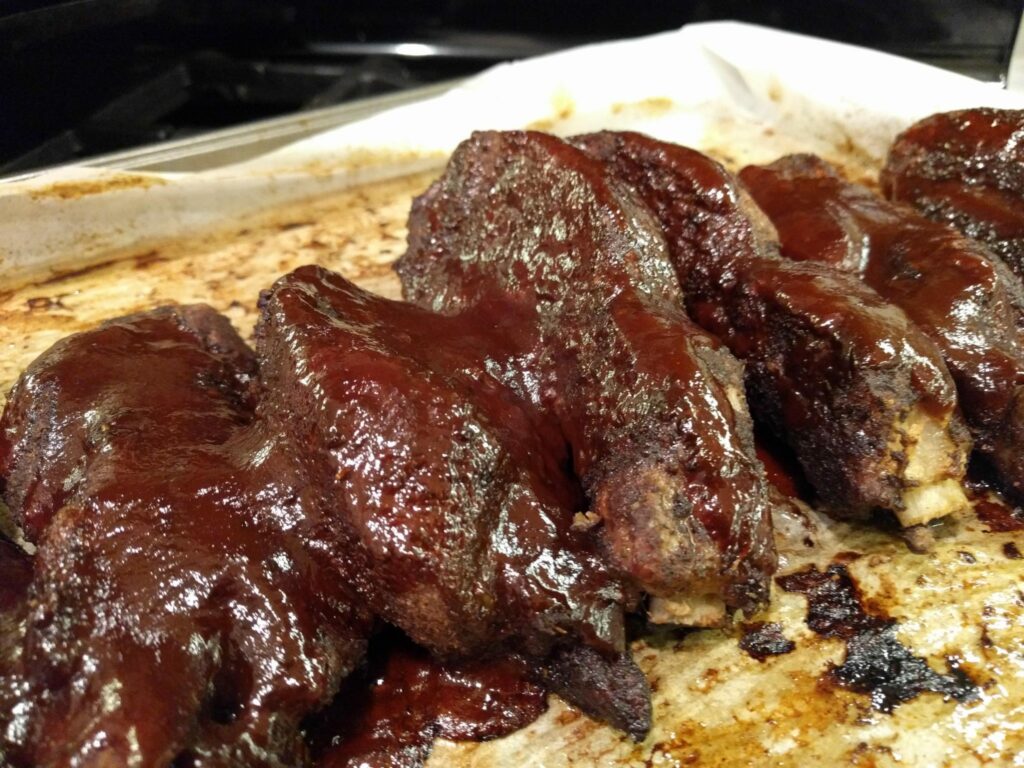 (Looking for another delicious pork dish to serve? Try my Santa Fe Style Carne Adovada!)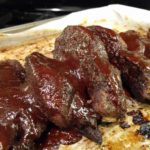 Print Recipe
Oven Baked Country Style Ribs
This cut of meat deserves it's own special treatment.  Oven Baked Country Style Ribs will turn out tender and juicy every time, and could not be simpler to make.  Try your own variation with the spices and sauce!
Ingredients
2-4

lbs

Country Style Pork Ribs

bone-in or boneless

Salt and Pepper to taste

1

cup

Barbeque Sauce

your choice
Instructions
Preheat oven to 300F.  Line a roasting pan base (not the rack), with aluminum foil.  Set the rack aside – you'll use it in the last hour.

Rub salt and pepper on ribs and place them in the lined roasting pan, fatty-side up.  Cover the roasting pan with foil and seal tightly.

Bake for 2 hours at 300F.  At the 2 hour mark, remove from the oven and take off the foil cover.  Move the ribs to the roaster rack and place that back on the pan.  

Lower the oven to 275F.  Coat the ribs liberally with your favorite sauce and place them back in the oven for another hour.

To test for doneness, using the back of a fork, press down on a rib portion.  If you see the meat separating from the bone or pulling apart from itself, they're ready.  If not, let them go another 30 minutes or so.  

Remove from the oven, brush with another dash of sauce and serve.
Check out the great selection of spice blends at Savory Spice:
Questions or Comments? Leave me a note below!