One of the most intimidating things about cooking an international dish like this Santa Fe Style Carne Adovada is recognizing the variations in ingredients.  Dwaine and I will often walk around a grocery in Puerto Vallarta and marvel at the enormous variety in vegetables they have compared to our paltry selection here in Denver.  Dozens of chilies, all shapes, sizes and colors, as well as cactus and root vegetables that we can't possibly recognize.  I've often wished for a tour guide to take us through the produce section so that we could know what everything is and how it's used!
I did find a few websites that have proven helpful over time:
The Fruit and Vegetables of Mexico – a good, basic primer with some photos.
A Guide to Mexico's Different Fruits and Vegetables and How to Use Them – much more comprehensive and in-depth.
12 Essential Chili Peppers for Mexican Cooking – this one is super helpful for knowing what you're looking for at the market.
For this recipe we need just two, very common Mexican chilies – Caribe and Chamayo.
Here is a caribe chile: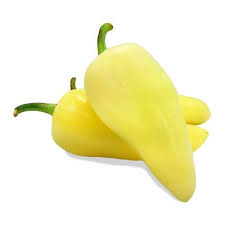 On their own, caribe peppers are pretty fierce, a 7/10 on the heat scale.  But we're only going to use 1 for some heat.  Be careful when working with this pepper!  Wash carefully after slicing and don't rub your eyes.
New Mexico and California (Anaheim) peppers are a staple here in Colorado.  The New Mexico version is sold along roadways every season under the "Hatch" name (though there is no such thing as a "Hatch" chile.  It's merely an indicator of where they are grown).  They are a mild pepper, and can be found in red and green varieties.  For this recipe, we need about 8-10 of the dried, red New Mexico chilies.  You'll find them like this:
In this recipe, you'll steep these chilies in hot (not boiling) water for about 30 minutes, then pull off the stem and slip your finger or thumb inside to scrape out the seeds and inner veins (the more you leave behind, the hotter the sauce will be!)  No need to remove the skin.
---
---
For the protein, you'll usually find this made with inexpensive pork butt, and that's what I recommend – though you can use pork chops in a pinch.  I find they come out a bit dry for my taste.
Otherwise, the recipe is very simple and great with rice, beans and tortillas!  Perfect for Cinco de Mayo feasting. Enjoy!
(And if you're looking for another good meat dish, try my Easy London Broil Recipe.)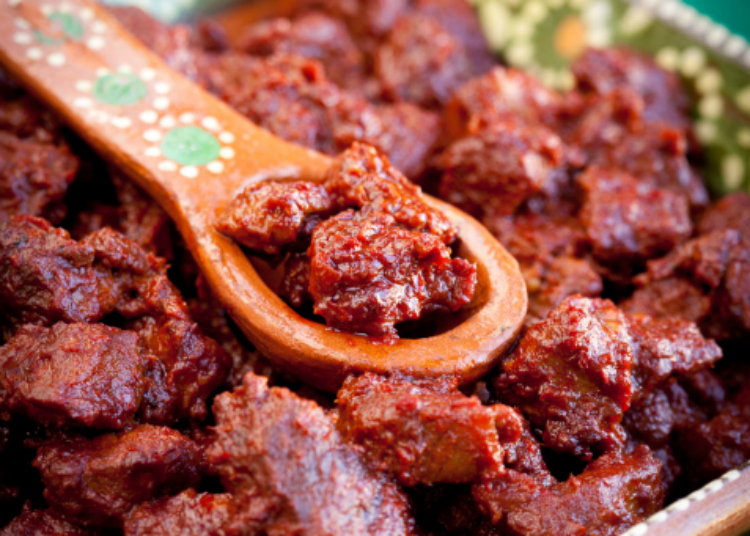 Santa Fe Style Carne Adovada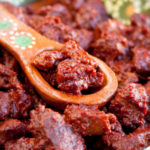 Print Recipe
Carne Adovada (Adobada)
Just in time for Cinco de Mayo here in the States, this Carne Adovada (sometimes spelled adobada), is a spicy, tangy, but not-too-hot Mexican pork dish.  Found in almost any Mexican restaurant, the recipe varies wildly.  This is a Santa Fe version, using mild caribe and Chamayo chile for a smoky flavor.
Ingredients
1/3

cup

peanut or vegetable oil

3-1/2

lbs.

pork loin or butt

sliced thin or cut in 3/4-inch cubes

2

cups

diced onion

2

tbsp

minced garlic

4

cups

chicken broth or water

2

tsp

ground coriander seed

2

tsp

dried Mexican oregano

1

med

chile caribe

sliced and seeded

8-10

dried

Red New Mexico or California chilies

2

tbsp

Red Wine Vinegar

salt to taste
Instructions
Preheat the oven to 350°.

Heat the oil in a large skillet and brown pork in small batches. Set the pork aside. Add the onion to skillet and sauté until golden. Add the garlic and sauté for 1 minute. Deglaze the skillet with 1 cup of the chicken broth, loosening the browned bits with a spoon.

Wash, stem and seed the caribe chile.  Be very careful to wash your hands afterward and do not touch your eyes!

Place the coriander, oregano, chile caribe, New Mexico chilies, vinegar and salt in the workbowl of a food processor or blender. Add the cooked onions, garlic and broth from the skillet and 2 more cups of chicken broth. Process until the mixture is thoroughly combined.

Place the browned pork, the chile marinade and the remaining 1 c. chicken broth in an ovenproof pot or dish, stir to combine well, and cook for 1 hour or until the pork is tender.
Notes
Caribe chilies are high in acid, so wash carefully after handling.
Do not use boiling water to reconstitute New Mexico chilies, as it can make them bitter.  Steep them in hot water instead.
Serve with warm tortillas, rice and beans.  
If you have other tips, or a different version of this recipe, please share it below. The varieties are as vast as the number of chilies on earth!