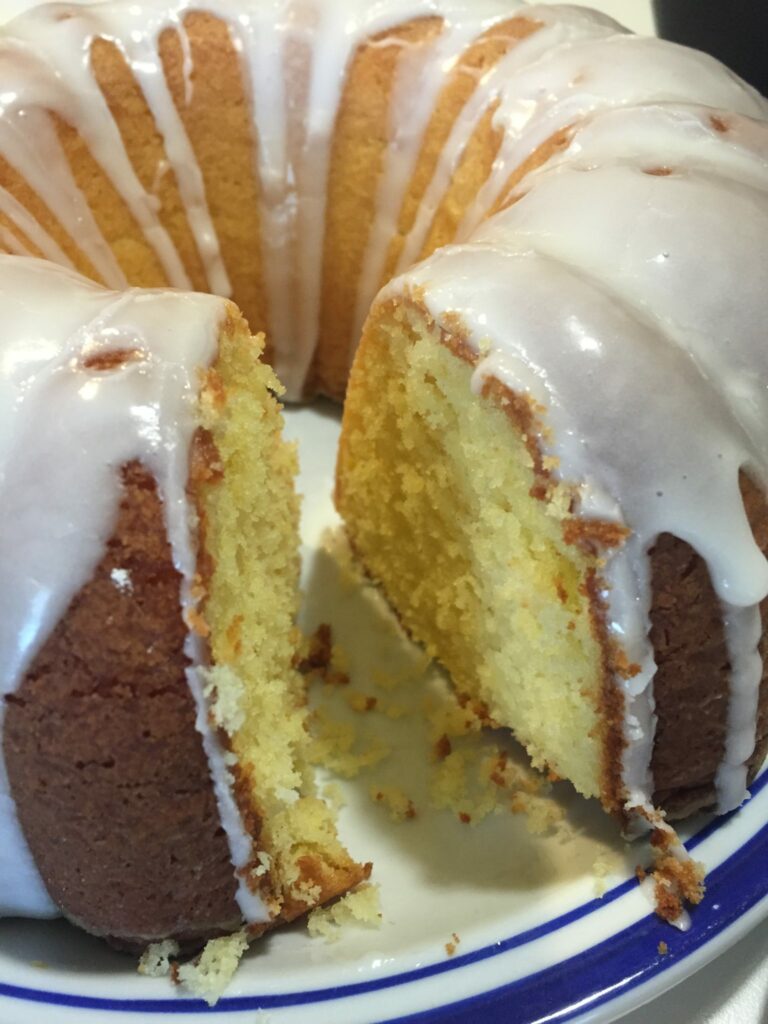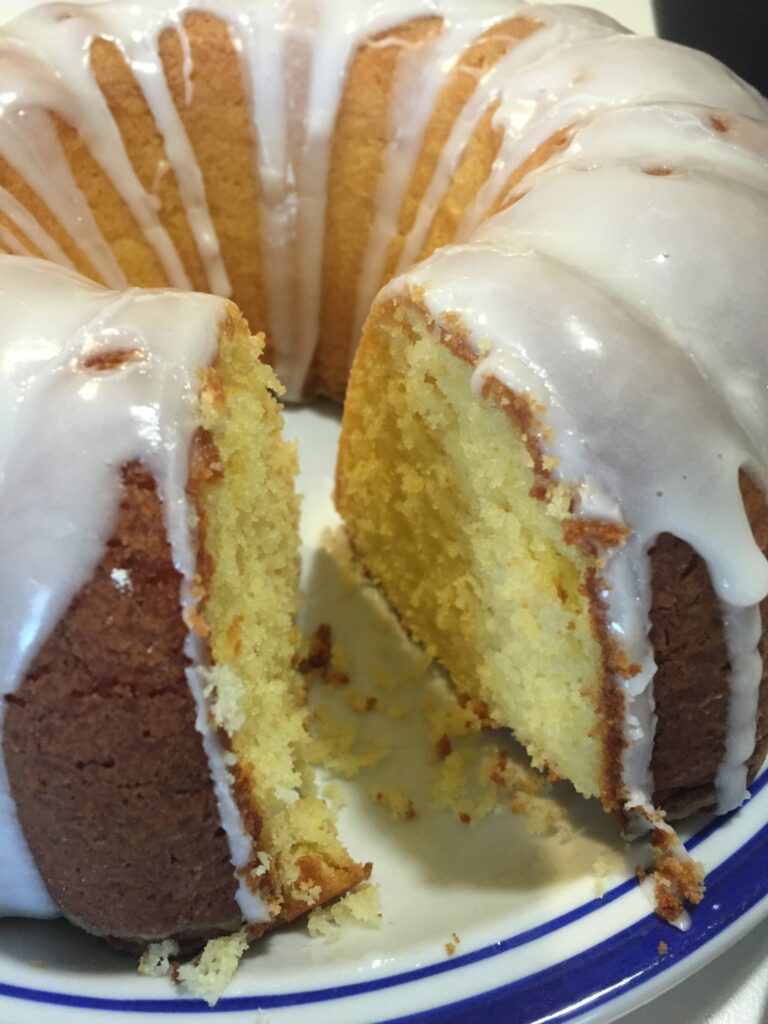 Here's an old-fashioned homemade lemon pound cake recipe that is not at all difficult and the results are spectacular!  With all the butter, fluffy egg whites and sweet natural sugar, no one can resist a homemade lemon pound cake.
Why "Pound Cake"?
"Pound Cake" originated with early American colonists.  The recipe calls for a pound of all the important stuff – butter, flour, eggs and sugar.  They didn't use leavening in this cake originally, just beat the egg whites and folded them in for a fluffy cake.  To this batter they would add whatever other goodies they had on hand – poppyseeds, or if they were lucky, some preserved lemon or orange rind.  It was a delicious treat then, and it's the same today.
This recipe is about as "old-fashioned" as you can get – still calling for the "1-pound of everything," and beating the egg whites.  It does use just a LITTLE bit of baking powder.  Otherwise, it's the same recipe as that from the 1700s.  Give it a try . . . you'll enjoy it just as much as our ancestors here in America.
(And for another delicious cake recipe, try my Old Fashioned Coconut Cake recipe!)
A Few Tips on This Homemade Lemon Pound Cake
This cake calls for the zest of two lemons. If you don't know how to zest a lemon, no worries. Just follow this video for some great advice:
This cake doesn't depend entirely on baking powder to create lift and lightness. Instead, it uses the air from whipped egg whites. Because of this, you want to be very gentle with your whipped whites when mixing them into the batter. Fold in the whipped eggs whites on the lowest setting of your mixer, or fold them in by hand.
Why a Bundt Pan?
With a dense batter, you need to allow heat to circulate into the inside of the cake a little more than with regular batter. A Bundt pan does just that.
You may be tempted to use an Angel Food cake pan, but I advise against it. Angel cake pans are usually not non-stick, because the batter has to be able to climb high up the pan. You could easily end up with your beautiful cake stuck to the sides and bottom.
Check out these selections for Bundt pans from Amazon: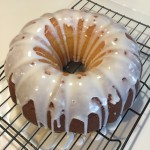 Print Recipe
Homemade Lemon Pound Cake
Here's an old-fashioned lemon pound cake recipe you can make from scratch. It's not at all difficult and the results are spectacular! With all the butter, fluffy egg whites and sweet natural sugar, no one can resist a homemade lemon pound cake.
Ingredients
Cake
9

lg

Eggs

room temperature, separated

3

cups

All-purpose Flour

1

tsp

Baking Powder

1/2

tsp

Salt

2

cups

Sugar

divided

2

cups

Butter

softened to room temp

2

tsp

Vanilla

Zest from 2 lemons

Juice from 2 lemons
Topping
1 1/4

cups

Powdered Sugar

2

tsp

Lemon Juice

2

tbsp

Milk
Instructions
Preheat oven to 350 F (for high-altitude instructions, see below.) Grease and flour your pan(s). You can use one LARGE tube pan (like an angel cake pan), a Bundt pan, or two loaf pans. If using the Bundt pan, you'll probably have a little batter left over. I threw mine into 6 cupcakes.

Whisk together flour, baking powder and salt – set aside.

In a mixing bowl, beat the egg whites at high speed until foamy – about a minute to a minute and a half. Add 1 cup of the sugar, 1/4 cup at a time, and beat after each addition. Beat the eggs until soft peaks form when you lift the beaters (peaks will rise from the foam, but will slowly drop back down). Scoop the whites into a separate bowl and set aside.

Now, add the YOLKS to the mixing bowl, along with the remaining 1 cup of sugar, butter, vanilla and lemon juice. Beat that mess until fluffy – about 4 minutes.

Beat in the flour mixture at low speed until smooth and combined. Gradually beat in the egg white mixture and lemon zest at the lowest speed, just until blended (if you have the patience, you can manually fold in the whites for the lightest texture – but I found beating them in slowly works just as well).

The batter will be thick. Scoop it into your pan(s) and even it out a bit. Bake the loaf pans for about 60 minutes, testing at 50. The top will almost certainly crack (I've never made one that didn't, at this altitude). Be sure to test within the crack to see if the batter has just set and the color is a solid golden-brown. The tube and Bundt pan may take a bit longer.

Let the cake cool for about 10 minutes, then flip out of the pan(s) and cool completely.
Toppings:
I used a simple glaze mixed from 1 1/4 cups powdered sugar, 2 tsp lemon juice and 2 Tbl milk. I put a sheet of wax paper under the cooling rack to catch any glaze that dripped off as I drizzled it over the cake. (I used this with the extra cupcakes I had – I hate waste!)
Notes
Alternately, you can dust the top with a little powdered sugar and serve it with fresh berries.
High-Altitude: Because there's so little leavening in this cake, the only changes I made were the following: Increase oven temp to 375 F and decrease bake time to 45 minutes. Pull 2 Tbl sugar out Add 2 Tbl flour
Get the Best Flavor for Your Homemade Lemon Pound Cake
To get the best flavor from your cake, you need the best ingredients. I find the best flavorings from Savory Spice.
Pure Lemon Extract, Natural Flavor for Bak…
Our Pure Lemon Extract smells like a fresh-picked lemon and has a clean, fruity flavor. It tastes so good because only the very best pure lemon oil is used. [More]
Let me know what you think, leave a comment below.