Raspberry Thumbprint Cookies
Dwaine and I make our own black raspberry jam.  He learned how from his mom back on the farm, where they would grow black raspberries every year, harvesting them in long-sleeve flannel shirts to keep from getting sliced to ribbons on the thorns.  The family finally convinced her to submit her jam recipe to the county fair, where she won the blue ribbon for best raspberry jam!  I remember seeing it, hidden in a drawer.  She was a very modest woman.
Dwaine worked with her many times making jam, which is more of an art than merely a recipe.  He transplanted several black raspberry vines here, and now we collect them each year.  So, with all this jam in the house, finding good recipes to use it has fallen to me.
One that's always a hit is this Raspberry Thumbprint Cookies Recipe. They are colorful, not too sweet, crispy on the outside and just a bit chewy on the inside. Plus, they are really easy to make once you follow the hints here. Raspberry Thumbprint Cookies are perfect for any occasion – simple enough for a picnic but fancy enough for a gold-plated holiday party.  I scoured through several recipes to find the one that worked most consistently and  produced the right balance of sweetness and chewy texture.
Some caveats if you're looking for a good recipe:  Some recipes call for rolling the dough in sugar prior to pressing out the depression.  If you do this, you'll need to fill the depression with jam after taking them cookies out of the oven.  If you do it before, the jam will bleed into the sugar producing a less-than-attractive cookie.  (Experience talking).  Personally, I don't think you need the sugar coating at all.
Parchment paper on the cookie sheet is important – they can stick and again, scraping them off will ruin your nice cookie.
Some recipes call for no leavening agent at all – no baking powder, no baking soda.  Baking soda alone will do nothing in this recipe – there's no acid to react with it, so forget those recipes altogether.  I do use a small amount of baking powder, as I found the ones without leavening baked up harder – even leaving a uncooked flour taste.  They looked pretty – which seems to be the only criteria for Pinterest recipes.  But they were a 4/10 on the taste scale.
And finally, many recipes call for just the yolk in the egg, or maybe two yolks.  I use one whole egg and didn't notice any difference at all.  This meets my "I Hate Waste" criteria.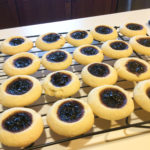 Print Recipe
Raspberry Thumbprint Cookies
Tried-and-true recipe that produces a crispy outside, chewy middle, and a very attractive appearance.  I use raspberry jam (and no, you cannot substitute jelly).  But any thick jam will do.  Mix them up for a rainbow effect!
Ingredients
1 3/4

cup

All-purpose flour

1/4

tsp

baking powder

1/2

tsp

salt

2/3

cup

sugar

1

tsp

vanilla

3/4

cup

butter

1/2

cup

raspberry jam

or other flavor

1

lg

egg
Instructions
Preheat oven to 350F.  Line cookie sheets with parchment paper

In a medium bowl, whisk together the flour, baking powder and salt.

In a large bowl, beat the butter and sugar together until fluffy – about 5 minutes.  Add vanilla and egg and beat to combine.

Add the dry ingredients to the butter mixture in 3 parts, beating gently just until the flour is incorporated.  

With your hand, grab the dough and roll it around a bit to make sure all the dry ingredients are combined.  You should have a soft lump of dough.
Prepare the Cookies for Baking
This process will go quickly if you prepare before you dive in.  Have your prepared dough and lined cookie sheet nearby.  Find a flat tablespoon measure – one that you can scrape level against a bowl (see photo).  Fill a 1/4 measuring cup about 1/2 full of flour.  Open and stir the jam so that it can drop from a teaspoon.  Now you're ready.

With a flat tablespoon, scrape up a tablespoon of dough, leveling it against the bowl. Peel it out with your fingers and roll it into a ball. Drop the ball on your cookie sheet. Immediately press a depression into the ball with another, smaller round half-teaspoon (see photo).  Place the small spoon into the flour, giving it a good coat.  This will make it easy to release in the next cookie.

Leave about 2″ between cookies.  They do spread a bit.  

If you wait to make the depressions, the dough will dry out and you'll get cracked cookies. 


When the sheet is full, fill each depression with about 3/4 tsp of jam.  I use a simple table spoon – it slides off easier.  

Bake the cookies at 350F for 15 or 16 minutes – just until you can see some golden color along the bottom edges.  Remove from oven and cool on the sheet for about five minutes, then cool on a rack.

Store tightly sealed.  They will dry out very quickly, so to retain the moist chewiness don't leave them out!
High-quality ingredients make all the difference in a recipe like this, with so few ingredients overall. Why waste all your effort by using tasteless imitation vanilla? Use the good stuff – Madagascar Vanilla from Savory Spice!
Vanilla Extract Pure Madagascar – 4 floz B…
After extensive product testing we offer you what we believe to be the superior single strength, pure vanilla available today. The standard for this single strength is 100 beans per gallon to assure you only the best vanilla flavor. Perfect for cakes, cookies, custards, frosting, meringues and puddings. As with all our vanilla extracts, this product is gluten-free.[More]
Did you try the recipe? Make any other variations? I'd love to hear from you.