If you want high-rising, soft fluffy whole wheat bread from your bread machine, don't follow the instructions.
Your machine probably came with a little recipe book, telling you how to make various loaves with your machine. And sometimes they might work. But in my experience, they just don't. The loaf comes out way too dry or far too dense. And if you're trying to use any amount of whole wheat in your bread machine, just throw the booklet away, because you'll never get it right. Baking with whole wheat requires a few tweaks that a bread machine just can't handle on its own.
This Bread Machine Whole Wheat Bread recipe produces a perfect, one pound loaf, that's not too airy, not too dense, with a good flavor, and best of all . . . it's easy.
For the daily loaf around the house, I love using my bread machine. I can put the ingredients in, let it fly, and in a few hours, out comes a great, fresh loaf of bread. But it didn't start out that way.
Oh I tried. I made adjustments to every recipe in that recipe book – adding more liquid (which I always need here in Colorado), switching to bread flour from all-purpose, adding dry milk, and on and on. But nothing seemed to work. The loaves were OK, but just not the good balance between soft and substantial. (For some good info on what different ingredients do to a loaf of bread, check out my article "What's in a Loaf?")
Finally, I questioned the bedrock principle of bread machine baking: Adding the yeast at the end. This seems to be a cardinal rule with bread machines, but in regular bread baking, you hydrate the yeast first. That made a big difference with my recipes. Now when baking whole wheat loaves, I hydrate the yeast in water like you would with a regular hand-made loaf.
It makes all the difference.
This recipe calls for the addition of Vital Wheat Gluten.
Vital Wheat Gluten is just what it says – almost pure gluten. (I'm assuming if you're looking at regular bread recipes, you aren't sensitive to gluten, so keep reading). Some flours, like whole wheat, are naturally lower in gluten, which means the loaves have a tendency not to form high, light loaves. This ingredient provides that structure that is missing. If you use bread flour (which is higher in gluten), you can probably skip this ingredient.
The finished loaf was very high and light, but still with some heft – perfect for sandwich bread or toasting. Try it out.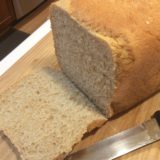 Print Recipe
Bread Machine Whole Wheat Bread
Whole wheat bread in the bread machine takes some very critical tweaks to create a loaf that's soft and delicious. This version only takes one extra step to get you that perfect loaf of whole wheat bread.
Ingredients
2

cups

All-purpose flour

or Bread Flour, but skip gluten

1

cup

Whole Wheat flour

1 1/4

cup

Warm Water

110F

1/4

oz

Dry yeast

2

tbsp

Sugar

not organic honey – it kills the yeast

2

tbsp

Butter

melted

2

tbsp

Oil

1

tbsp

Vital Wheat Gluten

1

tbsp

Dry milk powder

1

tsp

Salt
Instructions
Warm the water and sugar in a small bowl to 110F and whisk in yeast. Let sit for 10 minutes

Pour the bowl into your bread machine.

In a large bowl, whisk together the flours, gluten, salt and dry milk. Add to bread machine

Pour melted butter and oil on top.

Select your bread machine preferences and press Start.

After the first kneading, touch the surface of your bread. If it's dry and doesn't leave any residue on your finger, add another tablespoon of water. You want it to feel just barely tacky to your finger.
---
Shop the best-rated bread machine directly from Hamilton Beach Appliances with Free Shipping!: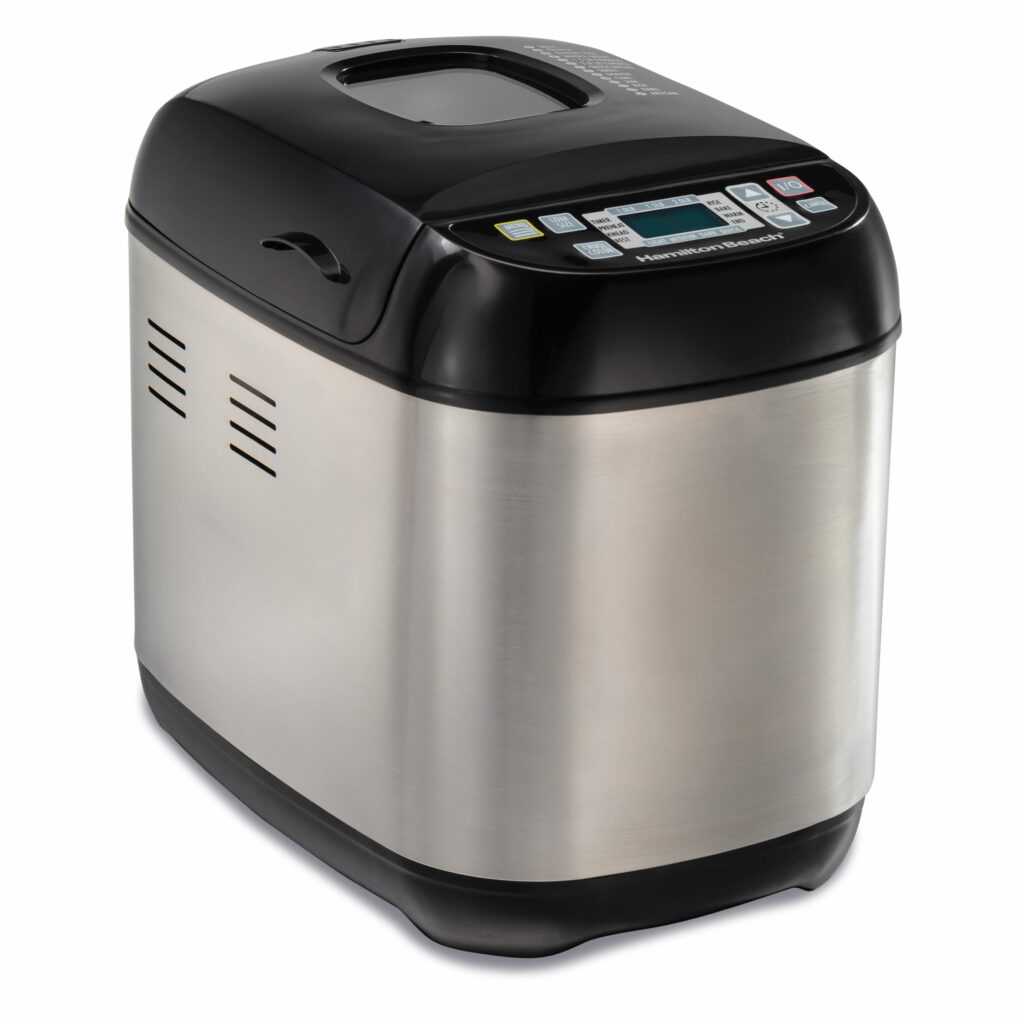 Artisan Dough & Bread Maker – Ships Free!
Make white, wheat, French, gluten-free, artisan bread & more
Cycles for bread, dough, cake, jam & more
Options for 3 crust settings and 1, 1.5, or 2 lb. loaves
Automatic keep warm after cooking
Dishwasher safe bread pan & paddle
Brushed stainless steel exterior
3 steps for easy bread making: add ingredients, select cycle, press start
3 loaf sizes & 3 crust shades: choose 1, 1.5, or 2 lb. loaf and light, medium, or dark
Nonstick bread pan – dishwasher safe for easy cleanup
Countdown cooking timer with LCD display
Delay timer lets you add ingredients and start the baking process later
Accessories included: measuring cup & spoon, kneading paddle & paddle removing tool
---
Let me know how it turned out for you! And if you have variations, I'll update my post to record those.
If you enjoyed this recipe, try my other bread recipes, like Honey Whole Wheat Bread.