There are a few dishes that just scream "Comfort Food", and Homemade Chicken Pot Pie is certainly one of them.  Buttery crust and rich, creamy filling, made with all-natural ingredients. That's the Best Homemade Chicken Pot Pie!
This homemade chicken pot pie recipe sets up well – no watery, soupy mess on the plate.  It also freezes well, so if you want to use some Dollar Store aluminum pans, go for it.  Just wrap them well in plastic before freezing.
Preparing a pot pie is a great way to use up any leftover meat (in this case, chicken) and veggies you've got in the fridge.  Because you cook them before you put them into the pie, you don't have to worry too much about water content or anything that could make your pie soggy.  I've used potatoes, snap peas, celery, mushrooms, green/red/orange peppers, green beans, . . . really just about any combination you like and believe would be tasty together.
---
Serve your pot pie in a dish that goes from oven to table beautifully, with one of these ceramic-coated cast iron pie dishes:
---
Handy Tip: You can do a lot of the prep work for this well ahead of time.  Just check out your veggie crisper drawer and pull out anything that's looking like it may not make it to the next crisp salad.  Chop it up and put it in a pot with 2 tsp dried parsley and just enough chicken broth or water to cover.  Cook briefly until the veggies are tender, then store the whole thing in one large bowl with a cover.  Add more veggies as you can.  It's OK to mix them all together in one bowl.  Just try to keep the broth or water to a minimum.
I adapted this recipe a bit from James Beard (one of my favorite chefs for taking recipes back to the basics).  The pastry is a bit more rugged than a normal fruit pie, as it needs to stand up to some pretty heavy, creamy sauces. Enjoy!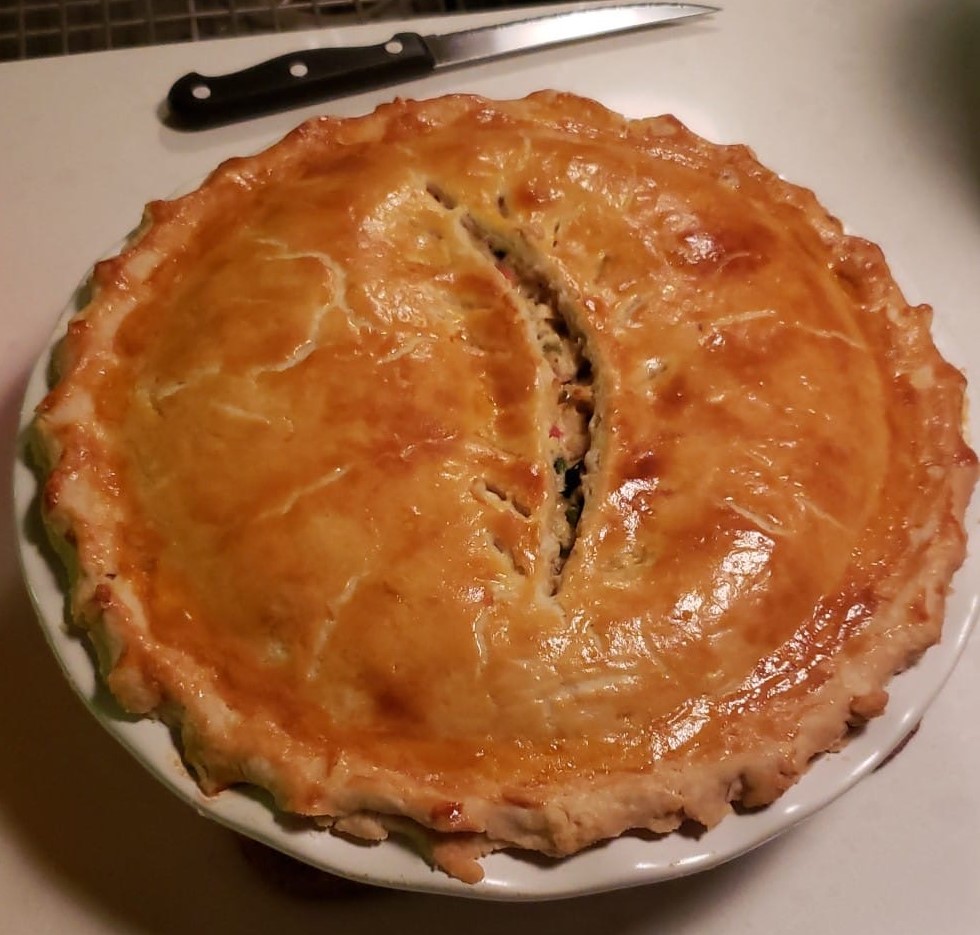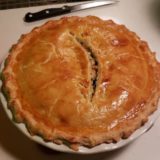 Print Recipe
Homemade Chicken Pot Pie with Pastry
Chicken Pot Pie, made with all-natural ingredients, with a top and bottom pastry crust.  
Ingredients
Pie Filling
3-4

lbs

Cooked chicken and 1 cup chicken stock or broth

(If using raw chicken, you'll make your own stock.)

1/2

lb

Potatoes

peeled and diced

2-3

Carrots

peeled and sliced

1/4

lb

Snap Peas

trimmed and sliced to 1″

1/2

medium

Green pepper (or orange or red)

diced and seeded

2

cloves

Garlic

minced

1

medium

Onion

roughly diced.  Or use about 1 pint of pearl onions

4

tbsp

Butter

2

tbsp

Flour

1

cup

Heavy Cream

Salt and Pepper to taste

1/2

tsp

Tabasco or other hot sauce

1

bunch fresh

Parsley

(or 8 tsp dried)

1

egg yolk

for egg wash, if desired

1

Pot Pie Pastry

see below
Pastry Ingredients
3

cups

Flour

1 1/4

tsp

Salt

1

stick

Butter

1/4 lb., cut into small pieces

1/2

cup

Shortening

chilled. I used lard.

Ice water
Instructions
If using fresh parsley, chop enough to fill 1/4 cup and set that aside.  Place remaining fresh parsley (or 4 tsp dried parsley), along with the chicken (cooked or raw) and half the chopped onion in a pot.  Add water just to cover meat and bring to a boil, then reduce the heat and simmer, covered for 30 minutes.  Pull out the chicken and let it cool.  Pull the chicken off the bones and chop it into bite-sized pieces.  If you used leftover boneless chicken, just cut that into small pieces.  Put the chicken into a large bowl (we'll add more to this later, so give yourself some room.)

Make some chicken stock by placing the bones back into the pot and simmering for one hour.  OR, if you're using leftover cooked chicken, add one cup of chicken broth or stock to the pot.  (Precooked bones won't offer up any stock, so don't bother with that)

If you've pre-cooked your veggies, just add them all to the cut-up chicken in the large bowl.

If you haven't already, cook separately the 1) potatoes, 2) carrots, and then 3) the snap peas, peppers and the remaining 1/2 onion in the hot broth, just until tender.  You may need to add a touch of broth or water now and then if the veggies absorb some liquid.  Scoop them from the broth and add to the chicken in the large bowl.  Save the broth!  You'll need one cup or so.

Preheat oven to 450F.  In a small skillet, melt 1 tbsp of butter and cook the garlic and mushrooms for about 3 minutes.  Add all to the chicken/veggie mixture.  Then melt the remaining 3 tbsp butter in the skillet over medium heat until bubbling.  Add the flour and stir with a whisk for about 3 minutes until the flour just begins to turn golden.  Carefully add one cup of the broth to the flour and stir with the whisk until smooth and thickened.  Remove from heat and whisk in the cream.  Add the 1/4 cup fresh or 4 tsp dried parsley and Tabasco.  Season with salt and pepper.  (If you made your own stock from bones, you'll need about 1 tsp of salt and 1/4 tsp pepper.  If you used prepared broth, you'll need much less salt, if any!)  Stir the sauce into the chicken and veggie mixture.

Line a 9″ pie pan with Pot Pie Pastry (see below).  Fill with chicken mixture and cover with top pastry.  Crimp the edges and cut a vent in top.  If desired, whisk a tsp of water into an egg yolk and brush the top of your pie with this egg wash.

Bake at 450F for 15 minutes, or until the crust just begins to brown.  Reduce the heat to 350F and continue baking until the crust is golden – about 35 minutes.  Let set for 10 minutes before slicing.
For Pastry
Whisk the flour and salt in a large bowl. Add butter and shortening. With your hands, rub the flour and shortening/butter together until the mixture resembles coarse crumbs (or use a pastry blender). Stir in ice water, until dough just holds together (I used 6 Tbl, but here in Colorado, my flour is always very dry.)

Divide the dough – 1/3 for top crust and 2/3 for bottom. Pat into a flattened disk, wrap in plastic and refrigerate for 1 hour.

Roll the bottom dough out on a floured surface about 1/4″ thick (thicker than a normal pie crust.) Lay the crust into a 9″ pie place and trim. Leave the top dough in the fridge until you've added the chicken mixture. Then roll it out and drape over the top of the pie. Crimp edges, cut a vent and brush with egg wash.
Notes
Final notes: Here at Baking Naturally, I work to provide kitchen-tested recipes that use only natural ingredients.  However, IF you wanted to cheat a bit and purchase a store-bought crust, that's up to you!  Just remember, the store-bought crust is made for a fruit pie and will be quite a bit thinner than the one called for here.
Let me know what you think. Any tweaks or adaptations you would make to this recipe? I'd like to hear from you.