Why make a crock pot stew when an oven baked stew is faster, easier and tastes better?
It's the holidays.  You're busy planning your meal for Christmas or New Year's, but there's all those days in between!  How do you focus on making something tasty with all the distractions surrounding you? Well, beef stew is an easy choice.  But not just any beef stew.  Try this oven baked beef stew.  It cooks in just two hours (as opposed to EIGHT in the crock pot.)  There's no messy browning of the meat.  And it makes it's own gravy without mixes or salty bouillon cubes.
A covered, enameled cast-iron baking dish is the perfect tool to make this recipe shine. Check out these high-quality selections:
Staub Ceramics 14″ Oval Covered Baking Dish, White

Staub Ceramics 14″ Oval Covered Baking Dish, Cherry

Staub Ceramics 14″ Oval Covered Baking Dish, Dark Blue

Even more important – it tastes better!  When you simmer stew in a crock pot for 7 or 8 hours, the potatoes, celery – even the carrots go to mush.  With this recipe, the vegetables are fully-cooked, but firm.  Perfect.
You can use stew meat, of course.  I found a 1.5 lb round steak on sale in the markdown bin a few weeks ago.  I pulled it out of the freezer to let it thaw for an hour or two, then sliced it into 1″ cubes from partially frozen – a lot easier to cut that way. I promise you will enjoy the results – tender meat, firm but cooked vegetables, and a flavorful thick gravy.  All in two hours!  Give it a try.
Take a look at my Irish Stew recipe, too. Authentic and delicious!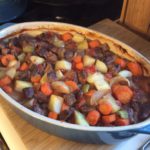 Print Recipe
Baked Beef Stew
Why make a crock pot stew when an oven baked stew is faster, easier and tastes better?
Ingredients
2

lbs

Beef (stew meat or cubed round steak)

4

lg

Carrots

sliced

3

lg

Potatoes

peeled and cubed

2

stalks

Celery

sliced

1

med

Onion

sliced in chunks

1

14.5 oz can

Diced Tomatoes

1

cup

Water

3

tbsp

Tapioca, quick-cooking

2

tsp

Sugar

1 1/2

tsp

Salt

1/2

tsp

Pepper

1

dash

Hot sauce

(optional)

1

slice

Bread

torn to small bits
Instructions
Mix all ingredients in a large mixing bowl.  Dig your hands right in and mix well.

Grease a large (3 qt.) baking dish.  Pour the bowl contents into the dish.  Cover and bake at 375F for 2 hours.
If your kitchen equipment needs an update, I recommend:
Motivated by our 100-year family history in kitchen supply, we set out in 2016 to rethink the kitchen landscape we grew up with. We partnered with the best raw material providers and multi-generational, family-owned manufacturers in the U.S., France, and Italy to build superior kitchen products.

Three years later and our kitchenware is used in multiple three-Michelin-star restaurants (such as Chicago's Alinea and NYC's Le Bernardin), is relied upon in countless other top-rated restaurants and hotel groups across America, receives five-star reviews from both press and customers, and has been honored with countless "best of" awards. We're excited to help you upgrade your kitchen and please reach out to us with any questions.

-Chip and Jake, Co-founders

Made-in – Cookware Made from Generations of Expertise
If you tried it, what did you think? Let me know your results.