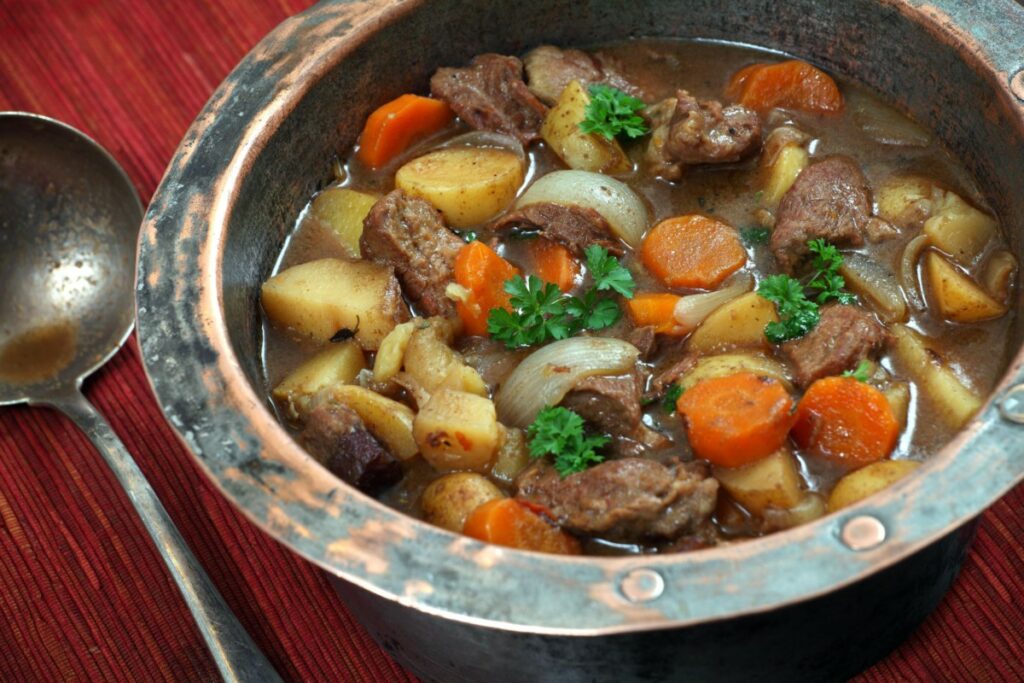 Comforting and satisfying Authentic Irish Stew.
A trip to Ireland simply isn't complete without a visit to a local pub for a bowl of hot Irish Stew.  You'll find it everywhere – and it will never taste the same twice!  So it's difficult to call something "Authentic Irish Stew." It seems "authentic" means, "how me own ma used ta mek et!"
With that said, I did gather up several of the recipes used in various pubs that I visited in Ireland.  I've tried them over the last two years and think this slight amalgamation comes closest to what I remember as the best bowl of stew I had – at a pub in Killarney town. Over a pint or two of the local brew, I think I downed at least one bowl of this delicious stew, and searched it out in every town I visited.  If you try it, you'll see why!  Pair it up with some Authentic Irish Soda Bread for St. Patrick's Day!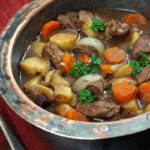 Print Recipe
Authentic Irish Stew Recipe
Ingredients
3

pounds

Lamb Shoulder cut in 2-inch chunks.  

Can substitute mutton, beef, veal, venison – even goat meat!

4 

tbsp

Vegetable oil

3

tbsp

Flour

optional – especially if adding sliced potatoes below

2

pounds

Onions

about 6 medium, cut in wedges

1

pound

Carrots

about 6 medium, cut in large chunks

4

cups

Water

or beef or chicken broth

Splash of red wine to taste

optional

Dash of Worcestershire

optional

Salt and pepper to taste

1

large

Thyme sprig

3

pounds

Russet Potatoes

peeled and halved.  For thicker broth, slice 1/2 potato in thin slices.  (Can substitute Yukon gold potatoes, but the broth will be thinner).
Instructions
Pat meat chunks with a paper towel to dry, and season well with salt and pepper. Heat oil in a large, oven-safe soup pot with lid over medium-high heat until shimmering. If desired, dredge the meat in flour.  Brown meat on all sides.

Remove meat and and add onions and carrots to pot. Season with salt and pepper. Cook vegetables, stirring, until lightly browned, about 8 minutes.

Depending on the size of your pot, remove all but the lowest rack in the oven, and pre-heat oven to 350 degrees.

Return meat to pot, add broth and bring to a simmer. Add thyme and arrange potatoes on top of the meat.  Add a final dash of salt and pepper, cover the pot and put into the oven.
This recipe works best in a good quality Dutch oven. Find a professional-grade Dutch oven at Hexclad
Leave a note below to let me know how your holiday plans worked out. Slàinte!