My partner, Dwaine, has a green thumb. Sadly, it has not rubbed off on me.  I may be able to keep my cooking herbs alive (with help), but he's the one who makes the garden bloom in spring.  He's always fussing over the black raspberry bushes planted on the side of the house.  We've harvested tons of fine black raspberries that we then freeze to use later.  This is one black raspberry recipe I've found for Raspberry Velvet Cupcakes that really captures the flavor of these delicious berries!
---
---
First, you'll need about 3/4 cup of raspberry puree.  Many times, I'll just blend the berries in a blender or use some of the raspberry preserves we make from scratch.  But the seeds can be a problem for some people.  And in a cake, seeds can really throw off the smooth texture you're going for.  So I recommend making a puree.
I start with a one-pint bag of frozen berries.  Frozen is much easier, as the freezing process breaks down the cell walls and releases a lot of juice from the berries before you've even had to touch them. Fresh berries will not release NEARLY as much juice and pulp.  I heat the berries in a pan on the stove, stirring with a whisk until the berries are broken up and mostly liquid.
Next, I put a cup or so of the berries into a strainer over a bowl. Using a spatula, I simply press the berries firmly against the side and bottom of the strainer, working with a back and forth motion.  The pulp and juice will pass through, leaving the seeds behind.
Once you've pressed a while, lift the strainer and scrape off the good stuff that hasn't already fallen into the bowl.  Keep at it until you're satisfied there isn't anything else coming through.  I find a one-pint bag can release about 1 1/2 cups of puree – enough for TWO recipes, with a little to throw in the frosting.
Now we have the puree, we're ready to start baking.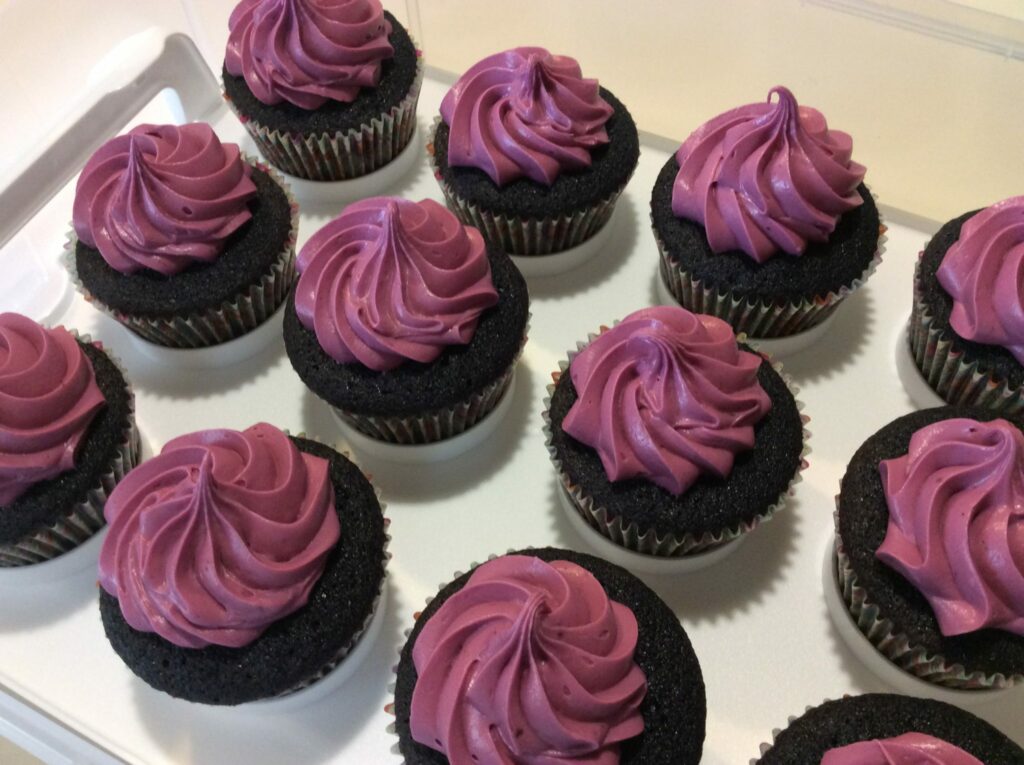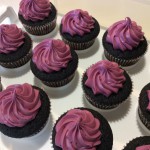 Print Recipe
Black Velvet Cupcakes
Using all-natural ingredients, these Black Velvet Cupcakes are bursting with raspberry flavor.  They bake up a natural, rich black, making them perfect for those "black-humor" occasions.  
Ingredients
2 1/2

cups

Flour

Or you could substitute up to 1 cup of white whole wheat flour

1/2

tsp

Baking Soda

1 1/2

tsp

Baking Powder

1

tsp

Salt

1 1/2

cups

Sugar

2/3

cup

Butter

Softened

1/3

cup

Lard

Softened, or oil

1

tsp

Vanilla extract

Real, not imitation

1/4

tsp

Lemon extract

I use organic

3

lg

Eggs

3/4

cup

Evaporated milk

3/4

cup

Raspberry Puree
Raspberry Cream Cheese Frosting
1

8 oz package

Cream Cheese

1/4

cup

Butter

Softened

4

cups

Powdered Sugar

1

tsp

Vanilla

1/4

cup

Raspberry Puree

1/4

tsp

Lemon Extract
Instructions
Prepare the cupcake tins by lining with paper cups. This recipe makes 3 dozen, but I never bake more than 2 tins at a time. (Be sure to use the same color tins when baking – one light pan and one dark will bake at wildly different times!)

For more info on how baking pans can make or break your baking, see my article on Baking Pans.

In a large bowl, whisk together the flour, baking soda, baking powder and salt. Set aside.

In a small bowl, mix the evaporated milk with the puree. Set aside.

In a mixing bowl, whip the butter, lard (or oil), sugar, vanilla and lemon extract until well-blended and fluffy.

With a paddle attachment, mix in the eggs, one at a time, then the flour mixture, alternating with the raspberry mixture. Mix until blended, but no more than 2 minutes or so.

Scoop the thick batter into the baking cups, filling about 2/3 full.

Bake in a preheated 325 F oven for about 21 minutes. DO NOT OVERBAKE! Test with a wooden toothpick or by touch.
Raspberry Cream Cheese Frosting
Blend the cream cheese and butter until smooth. Add vanilla, lemon extract and puree, then add the powdered sugar one cup at a time. Blend until smooth.

Notes
These cupcakes are REALLY easy to overbake, so watch your time carefully.  Be sure to use just a 325 F oven – not a 350!  Other than that, they are . . . a Piece of Cake!
---
Great hand mixer direct from Hamilton Beach – Free Shipping!
Hamilton Beach® Professional Hand Mixer 5 Speed, Red
---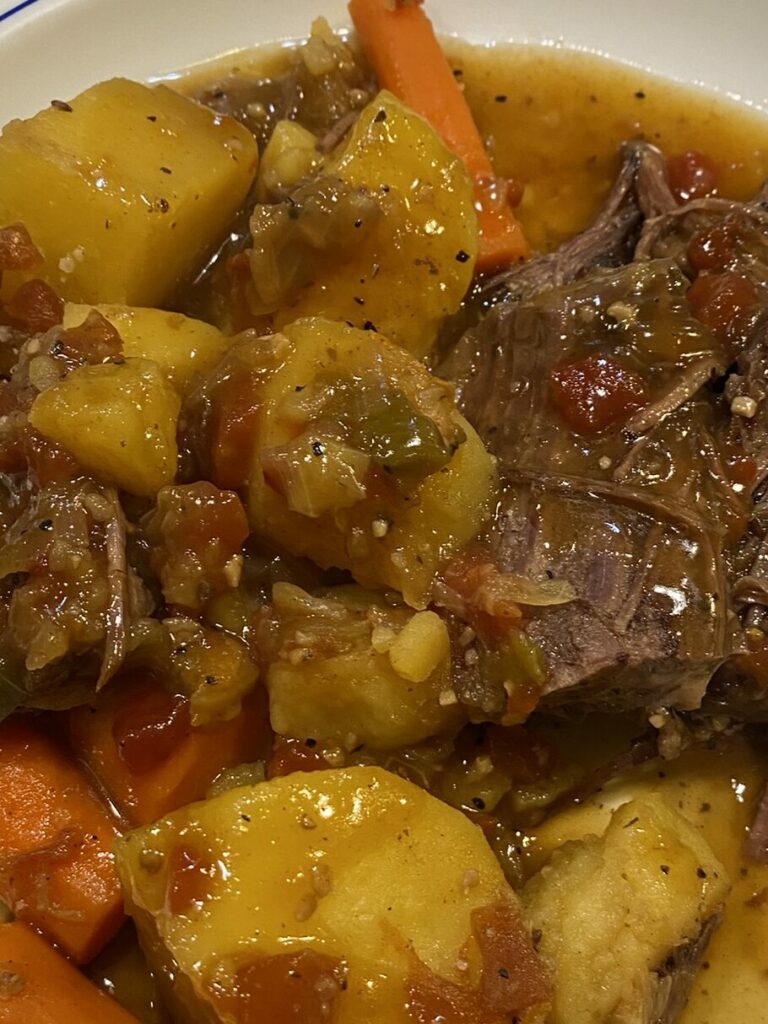 Instant Pot Chuck Roast from Baking Naturally! This pot roast recipe will become your go-to…