Leftover Ham Recipe – Ham and Cheese Strata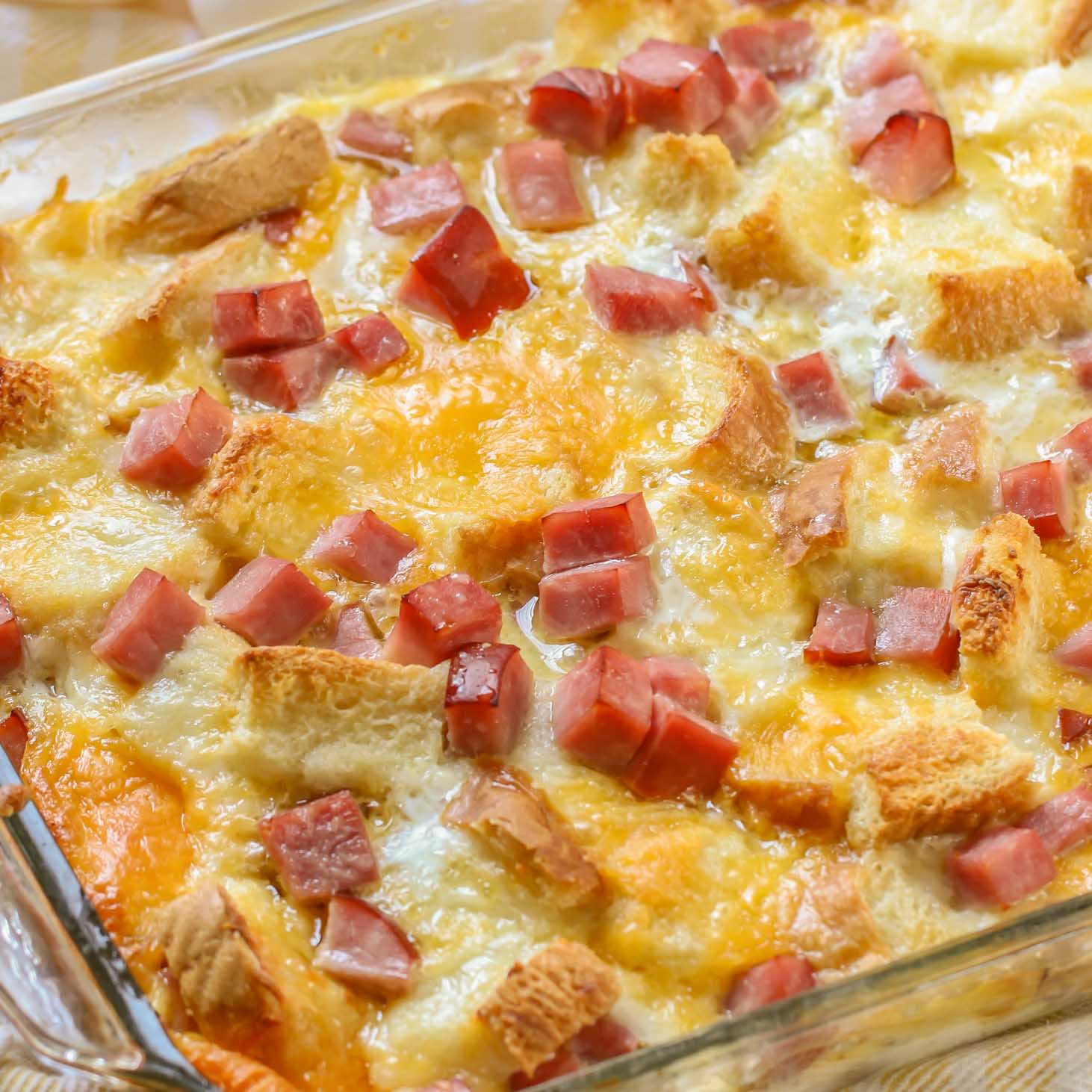 Happy Easter!  As you sit down to your traditional Easter Sunday meal of baked ham and all the trimmings, you may be wondering what to do with the leftover ham? This is one of the easiest leftover ham casserole recipes I've found, and it tastes great!
It's a simple cheese strata, but the addition of leftover ham adds protein and more texture to the eggs and cheese.  Besides the leftover ham, this recipe can also use up some of those leftover dinner rolls, too.



The only trick is you have to let it rest overnight before baking.  So while you're cleaning up, just pull out a casserole dish and put this together. You'd have to refrigerate that leftover ham anyway, and now you'll be able to pull out Monday dinner!
Baked Ham and Cheese
This is one of the easiest leftover ham casserole recipes I've found, and it tastes great!
Ingredients
6

cups

Stale Bread, cubed

Or 3-4 leftover dinner rolls

2

cups

Cooked ham, diced

2

cups

Mild Cheddar Cheese, shredded

or whatever you have on hand!

5

lg

Eggs

1 1/2

cups

Milk

1/2

tsp

Dry Mustard

1/4

tsp

Salt

2

tbsp

Butter, melted

1

cup

Bread Crumbs
Instructions
Grease a 9X13" baking pan or 8 cup casserole dish

Place half the bread into the bottom of the dish

Add the ham over the bread and sprinkle the cheese over the top.

Whisk together the eggs, milk, mustard and salt.  Pour over the other ingredients.  Press lightly to ensure the bread soaks up the liquid.

Cover and refrigerate overnight.

Preheat oven to 375F

Combine the bread crumbs and melted butter and sprinkle over the casserole.

Bake for 40 to 45 minutes until the dish is set and a knife comes out clean.
Notes
This recipe can be doubled if you wish. Leave room in your casserole for bubbling!
If you need a good quality 9X13″ baking dish, I recommend this one.  It comes with a lid, so if the recipe calls for baking covered, it's a lot easier than messing with foil (I always burn my knuckles somehow).

Lodge EC3CC33 Enameled Cast Iron Covered Casserole, 3.6-Quart, Caribbean Blue