Growing up in Kansas, we were poor. But Mom would figure out ways to stretch her dollar to feed a family of five, and one way was with soup. Chicken soup, dumplings, galushkies, vegetable beef . . . and good old potato!  Potato soup has a million variations, of course, simply because it's so versatile that you can add just about anything and it will become a hearty, satisfying meal.
This Potato Leek Soup with Sausage recipe has been adapted from Mom's with the substitution of leeks for onions, and the addition of sausage. I'm quite certain that if she'd been able to afford it, she'd have done the same.  I also got rid of the processed cheese soup and went with a simple cheese sauce.  It's simple to make, has no artificial ingredients or preservatives, and you can whip it up in less time than it takes for the vegetables to simmer.
Read the Best Cooking Magazine Ever – Cook's Illustrated
Be sure to clean your leeks properly.  They are notorious for containing sand. Check out this video on how to properly prepare your leeks:
If you want a stronger onion flavor, just substitute a large yellow onion or two.
One of the critical ingredients is allspice.  I find the whole berries add a depth of flavor to this dish that you just can't get any other way. See the link below the recipe to find the very best spices.
Print Recipe
Potato and Leek Soup with Sausage
A hearty cream soup, filled with fall vegetables, cheese and spicy sausage.  Great for a hot lunch on a cold winter day.
Servings:
10
3/4 cup servings
Ingredients
1

lb

Ground Sausage

Not Maple! But any variety will work

1

lb

Red Potatoes

Peeled and diced

4

stalks

Celery

Sliced

2

med

Leeks

Chopped. See instructions for prepping leeks.

1

med

Turnip

Peeled and diced

5

cups

Milk

1

cup

Cream

Or just another cup of milk

1/2

tsp

Thyme

1/2

tsp

Rosemary

2

whole

Allspice

2

whole

Bay Leaf

1

dash

Red Pepper flakes or Tabasco

If you like it spicier, beef up the pepper flakes.

Salt and Pepper to taste

Hold off until after you add the cheese sauce.
Cheese Sauce
2

tbsp

Butter

3

tbsp

Flour

2

cups

Milk

3

oz

Grated Cheese

Your choice. I used a mild cheddar.

Salt and Pepper to taste
Instructions
Chop or dice potatoes, celery, turnip and leeks.  See here on how to prepare your leeks.  I peel my turnips before cooking – I find the skin can be a bit bitter like a carrot.  Peeled, they just have a simple peppery taste, while maintaining a nice firm texture.

Put the chopped potatoes, celery and turnip into a stock pot and add just enough water to cover – about 2 cups.  Simmer veggies to al dente.  Don't get them too mushy.

Brown the sausage in a skillet with the thyme and rosemary.  Drain off excess fat, but leave a bit to saute the onions.  Add the chopped leeks and saute until translucent.  Add to the veggie pot.

Add the milk and cream (optional).  Add the allspice and bay leaf.  Bring to a very low simmer.  Add the cheese sauce (below) and stir.  Season with red pepper flakes or tabasco, and finally the salt and pepper to taste (I usually add about a tsp of salt, but it really depends on the cheese you choose.)
Cheese Sauce
In the hot skillet, melt your butter under medium/high heat.  When it's hot, whisk in the flour and cook for about 2 or 3 minutes, until it's just browned and smells nutty.  

Turn off heat and slowly whisk in the milk (it will steam and bubble). Stirring constantly, return to a low heat to thicken. Simmer gently for 8 minutes.  

Remove from heat and stir in your grated cheese until smooth.  Set aside until ready to add to soup.
Notes
The soup will curdle if allowed to boil, so always use a low heat when the pot contains milk or cream.
Be sure to clean your leeks properly.  They are notorious for containing sand.  If you want a stronger onion flavor, just substitute a large yellow onion or two.
And finally – this is a poor boy's soup, so substitute freely.  Check out your fridge and see what you have on hand.  Broccoli?  Sure!  Bacon?  Why not?  This is simply a combo that I prefer and works well.  Experiment.
This recipe calls for allspice, and while you can substitute ground allspice, I prefer the berries.  The best berries are grown in Jamaica, and here's the best source for them:
Jamaican Allspice Berries
Originally known as pimiento, and then Jamaica or Myrtle pepper, the taste of allspice is described by most as a combination of nutmeg, cinnamon, and cloves. Originating in Jamaica, allspice is used often in Caribbean cooking and is a main ingredient in our Jamaican Jerk Seasoning.[More]
If you like this recipe, check out some of my other creations, like this Dublin Coddle, or Irish Stew.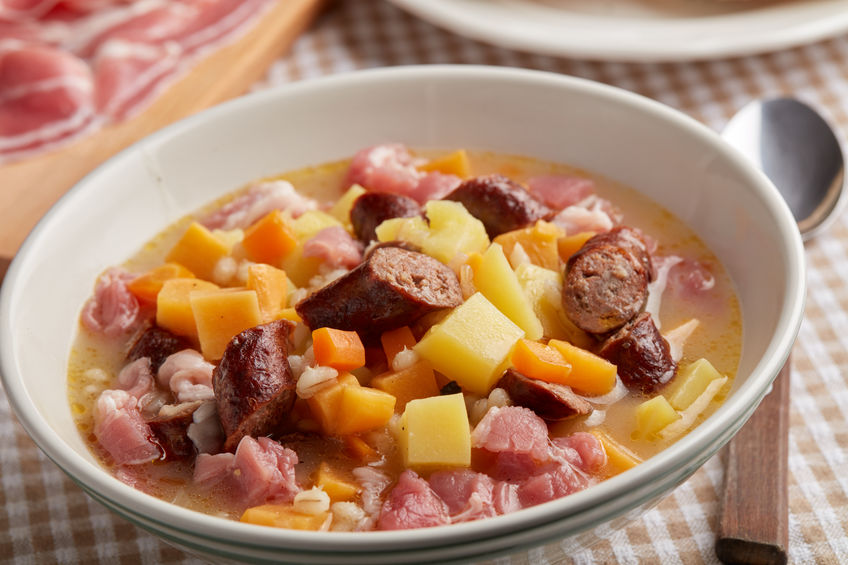 Leave a comment and let me know how it turned out for you. I always love hearing a variation or two.