New Revised Recipe – Now a Moister Cake with Less Sugar!
I've finally found the best homemade coconut cake recipe.  It doesn't use white cake mix (with it's sickly-sweet taste and gummy texture).  It does use all-natural ingredients, with no artificial flavors or colors, so you can feel good about serving it to your family.  And I found it to be an easy coconut cake recipe, once I worked out the right proportions.
If you've read my blog, you know I live in Colorado – at around 5,300 feet.  Because of this, lots of cake recipes have to be adjusted to work.  And even WITH adjustments, sometimes the results are just not great.  My first attempt at this cake was a spectacular failure.  I haven't seen a cake fall that hard in a Marx Brothers movie.  Terrible!
But I put that apron back on and sat down with pen and paper and worked it out.  I've provided both the high-altitude and regular altitude recipes for this Old Fashioned Coconut Cake so that you can pick which one works for you.


Old-Fashioned Coconut Cake (Below 3,500 Feet Altitude)
Click here for High-Altitude Recipe
2 2/3 cups flour (1/2 all-purpose, 1/2 cake flour)
2 cups sugar
2 1/2 tsp baking powder
1/2 tsp salt
5 lg egg whites
1/2 cup milk
1 TBL natural coconut flavor (if you can't find this in your local store, you can order it here.)
1/2 cup unsalted butter, softened but not melted
3/4 cup unsweetened coconut milk – it should be about 15% fat content.  It replaces some of the butter, so don't use the type in a box you pour on cereal.
Preheat oven to 350 F.  Grease and flour two 8 or 9-inch cake pans.  (Lining with parchment can make removing the cakes easier, but I never have a problem in this dry climate.  See how to create a cake pan liner here.)
Whisk the egg whites, milk and coconut flavoring until frothy.  (We will use these bubbles for the leavening to expand as the cake bakes).  Set aside.
---

Want to try making your own natural coconut flavoring?  It's easy!  Click here for instructions.
---
In a mixer bowl, add the flours, sugar, baking powder and salt.  Mix with a whisk.  Add the butter and coconut milk and mix on low with a paddle attachment just until moistened, then beat on medium for two minutes.
Add the egg white mixture in a few additions, mixing just until incorporated.
Pour the thick batter into the prepared pans.  I use a small postal scale to weigh them out so that I divide it evenly.  Bake for 36 to 40 minutes, then test with a toothpick to see if it comes out clean.  Add two minutes more if it comes out wet.
Remove from the oven and let cool for about 10 minutes, then remove from pans and cool completely on a rack.
While the cakes are cooling, use the warm oven to toast your coconut.  Simply sprinkle the coconut on a cookie sheet in a thin layer and set it in the oven at 350 F for about two minutes.  Stir the flakes and watch them for another minute or so.  When they've toasted to golden, remove and cool.
Coconut Icing and Filling
Icing the entire cake in cream cheese frosting or buttercream would make for a really heavy cake.  Most coconut cake recipes call for dividing the cake into four layers, and using a simple whipped cream filling, while icing the outside with buttercream.  I've done a mix of both.
Icing
8 oz. cream cheese, softened
1/2 cup butter, softened
4 cups powdered sugar
1 tsp natural coconut flavor
Filling
1 cup of the icing from above
1 cup of heavy whipping cream
Cream together the cream cheese and butter.  Add the coconut flavor.  Then add the powdered sugar, one cup at a time.  I cover my mixer with a very light tea towel to avoid sugar powder spreading all over the kitchen!  Once it's smooth, add a tablespoon of the coconut milk or regular milk to achieve a spreadable consistency (I didn't have to add any).
For the filling, simply whip 1 cup of heavy whipping cream until medium  peaks form, then gently blend in 1 cup of the cream cheese icing.
I divided my cake layers into four pieces, using a cake leveler.  I used the whipped cream between each layer, then iced the outside of the cake with the cream cheese frosting.  Lastly, I sprinkled the toasted coconut, using my palm to "bounce" the flakes onto the sides of the cake.
That's all there is to it.  This is NOT a difficult cake to make!  And the results will get you "oohs" and "aahs" from friends and guests.
Thanks for visiting Baking Naturally!  Please leave a comment below.
Summary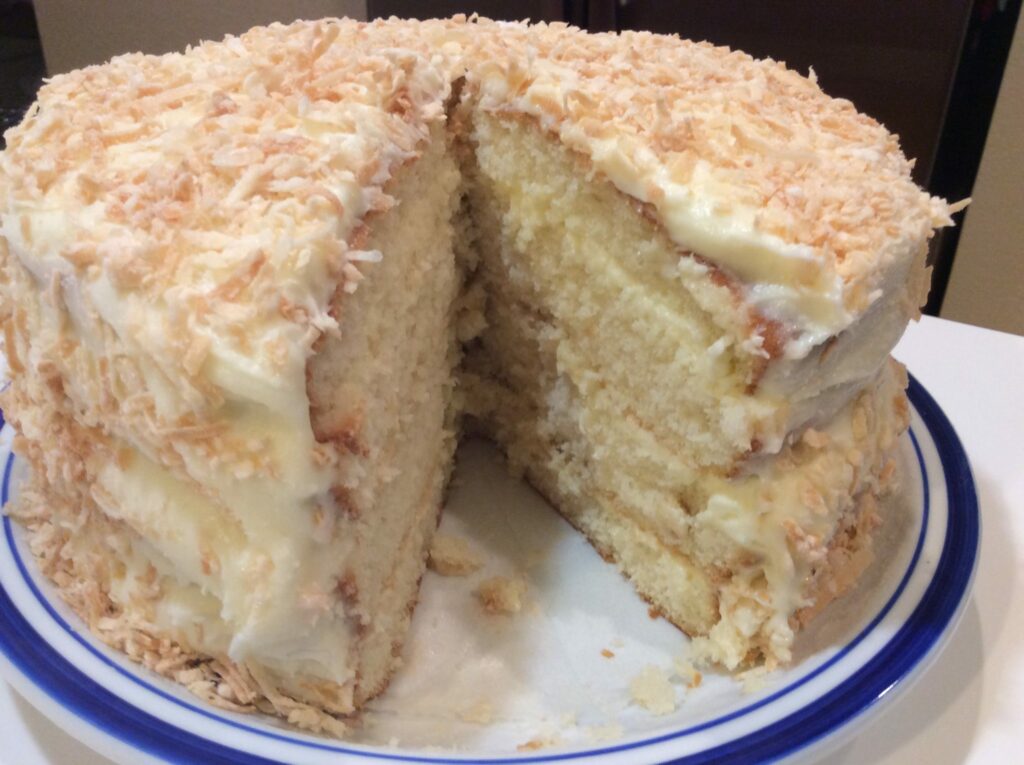 Recipe Name
Old-Fashioned Coconut Cake
Published On
Preparation Time
Cook Time
Total Time
Average Rating
Based on 1 Review(s)