Easy Homemade Brownies
Deep, dark, decadent chocolate brownies are a treat for the whole family, and this recipe makes it easy. My Easy Chocolate Brownies use unsweetened 100% cacao, along with some white chocolate to even things out.
Brownies are one of the first things I learned to bake as a kid, partly because the ingredients are almost always in the house. Eggs, flour, chocolate, sugar and salt, with a little vanilla, are all you need. It's the tweaking of those ingredients that make some brownies better than others.
Always start with the best chocolate. Because there are so few ingredients, the flavor of your chocolate is going to make-or-break your brownies. This is the time to splurge . . . or do like we do, and scour that markdown bin every visit to the store! We were able to pick up about 10 bars of good-quality 100% cacao for a little over a dollar each. Keep an eye out after all the major winter holidays for the best deals.
There are just a few tips to making sure your brownies come out perfect every time:
Measure all your ingredients beforehand so that you don't forget anything important.
Use a cake pan cooling strip to keep the edges from getting overdone while the middle is cooking. (They will still be extra-chewy, but you don't want them burned.)
Melt the chocolate with the butter at the same time – and never add the butter after the chocolate has melted. Adding a cold substance to melted chocolate will make it seize.
I use a double-boiler, and not the microwave, for this recipe. Getting the 100% cacao too hot can cause it to develop a burned taste.
Baking times vary with every oven. And with brownies, this is especially problematic. Without leavening, the usual tests (toothpick, finger) don't work very well. I use a temperature probe and bake to an internal temp of 170F for fudgy brownies.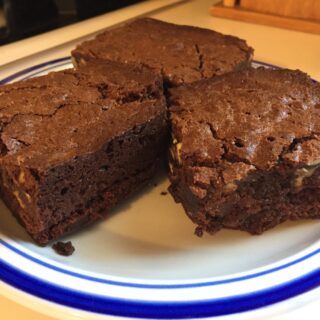 Print Recipe
Easy Homemade Brownies
An easy recipe for rich, chewy, fudgy chocolate brownies that let's you focus on the quality of the chocolate instead of fussing over other ingredients. Makes one 9" X 9" pan.
Ingredients
1/2

cup

Butter

1

cup

Nuts (your choice)

I recommend walnuts

4

oz

Unsweetened Chocolate

99% cacao

4

oz

White Chocolate

3

tbsp

Unsweetened Cocoa Powder

1 1/3

cups

Sugar

1 1/2

tsp

Vanilla

3/4

cup

Flour

2

lg

Eggs

1

dash

Salt
Instructions
Grease a 9" X 9" baking pan, then line the bottom with parchment and give it a spray of non-stick baking spray.

Toast the nuts. I use a small baking sheet in a toaster oven set to "Toast" for about 5 minutes, tossing them once halfway through. WATCH CAREFULLY – nuts are notoriously easy to burn!

Heat water in a double boiler. Chop the chocolate into small pieces and place the chocolate and butter in the top pan. Stir constantly until just melted. Remove from the boiler.

Add the cocoa and sugar to the chocolate and whisk thoroughly.

Beat the eggs slightly, then add to the chocolate. Whisk until the mixture is smooth and glossy.

Add the flour and salt and turn until just moistened. Add the nuts and stir until all the nuts are coated with batter.

Spread batter into prepared pan, mounding it a bit in the center, as brownies tend to sink a bit in the middle.

Bake at 350°F for 45 to 50 minutes. Test with a thermometer and remove when the internal temperature reaches 175°F. It will continue to rise for a bit after removing from the oven.

Cool in the pan for 10 minutes, then invert on a rack to cool completely.
As you can see from the photo, these brownies turn out moist and chewy, with that delightful shiny, crunchy top. Everyone will love them.
Looking for more chocolate recipes? Try my Double Chocolate Cupcakes for a perfect Halloween treat.
For an extra chocolate punch, try using a more exotic cocoa powder, like this ultra-dark variety. You only need about 3 tablespoons, so a little goes a long way. Check it out from Savory Spice:
Black Onyx Cocoa Powder – 1 Cup Bag | Savo…
This cocoa powder has been alkalized to the extreme, producing a dark, purplish black cocoa that makes for an impressive black-as-coal baked good.[More]
Did you enjoy the brownies? Have a suggestion or improvement? Leave a note below. And thanks for visiting Baking Naturally!