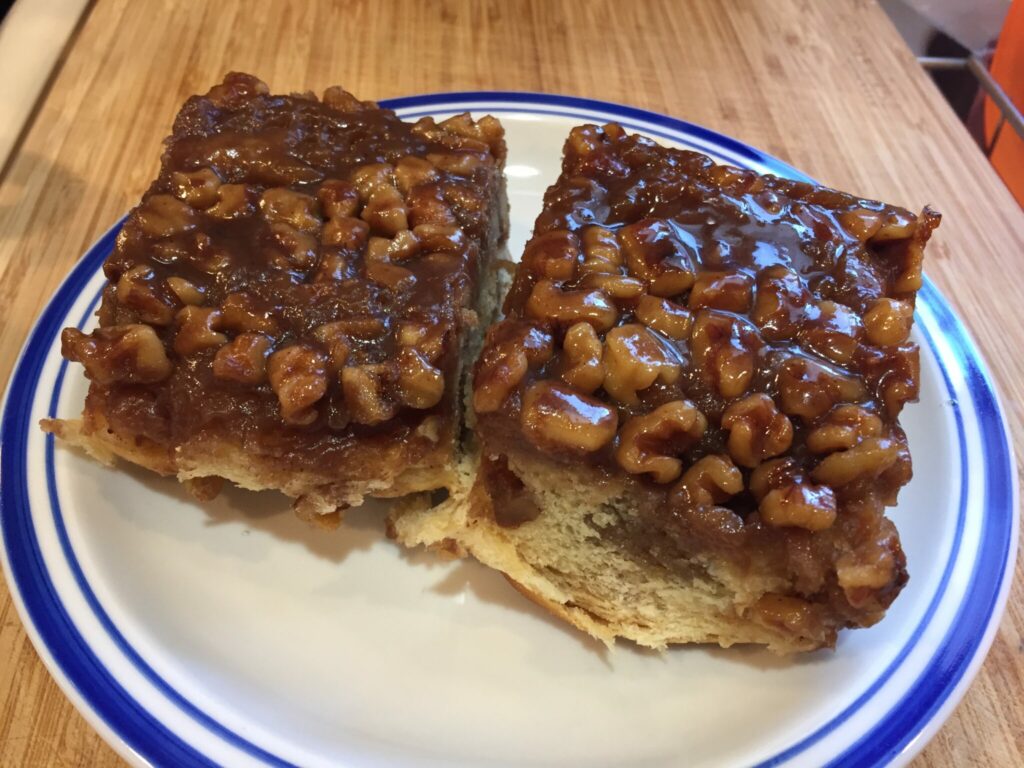 Soft and full of spices with a gooey caramel nut topping, these caramel pecan rolls are the perfect accompaniment to your morning coffee.
(OK, so the recipe is for caramel pecan rolls, but I happened to have walnuts on hand, and it's just as delicious with those!)
I'd been craving a sweet roll with nuts, and Dwaine had struck it rich at the markdown bin again (2.25 ounce chopped nuts at 50 cents a bag! Woot!) So I decided to make the classic Caramel Pecan Rolls. This is an enriched sweet dough made with butter and eggs, baked upside-down in a quick caramel sauce. Once you get the hang of it, they're not that complicated, and a lot of parts can be done when you have a spare minute, then set aside to use later.
---
---
Because I had too many on hand, I used a full 2 cups of nuts for my rolls, but you can use less or none – nothing wrong with a nut-free caramel roll!
Toasting the nuts is something you can do anytime – perhaps use the hot oven next time you've made a pizza. Spread out the nuts on the bottom part of a broiler pan and set them in for five minutes, giving them a toss halfway through should be about right. You can then put them in a plastic bag and freeze them for baking day.
Getting the Roll Right
One of the biggest tricks is rolling up the rolls correctly. Using a pastry sheet or well-floured surface is important, as this sticky dough will not want to cooperate with you at all. Be sure to spread the filling all the way to the right and left edges, or your end rolls will get skimpy on filling. Leave yourself about an inch at the bottom so you can get the roll started well. I roll away from myself, using mainly my palms to press the roll together fairly firmly and evening out the roll as I go up. Once I get to about 4 inches from the end, I pull the last remaining dough up toward me to firmly seal the roll.
---
---
Cutting out twelve even-width rolls is easy if you remember Third-Half-Half. That is, cut the long roll into even thirds, cut each third in half, and cut each remaining section in half again. If everything is rolled tightly and sealed well, moving each roll into the pan will be easy.
It takes me a good hour to bake these rolls all the way through. You don't want any doughy centers! For a while, I used a digital probe thermometer and removed the rolls once they reached 185°F in the center, but I've found right at 1 hour seems good. I have to cover them with foil after about 40 to 45 minutes, otherwise they will get too brown.
Looking for another sweet treat? Try my Soft Molasses Cookies or some Chewy Chocolate Chip Cookies. All-natural from Baking Naturally.
Print Recipe
Caramel Pecan Rolls
Soft and full of spices with a gooey caramel nut topping, these caramel pecan rolls are the perfect accompaniment to your morning coffee.
Ingredients
Sweet Dough
1

cup

Whole Milk

Just below 110°F or 43.3°C

1

tbsp

Active Dry Yeast

5

tbsp

Granulated Sugar

2

lg

Eggs

3 1/4

cups

All-Purpose Flour

482 grams, spooned and leveled

1

tsp

Salt

1/2

cup

Butter, room temperature

Salted, cut into 8 chunks
Caramel Sauce
3/4

cup

Butter

Salted

1 1/2

cups

Brown Sugar

packed

1/3

cup

Honey

1/3

cup

Heavy Cream

2

tbsp

Water

warm

1/4

tsp

Salt
Roll Filling
1 3/4

cup

Nuts (pecans, walnuts, cashews, macadamias)

225 grams, chopped small and toasted

1/3

cup

Granulated Sugar

1/3

cup

Brown Sugar

packed

1/2

tsp

Cinnamon

1

dash

Nutmeg

optional
Instructions
Sweet Dough
Lay out your dough ingredients, mise en place. There are a lot of steps to this first part, and it's easy to forget an ingredient or make a mistake in measuring.

Grease a large bowl with butter, and spray a large piece of plastic wrap with cooking spray. Set aside. (Make sure you have room in the fridge to hold it – it will be there for about 2 hours.)

In a medium bowl, add the milk and warm in the microwave to just under 110°F or 43.3°C. Add yeast and sugar and stir. Set aside for about 10 minutes to activate the yeast.

Once the yeast has activated (you'll see a layer of brown, bubbly foam on top – if not, your yeast may be too old!) Add eggs and whisk to a froth.

Add flour and salt to a large mixing bowl, then add the milk/egg mixture. With beaters or a paddle attachment, beat on low until combined, scraping the sides at least once – about 1 minute.

Once combined, you'll have a thick, rather dry dough. Begin adding butter, a chunk at a time. Don't add another until the first is combined.

Swap out the paddle for a dough hook or spiral beaters. Knead the dough for 5 minutes, scraping the side at least once during the process. You'll wind up with a very sticky, wet dough, which is what you want.

Scrape the wet dough into the buttered bowl, top with plastic wrap and set in the fridge for at least two hours.
Caramel Sauce
In a medium bowl, mix together the honey, heavy cream, water and salt. Set aside.

In a heavy, medium saucepan, melt the butter. Add the brown sugar and stir to blend.

Carefully add the cream mixture to the hot sugar mixture and stir until smooth. Cook slowly with stirring until the mixture just begins to bubble at the edges. Set aside to cool to room temperature.
Sweet Roll Filling
Toast the nuts by spreading in a single layer in a large baking pan (I use the base to my broiling pan). Toast the nuts in a 350°F (175°C) oven for about 5 minutes, then tossing them to toast the other side for a few minutes more. I used walnuts, so it took a bit longer as they are meatier than pecans. Pour into a bowl to cool

In a large bowl (I use a popcorn bowl), combine the sugars and spices and half the nuts. Toss to coat. Set aside.
Assembly and Baking
Pour the room temperature caramel sauce into a 9X13" baking pan, scraping it all out. It should cover the entire bottom of the pan. Lightly sprinkle in the other half of the nuts, but don't mix them in – it's best to let them sit on top of the sauce. Set aside

Spray a sheet of plastic wrap large enough to cover the baking pan. Set aside.

Dust a large surface with a generous amount of flour and turn out your chilled dough. With your palm and fingers, spread out the dough to a rectangle of uniform thickness, the size of a large sheet of paper. I flip the dough a few times to give it a slight coating of flour.

Roll out the dough to a larger rectangle – about 12 inches high by 18 inches long (30 cm X 45 cm). Because it's chilled, it should hold this shape long enough for you to spread all of the sweet roll filling, being especially generous to reach the right and left sides. It's easier to start the roll if you keep nuts away from the bottom inch or so of the roll.

With the palms of your hands, and with any help from a dough scraper, start rolling the dough into a long roll. Gently press your palms and push away from you, stretching the dough over the nuts and filling while rolling into a tight roll. Don't tear the dough. If you need to release it from the counter, use your dough scraper gently. Keep rolling until you can seal the far end.

With a large finely-serrated knife, cut the roll into thirds. Then cut each third into a half, and then cut each piece in half again. This will give you twelve evenly spaced rolls. Carefully place each roll into the 9X12" pan in four rows of three.

Cover the pan with the greased plastic wrap, and let the rolls rise until doubled. I set them in a slightly warmed oven for about an hour.

Remove the wrap and bake the rolls in a preheated 350°F (175°C) oven for about one hour, covering the rolls with a sheet of foil for the last 15 minutes or so. You want them to be golden brown, with an internal temperature of about 185°F.

Remove from oven and let cool in the pan for 20 minutes. Flip onto a storage or serving plate and serve hot or store covered for several days at room temperature.
Tried it? Leave me a note to let me know how you liked them.