Packed with fruit and nuts, this high-protein Fruit and Nut Breakfast bread is perfect to start your day! Add a schmear of cream cheese and you'll be satisfied all the way until lunch.
Fruit and Nut Breakfast Bread for the Bread Machine
This great recipe fell into my lap when some friends were talking about some breakfast bread they'd had at Panera. What they really liked was that it wasn't super-sweet, like so many breakfast breads are, especially here in the States. It was sweetened by the addition of dried fruit and nuts, and served with some cream cheese and jam. They loved it.
So I did a little research and found several recipes that looked like they were close to what had been described. I wanted to skip all the hand-kneading, which can get really tedious, especially with lots of add-ins like fruit, so I worked up a recipe that would work in my bread machine. And here it is.
This recipe makes one round 2 lb. peasant loaf, but you could form rolls and freeze them to dole out at breakfast or to heat in the microwave. This bread is great toasted, too.
Why Protein At Breakfast?
Protein, It's What's for Breakfast

A high protein breakfast has been shown to benefit muscle health and to support weight loss by increasing muscle mass, energy expenditure (calories burned), satiety hormones, glucose regulation and by decreasing the desire to snack at night .

American Society for Nutrition, "Protein, It's What's for Breakfast", December 17, 2018
What Kind of Fruit and Nuts?
I used a cup of salted mixed nuts from the pantry, and purchased a small bag of dried fruit at my local Sprouts market. The nuts were heavy on peanuts, so I was wondering how that would turn out, but it worked great. Combined with the dried fruit combo of raisins, dates, mango and pineapple, the flavor is excellent.
I found that it's better to hold off on adding the fruit and nuts until the main body of the bread has been well-blended, so give your machine a good 10 minutes of mixing/kneading time before adding the fruit/nuts.
Why Not Bake It In the Bread Machine?
Maybe it's just me, or maybe I need to do more experimenting, but I've never gotten a satisfactory bake on a loaf with fruit when I keep it in the bread machine. I think it's something about the sugar in the fruit that just makes it rise too fast during the initial bake.
I baked my loaf on a simple jellyroll sheet lined with a Sil-Pat. I've seen others bake it in a medium sized Dutch oven lined with parchment paper. Either way, after about 30 minutes you may need to tent the loaf with foil or put the lid on the Dutch oven to keep from overbrowning.
I had a slice this morning with some cream cheese and it was very satisfying. I think you'll enjoy it, too.
If you're looking for another bread machine recipe, why not try my Whole Wheat Bread recipe? Whole wheat can be tricky in the bread machine, but following my tips will give you a great, light loaf.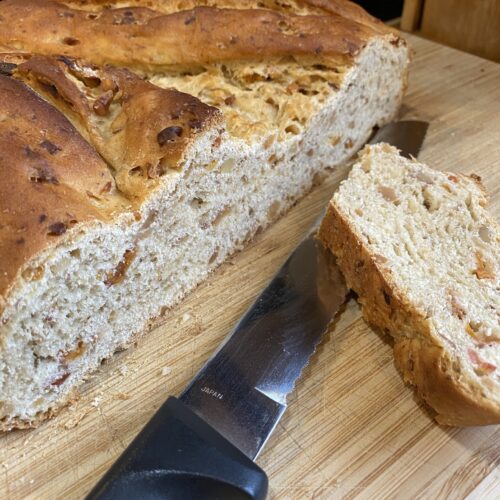 Print Recipe
Fruit and Nut Breakfast Bread
Packed with dried fruit and nuts and just waiting for a good schmear of cream cheese with your coffee, this high-protein bread will satisfy you well into lunch time.
Ingredients
1 1/4

Cups

Warm Water (plus extra during kneading cycle)

(just below 110°F)

2

lg

Whole Eggs

1

tbsp

Vegetable Oil

1

tbsp

Sugar

1

tsp

Salt

Omit salt if using salted nuts

1

tsp

Vital Wheat Gluten

4

Cups

Bread Flour

1/2

Cup

Whole Wheat Flour

3

tsp

Active Dry Yeast

1

Cup

Chopped Nuts

Salted or Unsalted. If using salted omit salt above.

1

Cup

Dried Fruit

Chopped.
Instructions
Prepare bread machine pan with paddle. Set bread machine for "Dough" setting.

Mix together the chopped fruit and nuts – set aside.

To the bread pan, add all ingredients in order above, except for the fruit and nuts. Place the bread pan in the machine and Start.

Once the dough is mixed, check the moisture. It should be a bit sticky to the finger. If not, add more water, a tablespoon at at time until it feels tacky.

After about 10 minutes of kneading, gradually add the fruit and nuts. I use a spatula to manipulate the dough ball just a little bit, making sure all the fruit and nuts are incorporated into the dough ball. Let the machine finish it's dough cycle.

Remove the dough onto a lightly floured surface. Knead the dough into a ball. Place the dough ball on a baking sheet dusted with cornmeal, or equipped with a Sil-Pat silicone pad. Cover with a damp towel and let rise in a warm (80°F) place for 30 minutes.

Preheat your oven to 400°F

After the dough has risen for 30 minutes, score the top of the loaf with a sharp knife or razor. One good deep slash should do it, but go ahead and be creative. The slashes will control where the bread expands in the hot oven.

If you like a hard, crusty loaf, brush with some water before putting it into the oven.

Bake at 400°F for 35-40 minutes.

At 25 minutes check for browning. If the loaf is browning too fast, tent it with aluminum foil.

The loaf is done when it reaches an internal temperature of 205°F

Remove and cool on a wire rack.
If you need some high-quality silicone baking liners, check out these. I think they make baking so much easier and I highly recommend them.
If you try it, leave me a comment on how it worked for you. If you have a variation, I'd love to hear about it.