If you've never attempted fish at home, you really should try this Easy Oven Baked Salmon Recipe. Five ingredients, including the fish, and 15 to 20 minutes of baking time make it perfect for an impressive meal. What's even better is that it's basically foolproof! It's baked uncovered in the oven, and with a few pointers, you can easily tell just when it's perfectly done.
How to Buy Salmon
In many ways, preparing the salmon is the easy part. Choosing which piece of fish to buy, however, can be more complicated.
Here in Colorado, we are most often stocked with Pacific wild salmon, so it's a bit easier. Further east, however, you're offered farm-raised salmon, which may cause some hesitation. Though it's usually considerably cheaper, some of the methods used to farm-raise salmon are known to cause nasty environmental damage. Some methods are far less damaging than others, so you may need to ask your grocer more questions. (For more information on wild versus farm-raised salmon, check out this excellent article in Cooking Light magazine: "Get Schooled: How to Buy the Best Salmon at the Grocery Store."
The recipe below calls for about one pound, or 500 grams, of salmon. If you need more, just size it up proportionally. Baking time will increase also, so anticipate that. But that's the great thing about salmon – it's really easy to tell when it's done!
How to Tell When Your Salmon is Done
As with any protein, you can under- and over-cook salmon. Over-cooked salmon is dry, tasteless and flakes away into small, unappetizing pieces. Under-cooked salmon doesn't separate with a fork and can taste a bit "fishy."
Fortunately, it's pretty easy to tell when your salmon is done. For one pound of salmon, baking at the recipe temp of 395° F, it should take about 15 minutes. Check your oven temperature to be sure it matches the thermostat on your stove – many are very inaccurate, especially at higher temps. (See my article here).
When your time is up, just open up the oven and take a look. You should see open cracks appearing on the edges of the fish. Check the center. With a sharp knife, pull apart a bit of the thickest part of of the salmon and look inside. If the flesh inside looks glossy and translucent, it needs more time. I usually add two minutes at a time at this high temperature. Once the flesh starts to pull apart into chunks, and the center portion appears opaque at the edges rather than glossy, it's done. (See photo below for example).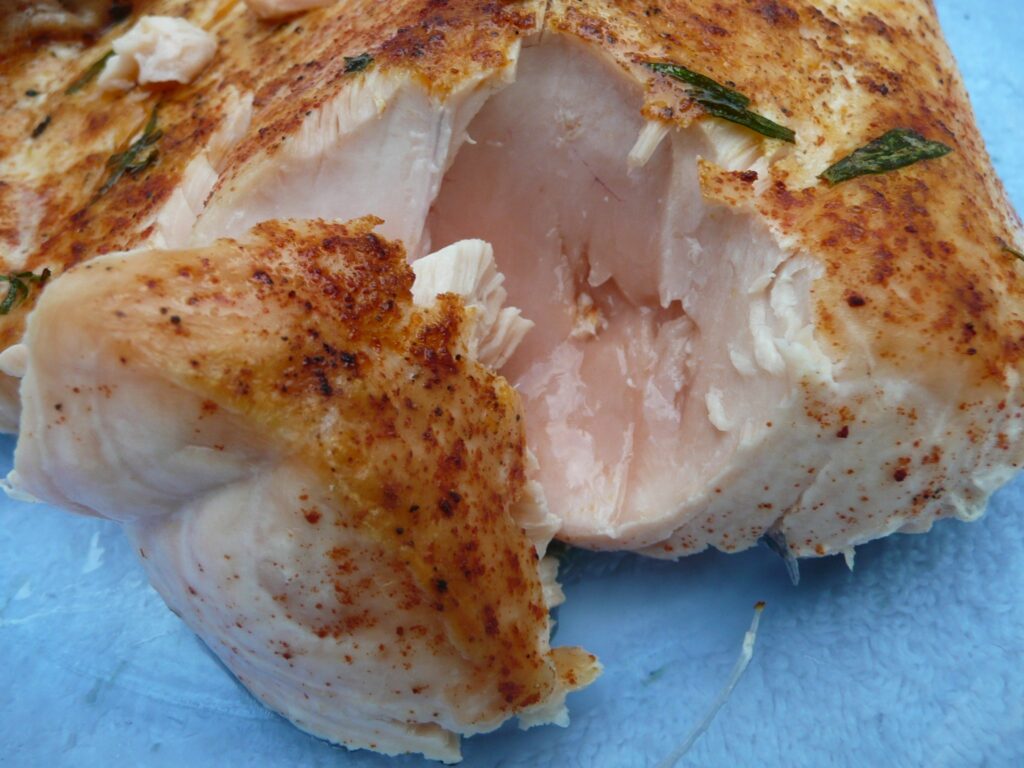 Why Bake Salmon Rather Than Fry?
You'll find hundreds of recipes for frying salmon on the stovetop. But I find that frying salmon most often results in an over-cooked, dry piece of fish. While preparing this article I searched for some photos showing what a perfectly cooked piece of salmon should look like, and most often I found what it shouldn't look like! (See below on what to avoid).
You can do it! And once you master it, you'll be able to whip up a great dinner faster than a pot of spaghetti! Give it a try.
Print Recipe
Easy Oven Baked Salmon
Roasted with a simple rub of rosemary and garlic, sprinkled with lemon juice, this Easy Oven Baked Salmon can be ready in minutes and is sure to impress.
Ingredients
1

lb

Salmon filet (500g)

2

sprigs

Fresh Rosemary

or 1 tsp dried

3

cloves

Garlic

minced

1/2

tsp

Sea Salt

I used sea salt infused with celery

1

Lemon
Instructions
Preheat oven to 395° F (200° C)

Remove leaves from rosemary sprigs and chop roughly. (Or crunch the dried rosemary in the palm of your hand.)

In a small bowl or pestle, mash together the rosemary, garlic and sea salt to form a rough paste.

Lay a piece of foil on a baking sheet and spray lightly with oil. Lay the salmon on the foil, tucking under the thinnest 1" of the fish. Make diagonal slashes across the fish about 1" apart and 1/4" deep

Spread the garlic/rosemary paste over the fish. Squeeze on 1/4 of the lemon.

Bake the salmon for 15 minutes and check for doneness.
Fresh v. Dried Herbs
This recipe calls for fresh rosemary. I know many of you don't have access to a garden with fresh herbs, so you'll have to turn to dried – and that's fine. I've used both. Grinding up the herbs well in a mortar and pestle is the best way to go. If you don't have one, check out one of these, from Etsy, the small business marketplace: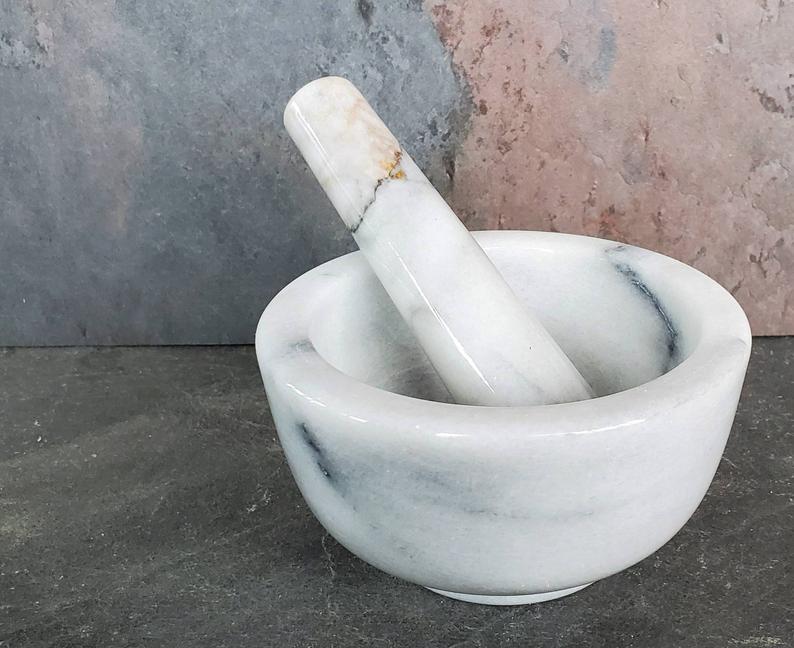 SHIPS FREE! White Marble Mortar and Pestle with FREE 4 oz Himalayan Salt!
Gorgeous on the counter but a true classic workhorse! Our classic apothecary style mortar and pestle has a timeless shape, perfect for ANY style kitchen or the perfect addition to your collection!
Grow Your Own Herbs
If you want to give a try at growing your own herbs, but you don't have outdoor space, check out the very best indoor growing system from Click & Grow:
Send me a note to let me know how it worked out for you.