Here's a new feature for my readers here at Baking Naturally – a look at some of the very cool things you can find on Etsy, the small business marketplace.
Most bloggers like me are affiliates for various companies like Amazon or eBay, and you'll see ads from them on my posts now and then. These days, however, I find myself drawn more to smaller businesses who are offering a good product but who don't have the marketing reach of the big powerhouses.
Etsy is a kind of cooperative for all these small businesses. Many vendors are craftsworkers making hand-crafted goods like beautiful rolling pins (see my post on Black Raspberry Turnovers) or cutting boards, utensils, etc. I have some old wooden utensils that I've had for years, and I still reach for them first through all the clutter of plastic in my utensil pot.
The problem is, Etsy is huge! There are so many items and vendors, you could spend days wading through everything to find the real gems. I've taken on that task for you, so you don't have to waste your time looking at the 955th version of the engraved wooden cutting board.
My Etsy Finds for September, 2020
Upperslide Cabinet Caddies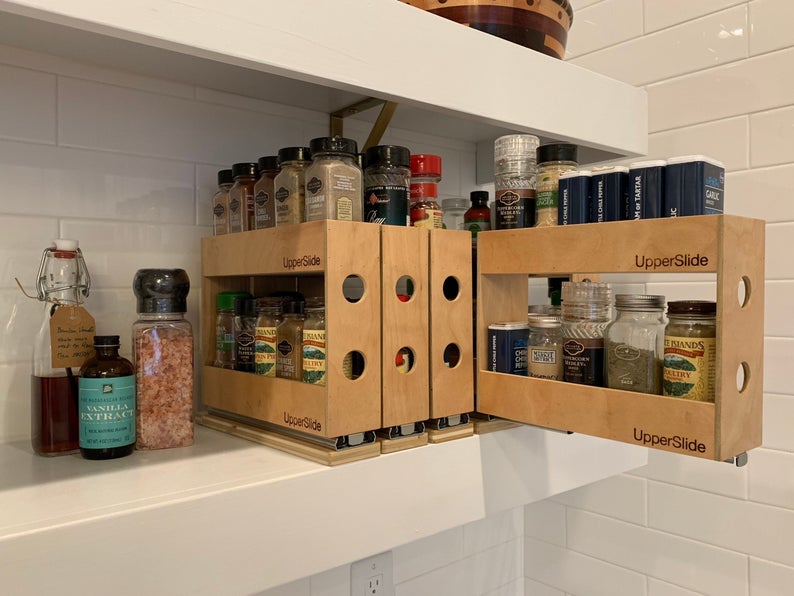 Organizing spices can be a chore. You think you have a great system all set up, and the very next recipe calls for that one bottle way in the back that you can't quite get to. Ugh.
Enter the Upperslide Cabinet Caddies from Old Glory Woodworks. Handmade in the U.S.A. out of clear-coat, washable wood. Each one can hold ten standard spice jars, and it slides out so you can see every jar – even the ones in the back!
The woodworker has a lot of other options available, click on the link to see what all he has to offer. FREE SHIPPING to the lower 48 states!
---
Toaster Oven Baking Sheet SOLID COPPER Handmade In the USA By West Tinworks
I use my toaster oven quite a lot, but finding the right size baking sheet to fit my oven was a bit difficult. This Solid Copper Baking Sheet was perfect for me. It measures 7.5″ X 10.5″, handmade from solid copper with 3 rolled edges and one straight edge.
West Tinworks handmade solid copper baking sheets are the perfect addition to your toaster oven or RV oven. Can also be used in a regular oven (just the right size for two people or small items). Size overall is 7.25 x 10.25 inches. Material thickness is 26 gauge USA pure solid copper. Instructions how to use and take care of your copper baking sheet included!
This little baking sheet will last a lifetime, and is very reasonably priced. Looks beautiful, too! Check it out at the link below.
---
Precut Natural Parchment Rounds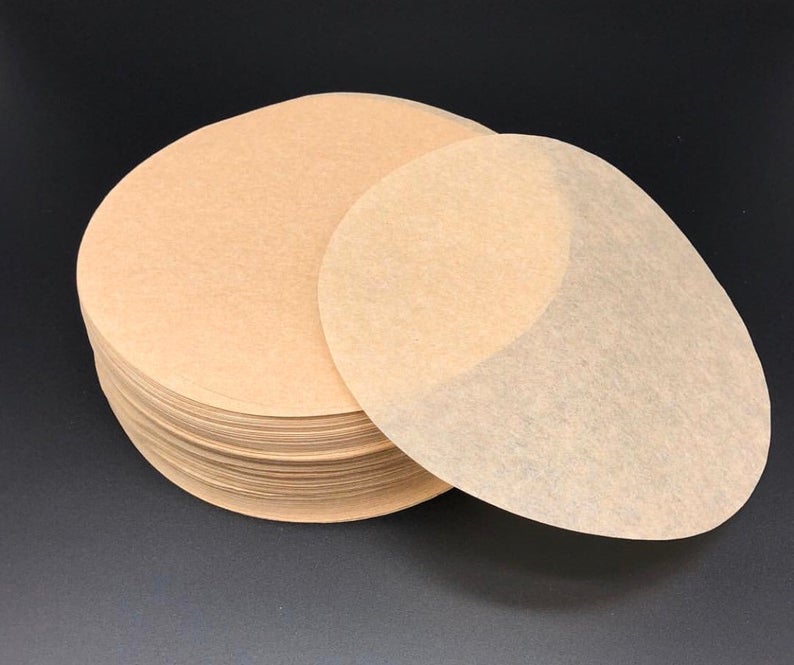 If you bake a lot of cakes, this inexpensive little item will save you a ton of headaches. Precut parchment rounds in every size of cake tin! Get 200 for just a few bucks, with free shipping! You just can't beat that. No more cutting out rolls of parchment by hand. Find them on Etsy at the link below.
---
Flexible Scrapers – Set of Three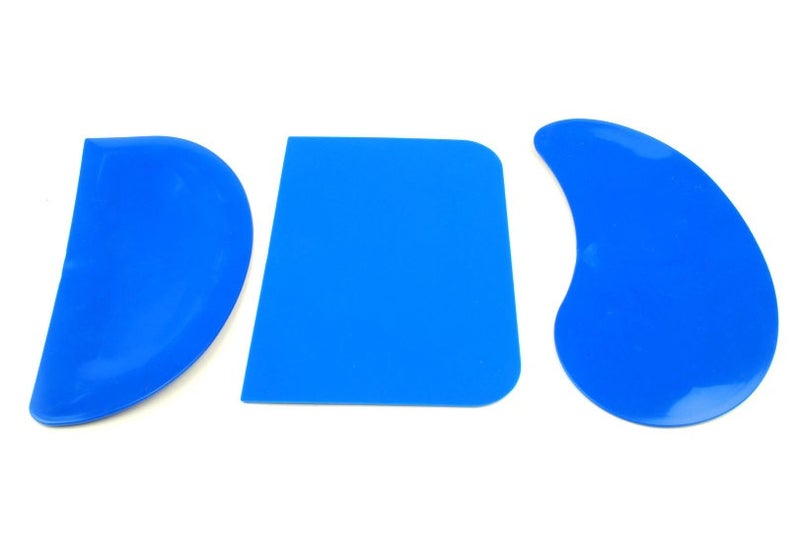 You'd be surprised at how often you use these things once you've got them. I actually prefer the flexible bench scraper over my stainless steel version – I always worry about that one scraping my surface, but I don't even have to think about it with this stiff, but flexible version. And the curved scrapers are perfect for getting all the batter out of a bowl – really easier to use than a traditional spatula! Especially good for heavy doughs.
They ship from the UK, so you do have to pay shipping. But for the set of three, it's only about $3.00, making the set about $8.00 . . . and well worth every penny! They're durable and wash up in your dishwasher. Check them out at the link below – they have a bunch of other options as well. Highly recommended!
---
My Etsy Finds for July, 2020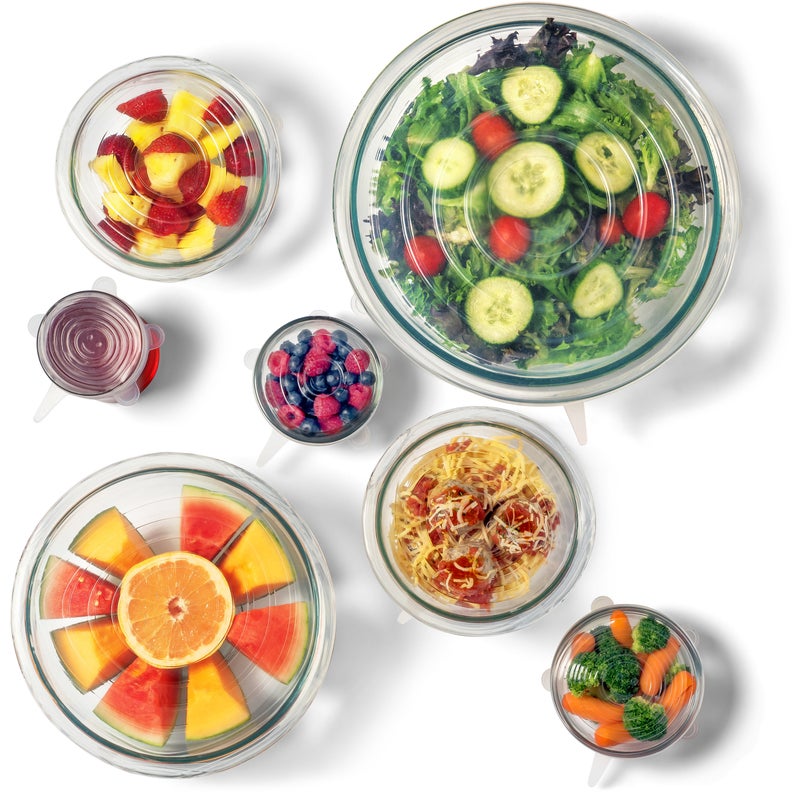 Reusable Silicone Stretch Lids from The Absolute Kitchen
I hate waste . . . and I'm sure you do, too. The problem is, How do you store leftovers while keeping them tasting as fresh as possible?
I walk by the shelf of plastic food storage tubs at the store and sometimes reach for them, but then I stop myself, thinking, "I just don't want to choose this, knowing it's going to encourage more plastic production. Isn't there some other alternative?"
Enter the Reusable Silicone Stretch Lid.
These things are great. Instead of having to maintain a mountain of plastic bowls and tubs for storing food (and never being able to find a lid to fit), these reusable lids do the trick on any bowl you already have – from a dog food can up to that giant popcorn bowl.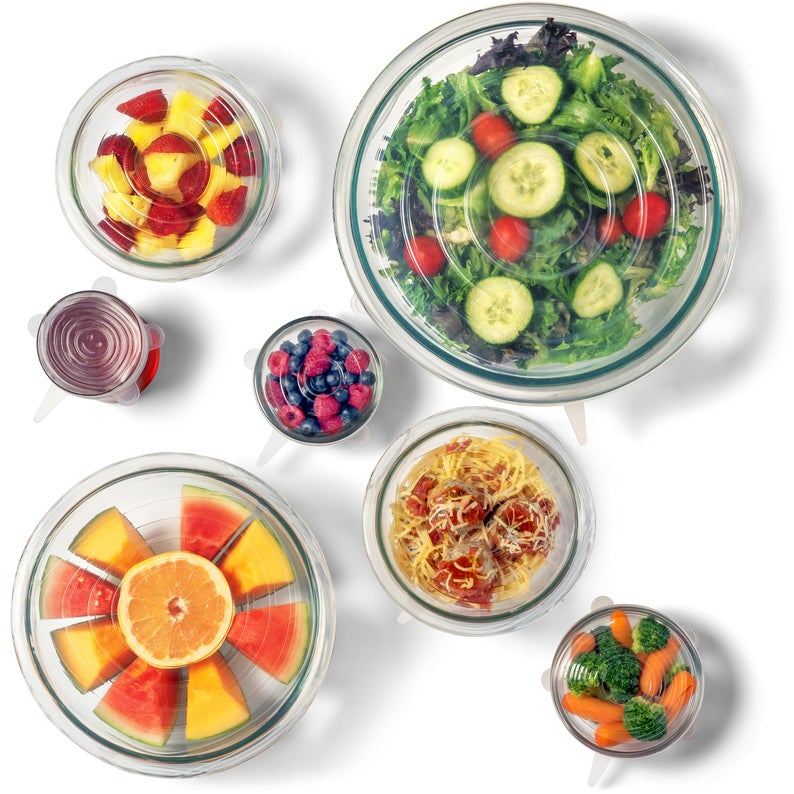 The lids are dishwasher safe on the top rack, and nest within each other for storage. They're "squishy" too, so they can easily fit in a drawer. I was able to get rid of an entire shelf full of old tubs with just two sets of these! And no more plastic purchases needed.
The lids are BPA-free, food-grade silicone and do not leach anything into your food. Safe for the microwave . . . just peel one of the corner tabs back, tuck it under, and you've got a small vent for releasing steam. Really affordable too. Check them out on Etsy:
---
Under Cabinet Spice Rack from WoodenYouLoveThis
Having just reorganized my spices for the 20th time, I can really appreciate the recognition of the problem, and the elegance of the solution. The design even allows for stacking the small McCormick spice jars! Perfect. And the way it slides out and then tips downward at an angle is very clever too. You can even send in a photo of your cabinets and the craftsworker will match the color! Very impressive.
---
Speaking of wooden utensils, I came across this set that I thought would be perfect for my kitchen.
Olive Wood Spatula Set / Wooden Cooking Serving Spatula Set (X3) / Kitchen Spoons Utensils Set
There are a lot of wooden utensil sets on Etsy, and perhaps another might work better for you, but these are perfect for me. I like that they are made from hard olive wood – not only durable, but pretty. And I really like that flat, slanted edge. I use that for browning hamburger or flipping things in my frying pan. They are handmade in Tunisia from old olive trees that aren't bearing anymore, so each one is unique.
---
This next item illustrates one of the best things about Etsy: So many items are made-to-order, to your specifications and measurements.
American Walnut Magnetic Knife Holder from Ikigai Knives
You've all seen those magnetic knife holders, right? It's usually a long piece of metal with a strong magnetic bar inserted in the middle and you slap your knife on it and it stays put. More or less. The problem, of course, is that they come in a set size, and the magnet is one long continuous strip, so when you go to put your knife away, you're constantly banging it against the other knives already mounted. This can ding an edge and ruin your expensive knives.
This knife rack is different. First, it's made-to-order, so you can specify what size you want. Second, it's made from walnut so you get a beautiful, solid piece, and Third, the hidden magnets are arranged with space in between, so your knives are pulled into a specific location, away from one another so they don't bang together. Ideal!
And the magnets are strong. There are review photos of this rack holding a heavy can-opener, garlic press, pair of solid metal scissors . . . amazing! Very versatile for your kitchen organization.
---
One more thing for today – and this one may sound a little weird. But for people who struggle with very tiny kitchens, finding that extra bit of counter space is a godsend. Enter the . . .
Stove Top Cover Board from Creek Side Country
This is just one design of many that the craftsworker can make. Each one is custom-made to order. There are also flat boards that can fit over a sink or flat-burner stove, or other boards with sides like this one that can fit over the stove-top of an RV. They're a bit rustic, but adding this much space to a small kitchen would be heavenly.
The vendor notes: "We do not keep an inventory on hand of products pre-made, so each order is individually done in our home shop for you. We reproduce our primitives with furniture quality finish. Our products are hand cut, hand painted, distressed, and a 6-layer wood finish applied when your order is placed with your color choice. We try out best to get these products out in 20 business days; however, there are times when it might take a few days longer (each layer has to dry). Quality takes more time and cannot be rushed." I really appreciate this attention to quality.
---
Looking for something else? Just click on the banner below and it will take you directly to Etsy's site. There you'll find tons of hand-crafted selections of Jewelry and Accessories, Clothing and Shoes, Home and Living items, Wedding and Party, Toys, Art, Craft Supplies and more. It's fun to just browse!