Do you have a list of kitchen tools or gadgets that you wish you had? Though I've stocked my kitchen with some great tools, there are gaps as well.  Lately, I've been eyeing the new Instant Pots that are advertised everywhere.  I have a standard pressure cooker, and it still works fine, but having all the automated features on an Instant Pot makes me pause at every ad or recipe that comes along.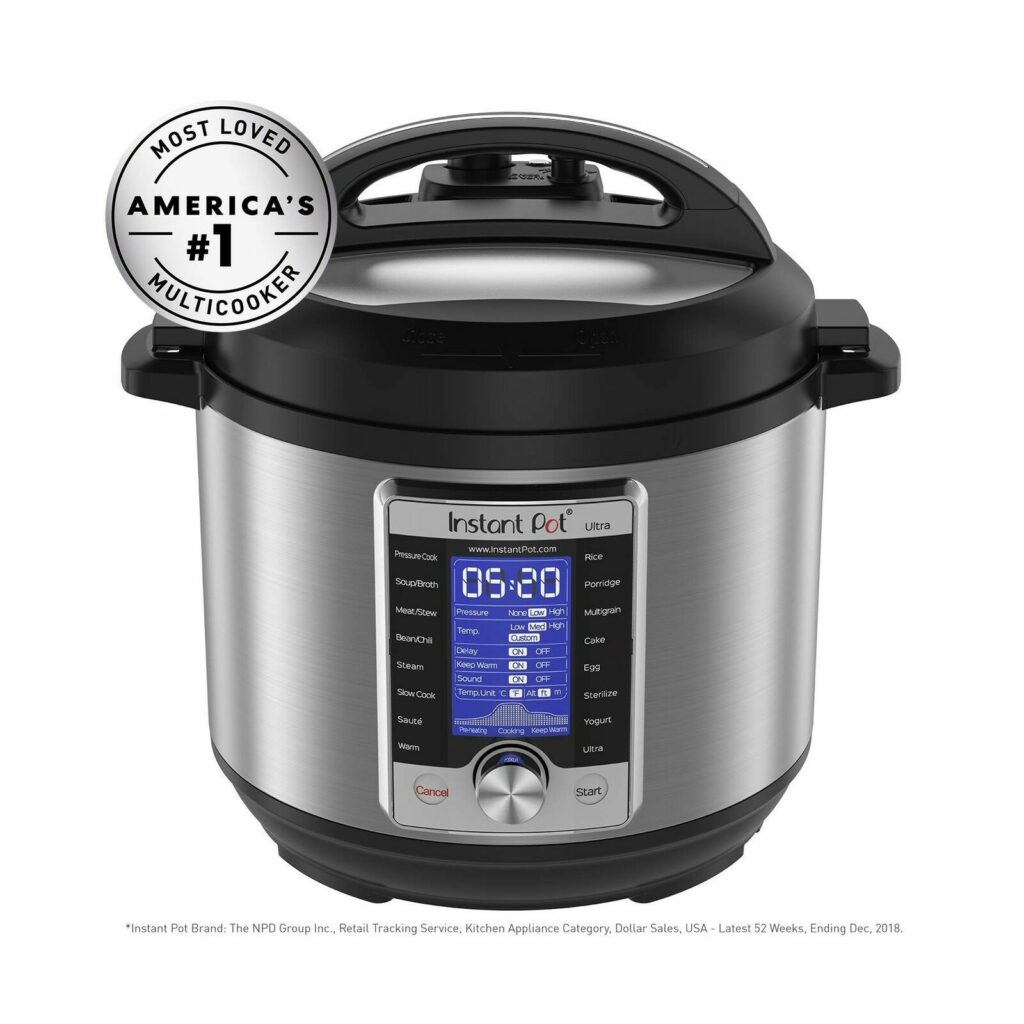 The number one rated, Best Buy Instant Pot on Amazon is the Instant Pot Ultra 60 Ultra 6 Qt 10-in-1, a 6-quart unit, though it also comes in a 3-quart and 8-quart size.  This programmable pressure cooker/slow cooker also serves as a steamer, sauté, . . . heck, it even makes yogurt.  That's because, unlike a typical crock pot or other slow cooker, you can set the temperature very low, and maintain that temperature accurately for a long time.  Conversely, cooking under pressure raises the temperature well beyond what you can get on the stove, which makes things cook super-fast!  Baked potatoes in 12 minutes?  Check.  Chicken noodle soup with veggies in 20 minutes?  Check again.
I've read a lot about these things, and everything points to this particular brand being the most reliable and most versatile.  The only question most people have is about the size – which size is best?  The answer seems to be a 6-quart for a larger family, or if you ever cook for a group of more than 4.  Cooking smaller portions in a larger pot is not a problem, it's just that the unit is quite a bit bigger.  For 2 or 3, people consistently say they are happy with the 3-quart size, as it takes less room on their counter.
The other advantage with this particular model is the Duo feature, which refers to the two levels of pressure.  You can't do that in a regular pressure cooker at all.  At the low-pressure setting, you can cook more delicate items like eggs and fish without turning them to rubber like you would if you let the pressure get too high.  Maybe a feature that isn't used a lot, but the flexibility is nice.
In addition, the Ultra 60 boasts the following:
Instant Pot Ultra-electric pressure cooker is the next generation in kitchen appliances. A central dial with a simple turn and press provides added precision in program selection and adjustment
New features: Altitude adjustment, cooking indicator, and a steam release reset button. The ultra button for custom programming. The new features include sterilize, cake and egg programs
Replaces 10 common kitchen appliances: Pressure cooker, slow cooker, rice/porridge cooker, yogurt maker, cake maker, egg cooker, sauté/searing, steamer, warmer, and sterilizer
Developed with the latest 3rd generation technology with an embedded microprocessor. The microprocessor monitors the pressure and temperature, keeps time, and adjusts heating intensity and duration
UL certified with 11 safety features to provide peace of mind. New steam release reset button for safer handling. All components in contact with food are food grade 304 (18/8) Stainless Steel
Accessories included: Steam rack (with handles), recipe booklet, serving spoon, soup spoon
Power supply: 120V – 60Hz
What comes with it?  This unit comes with the outer shell, a removable, food-grade stainless steel inner pot, a small steamer basket, and the pressure lid.  If you expect to use the slow cooker feature often, it may be good to order the optional glass lid that fits in place of the pressure lid. You can order replacement seals at Amazon as well, and you'll need to over time.  They do get old and weak.  And there are also optional rice bowls that fit inside the steel inner pot.  If you cook the rice right in the steel pot, it tends to stick on the bottom (as rice will).
One note – the Instant Pot does not reach the same pressure as a traditional pressure cooker, so if you're planning on using it for canning vegetables, think again.  It won't reach the pressure needed to perform this task, and you won't be able to fit nearly as many canning jars inside.  So, just a heads-up.
But with these caveats, the Instant Pot Ultra 60 Ultra 6 Qt 10-in-1 is really the ideal choice for your kitchen.  Depending on what you do now, it can replace a number of items (I don't can, so I wouldn't need my regular pressure cooker anymore, and I could get rid of the rice cooker and steamer as well.)  So it may seem like one more thing to find room for, but it does allow you to get rid of some other things, too.
Check out my recipe for Instant Pot Beef and Barley Soup – ready in minutes, not hours.
Find out more about the specifications, reviews and price by clicking the link below.  Read through some of the questions asked as well – that helped me to narrow my choice to this particular model.
If you still have questions, feel free to leave a comment and I'll research further.  But I don't think you can go wrong with this Instant Pot Ultra 60.  It's the market leader with hundreds of thousands of ardent fans.