What doesn't bacon make better? It's a hit in these Bacon Cheddar Deviled Eggs. I've brought these to many a party and get-together, and have yet to take one home. You'll see other recipes around, but mine have a secret ingredient that makes all the other flavors pop!
Deviled eggs are something of a staple around here. If you're going low-carb, Paleo, or some other diet that emphasizes protein over sugar, this recipe will be perfect for you. Bacon Cheddar Deviled Eggs have almost zero carbs, taste great and are really easy to make.
Making Hard-Boiled Eggs
But my eggs never peel right! It's such a hassle!
First of all, if you're starting with eggs in cold water, just stop. It doesn't work. Nor does baking soda or any other tricky-dicky method you've found on Pinterest. Here's the best way, from someone who has made five-million hard-boiled eggs (give or take):
Start with your oldest eggs. Usually the ones from a local grocery are plenty old enough to make good hard-boiled eggs, but if you're getting yours delivered fresh from a farm, you'll want to let those sit for a few days first.
Let your eggs sit out on the counter for a few hours or overnight. You want them to be close to room temperature.
Fill a large saucepan (I always make at least a dozen at a time) about half full of hot water and start heating on the stove. You want it to boil. No need to add salt or anything else.
Once the water boils, lower each egg in with a slotted spoon, dunking halfway for 2 seconds, then lowering gently to the bottom. You want the air pressure inside the egg to have just a few seconds to equalize through the shell. But if it cracks, no worries, just leave it be. A little white will leak out, but most often, you still get a perfectly serviceable egg.
Once all the eggs are in, set your timer. Pay attention to your altitude. If you're at sea level, the boiling temperature will be higher than here in Denver, so your boiling time will be shorter. Here, I boil for about 14 minutes, but at sea level, lower that to 12. Just a minute or two can make all the difference between hard, mealy, green-tinged yolks, and moist, bright yellow ones. Best to err on the lower side.
Once the timer goes, drain the eggs and run cold tap water over them for a minute or two, until the water in the pan feels cold to the touch. Don't be afraid to be rough with them – cracking the shells just gets more cold water inside, and that's a good thing.
Let the eggs sit in the water for 30 minutes. This is really important.
When you're ready to peel, take an egg and rap the fatter end hard on the side of the sink. Peel a piece off the fat end, making sure you've removed the thin membrane that covers the egg. Gently start squeezing the egg round and round to open a gap between the shell and the white. Under running water, keep squeezing and let the water get inside. Once it's loose, just peel it off. Make sure you get all the membrane off the egg. (If you don't like keeping the water running, just have a large bowl of water handy in the sink and do it all under water.)
If you're still skeptical about my method, check out this great video for the reasoning why starting with cold water is a terrible idea:
With practice, you'll be peeling a dozen eggs in about 4 minutes or so, and they'll all come out as clean as can be. You'll still get a clunker now and then, but not very often!
Bacon Cheddar Deviled Eggs
Now that you've got your eggs done, here's how to make the rest. And take a look at some of the great carriers I have listed below. It will make your life a lot easier to just place the half-shells directly into the carrier as you cut them apart.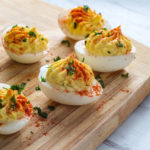 Print Recipe
Bacon Cheddar Deviled Eggs
Creamy, smoky deviled eggs with a secret ingredient to make all the flavors pop!
Ingredients
12

lg

Eggs

1/2

cup

Mayonnaise

4

slices

Bacon

2

tbsp

Cheddar Cheese

finely shredded

1

tbsp

Mustard

Yellow, brown, whatever you prefer

1

tsp

Horseradish

or 1 tbsp Horseradish sauce

Salt and Pepper

to taste
Instructions
Prepare hard-boiled eggs. See my method at www.bakingnaturally.org

Slice eggs lengthwise and pop the yolk out into a medium mixing bowl. Place the shells in a tray or carrier.

Cook bacon until very crisp. I usually fry in a skillet and store until I'm ready to use some. When I need it, I give it a minute in the microwave.

Chop the bacon very fine. Add to medium mixing bowl with the yolks along with all other ingredients except salt and pepper.

Mix well (I use a hand mixer). Give it a taste and see if you need any salt or pepper. Bacon, mayo and cheese all have quite a lot of salt, so you may not need any at all. Remix if necessary.

Fill the shells with the yolk mixture. I use a piping bag and it goes very quickly.

Refrigerate for an hour to let the yolk mixture set up a bit.
And while you're working on appetizers, why not try my Layered Chicken Ginger Dip? Super-easy and feeds a crowd!
I know you probably have one of those Rooster-style deviled egg plates up in your cupboard, and if you're like me you can't remember the last time you used it. They're just totally impractical. But these carriers are an inexpensive way to get those tasty bites from one place to another, or to just store in your fridge for yourself!
How To Use a Piping Bag
I mention that I use a piping bag to fill my deviled eggs. You can use a spoon, but I find the results messy and less appealing than they can be. Here's a good video on how to do some simple piping:
Leave a comment and let me know how it worked for you.
Apples are here, and Homemade Apple Crumb Pie is a great way to serve them…