The search for the best gluten free bread recipe continues.
One of the biggest problems with narrowing down a really good gluten free bread recipe is dealing with the limitless ingredients.




Regular bread is so simple, right?  Flour, sugar, salt, water and yeast – boom.  But with gluten free, you're always dealing with multiple flours, maybe some starches, a few eggs, maybe some xanthan gum, and then there's the "secret ingredient" or two.  I have well over a dozen different ingredients on my shelf right now, and none of them are cheap.
In today's recipe, for example, we have a mixture of 6 flours: In the Red Mill mix: garbanzo bean flour, potato starch, tapioca flour, whole grain sweet white sorghum flour, and fava bean flour.  We've also added oat flour, dry milk powder and powdered psyllium husk.  That's a lot of products to buy!
And that's why I'm trying to narrow down only the best recipes for you – so you don't wind up with 6 tiny bags of fava bean flour languishing in your cupboard.
Today we're starting with a base made up of Bob's Red Mill Gluten Free All-Purpose Baking Flour, and to that we're adding a few ingredients to come up with a tasty and serviceable sandwich bread.
Ingredients:
2 cups water (110º F)
2 large eggs
2 Tbl melted butter
2 3/4 cups Bob's Red Mill Gluten Free All-Purpose Baking Flour
1 cup gluten free oat flour
1/2 cup organic milk powder
3 Tbl powdered psyllium husk (optional)
2 Tbl sugar
1 package  (2 1/4 tsp) yeast
2 tsp baking powder
1 1/2 tsp salt
Directions:
Grease a 9″ x 5″ x 2 1/2″ loaf pan.  Mix the water, eggs and melted butter in a small bowl.  Whisk together the flour, oat flour milk powder, psyllium, sugar, yeast, baking powder and salt in a large mixing bowl.  With the paddle attachment, add the liquid to the flours gradually, mixing well between each addition.  Scrape down the bowl and mix for two minutes until well blended.
Spoon the batter into the prepared loaf pan.  With buttered fingers, smooth out the top of the loaf.  Cover the pan with plastic wrap – leaving room for expansion.  Place the pan in a warm spot to rise for 1 hour, or until the dough extends about 1/2 inch above the pan.
Bake in preheated 350º F oven for 1 hour, 10 minutes.  The crust should be golden, firm and the loaf should sound hollow when tapped.
Here's the finished result: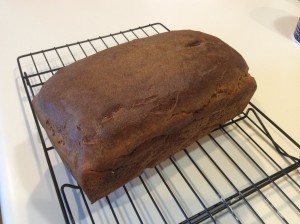 The loaf is well-shaped and dense.  The aroma is strong of oats, but no bean-y smell from the garbanzo flour at all.  The original recipe called for baking at an hour and a half, which would have been far too long.  I removed this loaf at an hour and 20, and could have backed it down another 10 minutes (reflected in the recipe).
Upon slicing, the crust is light and just 1/8″ thick.  The gas holes are small and uniform, with thin cell walls.  The interior is moist but holds together exceptionally well – better than the Pamela's Bread Mix recipe you can find here.  I was able to cut very thin slices with no crumbly texture whatsoever.
The flavor is that of a dark bread – a little out of proportion to the actual color.  There is no sour aftertaste at all.  This bread would be perfect for a reuben sandwich or morning toast with butter and honey.
Overall, very high marks for Bob's Red Mill gluten free bread.
Comments?  Questions?  Have a product or recipe you would like to see featured?  Drop me a note in the box below.  I would love to hear from you!