(Original cake recipe from a tattered magazine page stuck in an old church cookbook.  I finally found the origin online here. )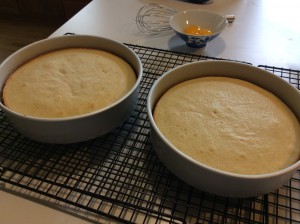 Preparations: Have the shortening at room temperature.  Grease and flour or line bottoms of pans with paper and grease the top.  Use two round 8-inch layers, 1 1/4 inches deep.  Start oven for moderate heat (375° F).
Prepare meringue by beating 3 egg whites with hand mixer until foamy; add 1/4 cup sugar gradually, beating only until meringue will hold up in soft peaks.
Measure into sifter: 
2 cups all-purpose flour
2 tsp baking powder
3/4 tsp salt
1 cup sugar*
Measure into mixing bowl:
1/2 cup vegetable shortening (see below*)
Measure into cup:
1 cup milk*
1 tsp vanilla
Have ready: meringue of 3 egg whites and 1/4 cup sugar
(*If the shortening used is butter or lard, decrease sugar and milk.  Use 1 cup minus 1 Tbl sugar and 1 cup minus 2 Tbl milk.)
The Mix-Easy Mixing Method (I actually use this.  At high-altitude it works well, as you really don't want too much air whipped into the butter/sugar.)
Stir shortening just to soften.  Sift in dry ingredients.  Add 3/4 of the milk and mix until all flour is dampened.  Then beat 2 minutes.  Scrape down bowl.
Add remaining milk, blend, then add meringue mixture and beat 1 minute longer.
Turn batter into pans.  Bake in moderate oven (375º F) 25 minutes, or until done.
This cake may also be baked in a 9X9X2-inch pan or a 10X10X2-inch pan in moderate oven for 30 minutes, or until done.
Looking for more recipes at high-altitude?  Check out these cookbooks from Amazon:


Have a recipe to share?  Email me at Don@bakingnaturally.org