Indoor Herb Garden Kit
Spring has sprung here in Colorado!  It's an old adage that you avoid planting or moving plants outside until after Mother's Day, so we're in the process of preparing our plants to be moved back outside.  My indoor herb garden is ready for some real sun, but it's been producing lots of herbs for me all winter long.  It has easily paid for itself in the cost of fresh herbs at the store.
I ordered the kit last year and planted several herbs:
Lemon Basil
Thyme
Dill
Oregano
Chives
Garlic Chives
Sage
The seed kit (sold separately – all non-GMO seeds)  came with other herbs, too, but I just don't use them enough to take up the space.  With this particular planter, you can plant 6 separate slots, but I just doubled up on things I use a lot of (like basil and dill).  You can order extra layers individually, to go even higher.  I bought a rolling plant stand that I put the whole thing on.
I got the plants started by rolling the planter outdoors and leaving on the deck just outside my kitchen.  The casters are a god-send, as I can just move it back and forth as I need to.  Downstairs, too, I can easily move it closer to the grow light, or rotate it around if I need to. You water from the top down – it will flow all the way to the bottom, so no stooping and crouching.
Here's how the kit arrived when I ordered it: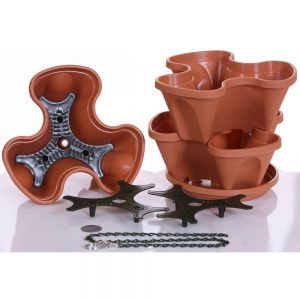 Couldn't be simpler to assemble.  And as I mentioned it waters all the way down from the top, so it's easy to take care of.
Here's a link to the product if you'd like to order.  There's nothing like fresh herbs for your baked goods!  And just a few uses will have this planter paying for itself.
And for the seed kit, here's what I used:
Leave a note and let me know how it worked out for you!