Indoor Herb Garden Ideas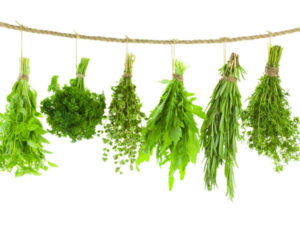 If you do any baking or cooking at all, you will find recipes calling for "two tablespoons of fresh, snipped chives," or "1/4 cup of fresh dill."  And so you go to the cupboard, find the 12-year-old tin of chives that fell behind the sugar bowl the last time you had baked potatoes, and you cross your fingers and sprinkle.  Amirite?
Of course I am.  But it really doesn't have to be that way.  Growing herbs is about the easiest thing in the world.  Even I can do it . . . and Dwaine is always commenting on my "brown thumb."
Here in Colorado, the growing season is just too short to really benefit from an outdoor herb garden.  You just get things producing then BOOM!  You get your first snowstorm and everything dies.  I didn't even bother for a number of years.  But the thing that turned it around for me was this handy device:
This smart planter offers the following features:
Garden year-round. Grow fresh herbs, vegetables, salad greens, flowers and more in this smart countertop garden
Up to 6 plants can be grown at a time. Plants grow in water…not soil. Advanced hydroponics made simple
High-performance, full spectrum 20-watt LED lighting system is tuned to the specific spectrum that allows plants to maximize photosynthesis, resulting in rapid, natural growth and abundant harvests
LCD control panel tells you when to add water, reminds you when to add patented nutrients (Included), automatically turns lights on and off
Includes 6-Pod Gourmet Herb Seed Kit that contains: Genovese Basil, Curly Parsley, Dill, Thyme, Thai Basil and Mint & 3 oz. patented nutrients (enough for a full season of growth)
Fresh herbs are best, of course, but fresh-dried are the next best thing.  Once I've got a good crop, I pull out about 3/4 of the stems, bundle them together with a small rubber band, and hang them upside-down on a small string I have in the garage.  In just a week or so, they are nicely dried.  I just crunch them up a bit and store them in an airtight jar.  You'd be surprised at how much better they taste when they are fresh!
If that particular model doesn't really work for you, check out these other versions available on Amazon:


And if you've got the space, why not check out a fresh mushroom garden?  I've always thought these would be a fun project to work on with the kids.  They grow really fast and come in a number of different varieties:

You don't have to settle for worn-out spices, and your family and friends will thank you for the little extra effort!
[print-me]