Indoor Herb Garden Kits and Ideas
Indoor Herb Garden Kits and Ideas
If you do any baking or cooking at all, you will find recipes calling for "two tablespoons of fresh, snipped chives," or "1/4 cup of fresh dill."  And so you go to the cupboard, find the 12-year-old tin of chives that fell behind the sugar bowl the last time you had baked potatoes, and you cross your fingers and sprinkle.  Amirite?
Of course I am.  But it really doesn't have to be that way.  Growing herbs is about the easiest thing in the world.  I've looked at a lot of indoor herb garden kits and ideas and even I can do it with this one . . . and Dwaine is always commenting on my "brown thumb."
Here in Colorado, the growing season is just too short to really benefit from an outdoor herb garden.  You just get things producing then BOOM!  You get your first snowstorm and everything dies.  I didn't even bother for a number of years.  But the thing that turned it around for me was this handy device: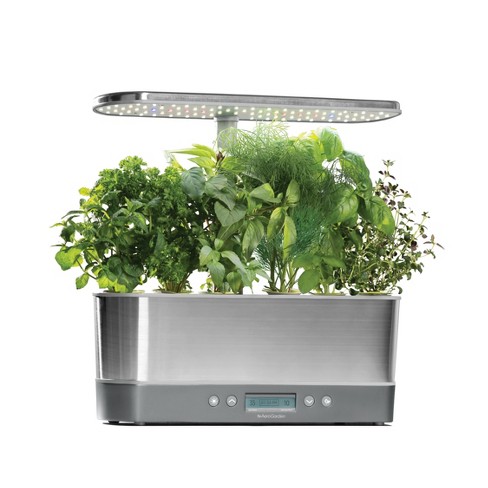 The AeroGarden Harvest Elite indoor plant growing system made it super-simple for me to grow expensive herbs indoors all year round.
The AeroGarden is completely hydroponic – no soil to mess with.  You can plant six different plants at a time.
The AeroGarden is digitally controlled – you set it up for "herb garden", and it controls the light schedule automatically to optimize your plant growth!
The model I have is stainless steel, but there are other colors to match your kitchen or wherever you choose to grow your herbs.
No matter what color you choose the unit is made from sturdy stainless steel. With the adjustable grow light, your plants can grow up to 12″ tall.
The unit indicates when your plants need more water.  There are even models equipped with wi-fi to send you an alert on your phone, so you never forget.  (Mine doesn't have that.)
Easy-to-use simple control panel includes vacation mode setting to help keep plants healthy and thriving when you're out of town.
Ultra-thin grow light hood with energy efficient 20 watt LED lights has customizable settings for better control of the amount of light your plants receive.
The unit comes with 6 herb seed inserts: Genovese Basil, Curly Parsley, Dill, Thyme, Thai Basil and Mint & Miracle-Gro Plant Food (enough for a full season of growth).
Fresh herbs are best, of course, but fresh-dried are the next best thing.  Once I've got a good crop, I pull out about 3/4 of the stems, bundle them together with a small rubber band, and hang them upside-down on a small string I have in the garage.  In just a week or so, they are nicely dried.  I just crunch them up a bit and store them in an airtight jar.  You'd be surprised at how much better they taste when they are fresh!
If that particular model doesn't really work for you, check out these other versions available on Amazon:
You don't have to settle for worn-out spices, and your family and friends will thank you for the little extra effort!