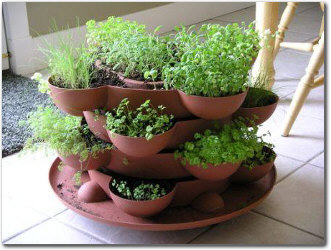 There are many indoor herb garden kits available nowadays. But here are some new indoor herb garden ideas that really provide value for the money.  This is one that I've found to be very practical for me here in Colorado.  Check out the other indoor herb garden ideas below!




If you do any baking or cooking at all, you will find recipes calling for "two tablespoons of fresh, snipped chives," or "1/4 cup of fresh dill."  And so you go to the cupboard, find the 12-year-old tin of chives that fell behind the sugar bowl the last time you had baked potatoes, and you cross your fingers and sprinkle.  Amirite?
Of course I am.  But it really doesn't have to be that way.  Growing herbs is about the easiest thing in the world.  Even I can do it . . . and Dwaine is always commenting on my "brown thumb."
Here in Colorado, the growing season is just too short to really benefit from an outdoor herb garden.  You just get things producing then BOOM!  You get your first snowstorm and everything dies.  I didn't even bother for a number of years.  But the thing that turned it around for me was this handy device:
Culinary Herb Garden Kit with Stack & Grow Stackable Planter
Stack & Grow culinary herbs indoors or out. Kit includes all you need from start to finish, just add soil and water and grow a beautiful garden of culinary herbs to spice up your cooking.  [More]
Price: $78.48
This planter offers the following features:
Holds up to 20 different plants at once.
Includes base, 4 stacking trays, casters & instructions
Stack even higher with extra growing trays
Great for indoor container gardens & vertical gardening
Grow house plants, flowers, herbs, tomatos, strawberries, cactus, microgreens & more.
24″ diameter by 15″ tall, with 2.5″ deep cups
Rollable Wheeled Base – Move around easily, indoors or out. Removable casters.
Indoor / Outdoor Use – Elegant no matter where you put it
Heavy Duty Plastic- completely weather-proof for outdoor use
UV Protected Plastic – Won't fade or crack in the weather or sun
Water Top down – Easy with the innovative design
Simple Assembly – No tools needed.
Collapses for Easy Storage
Made In USA
FREE SHIPPING ON ORDERS OVER $50
1 Year Limited Manufacturers Warranty
If you want just the planter, you can order that below.
Stack and Grow Garden Planter – Stackable Flower Pot/Planter
The Stack & Grow garden planter is a stackable flower pot / planter that can be rolled indoors or out, depending on the weather. Incredible indoor / outdoor stackable garden planter with a wheeled base. Just stack & grow. Grow herbs, flowers, house plants, cactus garden, more. Made in the USA. Durable, UV resistant material. 5 colors. [More]
Price: $44.95
 They offer this kit with free shipping – on anything over $50.
They also have seeds for planting.  I recommend the following:
Parsley
Lemon Basil
Thyme
Dill
Cilantro / Corriander
Sweet Marjoram
Oregano
Chives
Garlic Chives
Mustard
Savory
Sage
Culinary Herb Seed Assortment – Grow Cooking Herbs, Basil, Dill and More
A great collection of twelve culinary herb seeds with detailed planting instructions. If you bought this seed collection at your garden or hardware store, you would pay well over $20! Great seeds at huge savings. [More]
Price: $12.15
I have my planter down in the basement under a small grow-light, and it works perfectly.  When I need fresh herbs, I just go down, snip off a few and I'm in business.
This particular planter doesn't come with seeds or the Jiffy pots and grow dome, but you can order all that separately if you want.  I didn't plant all the seeds, as I rarely use some of them, but they're available.  Once you have the planter going, the plants provide plenty of herbs for you to dry, if you want.  I find they get too "leggy" if I'm not pruning them off occasionally, so I dry out the pruned leaves and save them in small, labeled jars.
With an indoor garden like this, you can enjoy the flavor of fresh herbs anytime, which just can't be beat.
This company also offers small greenhouse/grow light combos – perfect for a small house or apartment:
Mini-Greenhouse Nanodome by SunBlaster – Grow Tray and Light
Mini Greenhouse Plant Propagation System
Includes adjustable air vents
18 Inch flourescent growing lamp
Sturdy 10″ x 20″ Plant Tray
Great for growing an indoor herb garden
The Sunblaster NanoDome is the perfect way to grow indoors. The standard 10″ x 20″ growing tray can be used with either soil or hydroponic grow mediums. The clear plastic dome includes air vents and houses the grow lamp. The full spectrum grow lamp is 18″ long, and produces almost no heat.
The NanoDome mini greenhouse is a complete system for growing indoors, all year long. Perfect for herbs, microgreens, wheatgrass and starting garden seedlings for transplanting.
[More]
Price: $59.95
And how about growing your own mushrooms?
Another fun product they offer (which I haven't tried yet, but am terribly curious to see it) is mushroom growing kits.  They have a huge selection, from shiitake to pearl oyster to enokitake to turkey tail and more!  The
mushroom patch kit will produce fresh shiitakes for about 16 weeks, with regular harvests at about 2 week intervals. Kit includes humidity tent, detailed instructions and mycelium infused substrate (sawdust and wood chips).  Even here in Denver I can't always find fresh mushrooms (apart from the ubiquitous buttons).  So a kit like this could be a lot of fun.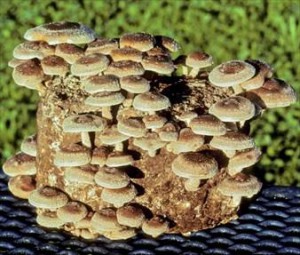 Here's a link to the shiitake:
Indoor Organic Mushroom Growing Kits
 So stop with the ancient, mummified chives and get growing!  You won't regret it.
Comments?  Questions?  Please leave a note below.  I'd love to hear from you.
Summary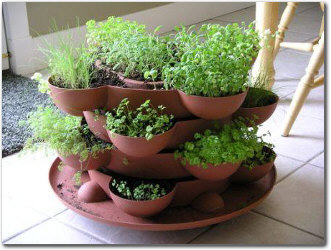 Author Rating
Brand Name
Product Name
CULINARY HERB KIT PLUS STACK & GROW HERB KIT - COMBO
Price
Product Availability