Best Natural Cleaning Products
Some say, "A Messy Kitchen is a Sign of Happiness." Yeah, well that wouldn't be ME. In my house, a messy kitchen makes the cook nervous. "Did the raw chicken touch that cutting board?" "Did you wash that knife . . . or did I wash that knife? I think I'll wash it again . . . " I'm constantly wiping down the counters and cupboard doors and the floor.
Dish Soap
There are a number of  dish soaps out there that consist of more natural ingredients, no dies, no scents, etc.  I'm recommending two: Dr. Bronner's Sal Suds Biodegradable Cleaner, and Mrs. Meyer's Clean Day Dish Soap.
Dr. Bronner's Sal Suds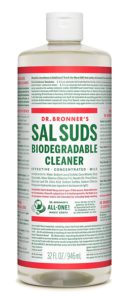 There's a lot to like about Sal Suds.  It serves as an all-purpose cleaner, so it works on all hard surfaces, including dishes.  It's made with plant-based surfactants, and is scented with natural fir and spruce essential oils.  It contains no dyes, fragrances or preservatives.
Sal Suds is certified organic by the USDA National Organic Program and certified Vegan by Vegan Action.  It's sold in 100% post-consumer recycled plastic bottling.
For dishes, users recommend diluting 50/50 with water, then using as you would any dish soap.  The product rinses very clean, leaving no residue or scent.  As for sheer cleaning power, users rave about how well it does cutting grease but doesn't aggravate skin allergies (my problem).  Read more about it on Amazon here.
Mrs. Meyers Clean Day Dish Soap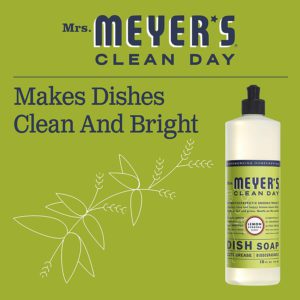 Another fan favorite, Mrs. Meyers Clean Day Dish Soap is great at cutting through grease, while containing only plant-derived cleaning ingredients.  The soap is biodegradable and designed specifically for washing dishes, pots and pans.  So no diluting as with Sal Suds (though some reviewers said they did just that and the results were still very good.)
Mrs. Meyers comes in various scents, derived from natural essential oils.  The most popular is the lemon verbena, with a mild citrus scent.
Mrs. Meyers products are cruelty-free and not tested on animals.  There was no specific notation about the packaging, so I assume the bottles are not made from recycled materials.
Read more about Mrs. Meyers Dish Soap, and the other scents available here:
All-Purpose Surface Cleaner
Surface cleaners have to meet several criteria for me.  They must . . . 
Work.  Spray, wipe, done.  Clean surface, no residue, no streaks.
Not contain dangerous chemicals that will transfer to food.
Work on multiple surfaces.  I hate having six bottles of stuff just to clean the various surfaces in my kitchen.
Contain little or no fragrance – preferably something natural, not perfum-y.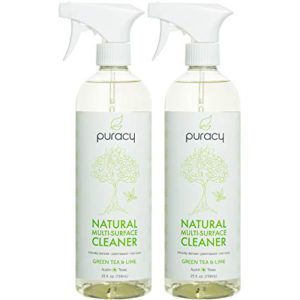 After trying a lot of things out there on the market, one product seems to "outshine" them all: Puracy Natural All Purpose Cleaner.  
Puracy works for what I need it to do in the kitchen.  I use it to clean my counters after a day of work, and it picks up any smeared butter, sticky flour, dried egg whites (OK, so I get a little messy), and wet sugar.  I don't use it to clean my oven, nor do I imagine it will wipe away the toasted spots on my broiler pan.  But for normal daily use, it works very well.  
Puracy contains natural and plant-based ingredients, and is non-toxic.  It definitely cleans better than a vinegar/water mix, as it contains natural surfactants which can break up oil.  I spray it on and wipe first with a paper towel to get up the gunk, then go over it again with a microfiber cloth.  It is safe for use on all hard surfaces that can handle a little moisture, including: kitchen countertops, high chairs, electronics, smartphones, tablets,  chrome, granite, glass, metal, painted surfaces, plastic, porcelain, quartz, sealed & unsealed stone, sinks, stainless steel, tables, vinyl, and any other solid surface
Ingredients
Purified Water, Decyl Glucoside (Vegetable-Based Cleanser), C6-C12 Alcohol Ethoxylate (Plant-Based Cleanser), C12-C15 Alcohol Ethoxylate (Plant-Based Cleanser), C9-C11 Alcohol Ethoxylate (Plant-Based Cleanser), Citric Acid (Plant-Based pH Neutralizer), Sodium Citrate (Plant-Based pH Neutralizer), Natural Fragrance, Benzisothiazolinone (Biodegradable Preservative)
The scent in Puracy is a natural tea tree/lime, which I like very much.  I'm allergic to a number of perfumes, but I've had no trouble with this scent at all, and find it leaves my kitchen smelling very fresh and clean.  
I have a stainless steel refrigerator and stove, and Puracy cleans these well.  I had to learn to use the microfiber cloths to buff out streaks though – the main problem with stainless steel!!  RAWR!  But I find if you spray, wipe off marks with a paper towel, then very quickly follow with a cloth, you'll get a clean, clear surface.
Give Puracy a try and see if you agree.  
Best Natural Floor Cleaner
My poor floor takes a beating.  From grease splattering on the stove, to my fumbling fat fingers dropping spoons and whatnot, I'm always cleaning up a mess.  If I had tile or linoleum or vinyl floors, it wouldn't be such a problem.  But I do not.  I have wood floors in my kitchen, so I can't use just any cleaner on them.  
If I'm giving the floor an overall cleaning, I generally use just vinegar and water.  But when I make a greasy spot-mess and I don't want to mop the entire floor, I want a quick cleaner that will pick up the oil without using a bunch of harsh, unsafe chemicals in the process.  And Mrs. Meyer's comes to the rescue again with Mrs. Meyer's Clean Day Multi-Surface Concentrate
Like Mrs. Meyer's Dish Soap above, their products are often at the top of the list when it comes to ecologically-friendly products.  The floor cleaner is free phthalates and parabens, glycol solvents, chlorine, formaldehyde and artificial colors.
This product is very concentrated.  Use only the diluted product on hardwood floors – about 1/4 cup per gallon.  I have a microfiber mop with one of those spin attachments (hey, don't laugh, the thing works!).  In five minutes, I can get the front of the stove and all around my counters.  I do not rinse.  It works great and has not harmed my wood in any way.  The verbena scent is citrusy, so it goes well with the Purity cleaner, too.  
I highly recommend Mrs. Meyer's Clean Day Multi-Surface Concentrate. Check it out below.