Best Natural Cleaning Products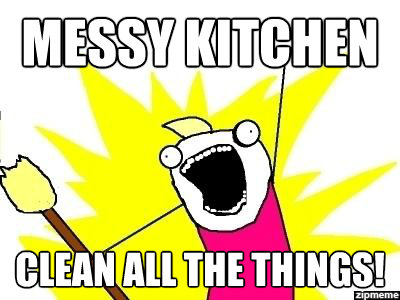 Some say, "A Messy Kitchen is a Sign of Happiness." Yeah, well that wouldn't be ME. In my house, a messy kitchen makes the cook nervous. "Did the raw chicken touch that cutting board?" "Did you wash that knife . . . or did I wash that knife? I think I'll wash it again . . . " I'm constantly wiping down the counters and cupboard doors and the floor.
One thing that does make me feel better is using the best natural cleaning products available.  And I found them from The Honest Company.
The Honest Company makes a full range of natural cleaning products that you can be comfortable using in your home.  I use the multi-surface cleaner all the time and it works GREAT!  No harsh chemicals – so no smell or streaky residue . . . just a nice grapefruit scent from the grapefruit oil.  And the ingredients are all naturally-derived from plant extracts:
INGREDIENTS:
Purified Water, Sodium Coco Sulfate (Coconut-Based Cleanser), Caprylyl/Myristyl Glucoside (Plant-Based Cleanser), Phenoxyethanol (PH-Sensitive Preservative), Citrus Grandis Oil (N.O.P. Certified Organic Grapefruit Oil), PPG-4 Laureth/Myreth-5 (Coconut-Based Cleanser), Alcohol (Fermented From Corn Sugars), Methylisothiazolinone (Preservative)
This product is free of ammonia, SLS, SLES, fragrances, glycol, dyes, phosphates, 1,4-dioxane, chlorine, bleach, DEA, formaldehyde, triclosan & caustics.  I swear by it . . . and not at it.
Another product I use from The Honest Company is their floor cleaner.  I have wood floors in my kitchen, and my floor can get pretty messy after a long day of cooking and baking.  Grease spatters, oil drips, the wayward egg rolls off the counter – you know the drill.  But I can safely use this product on my floors and trust that it won't harm the surface at all.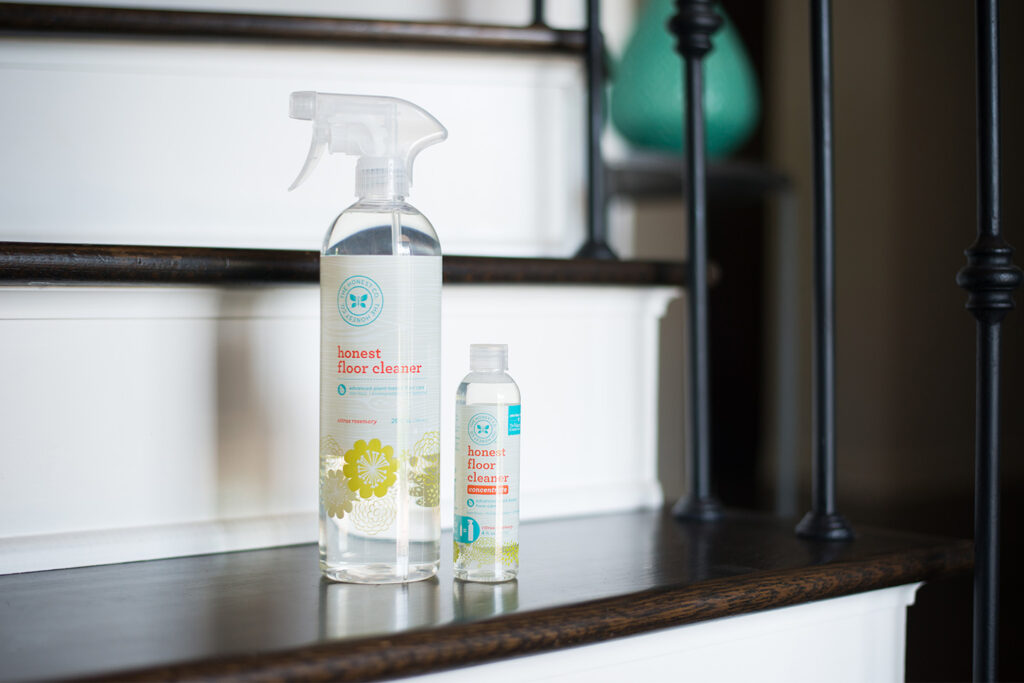 INGREDIENTS:
Water, Ethyl Alcohol (Fermented From Corn Sugar), Caprylyl/Myristyl Glucoside (Plant-Based Cleanser), Potassium Sorbate (Plant-Based Preservative), Acetic Acid (Natural Buffering Agent), Gluconic Acid (Plant-Based Buffering Agent), Citrus Grandis (N.O.P. Certified Organic Grapefruit) Oil, Limonene (Orange) Oil, Rosmarinus Officinalis (Rosemary Leaf) Oil
Powerful, natural 4-in-1 formula for all your floor care needs
Designed to safely break down grease, food, bacteria & dirt – will not damage wax or other protective coatings
Works likes a dream on hardwoods, bamboo, laminate & other sealed floors
Super easy rinse-free formula means NO messy bucket of water
Repels dust naturally
No harsh chemicals ever!
Clean, shine, restore, protect!
Non-toxic • Biodegradable • pH Balanced • Septic + Graywater Safe

The Honest Company makes all their products in the U.S.A., another important plus for me.  Not tested on animals, and awarded multiple awards for high-quality and environmental responsibility.  You just can't get a better product for your home.
Check out Amazon for all the other products they offer.  They specialize in products for infants – diapers, lotions, baby bath, etc., so there's a lot to peruse.  I have found that they live up to their name, The Honest Company.  If you're not 100% satisfied, they will make it right.