Summertime, and the livin' is easy.  Well, except for the stifling kitchen due to your big oven cranking out heat every time you want to make dinner or a treat for the family.  Maybe it's time to check out the best rated toaster oven from Cuisinart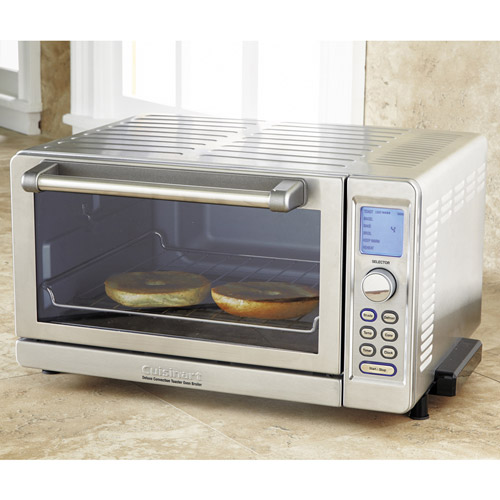 This is the Cuisinart Deluxe Convection Toaster Oven/Broiler (TOB 135).  It's big enough to roast a whole chicken or bake a 12″ pizza, but small enough to sit on your counter.  AND it has convection heat!  With this handy tool, you'll be able to cook your favorites in 30% less time, saving your home from excess heat.

What can this little oven do?  Take a look at this video and and see some of the features in action.
The convection feature circulates hot air around your food, cutting cooking time significantly.  With meats and poultry, the convection current crisps the outside, leaving all the juices inside for moist, delicious food.
The toaster feature toasts 6 slices of toast or bagels, and allows you to set the exact shade you prefer – from light to dark.
When baking and broiling, the Exact Heat sensors monitor the temperature constantly in several areas, so that the heat is kept constant throughout the oven.
The oven's interior measures  12 1/2″W x 11 1/2″D x 6 1/2″H, so you can fit a normal 9 X 12″ baking pan inside.  Perfect for a family casserole.  The interior rack has two levels.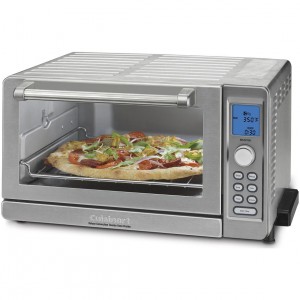 For cleaning, the interior is non-stick – just wipe with a damp cloth after use and your oven will last for years.  The crumb tray slides out from the front – and shouldn't they ALL?  
Comes with a limited, 3-year warranty.  When was the last time you saw THAT?
And the best thing: This best-rated toaster oven is now on sale!  Just $137.99 from Amazon (Prime Eligible!)
To learn more about this great little convection toaster/broiler, click the link below.  Other models are available, but I recommend this one for the price and features.
The Cuisinart TOB-135 Deluxe Convection Toaster Oven Broiler is designed with 9 functions, including convection for making delicious cakes, potatoes and roasts. Sized to accommodate a whole chicken, a 12-inch pizza, or 6 slices of bread, the unit is controlled by an electronic dial and LED buttons. The large blue back-lit LCD allows for the quick and easy setting of function, temperature, and cook time. The Exact Heat sensor maintains precise oven temperatures, and the Always Even shade control ensure that toast consistently turns out the selected shade. Customer Care Number 1-800-726-0190.
There is a 1 minute power-loss back up system in the TOB-135; so if there is a power surge or the power goes out, after 1 minute the oven goes to the Default setting.
-Spacious 0.6 cubic-foot capacity fits 6 slices of bread or a 12-inch pizza
-9 functions; Digital controls with large blue backlit display; electronic dial and LED buttons
-Convection fan cooks food faster and more evenly
-Preheat ready signal; clock and 2-hour timer; automatic shutoff
-Easy-clean nonstick interior; brushed stainless steel construction; slide-out crumb tray; includes baking tray, broiling rack and recipe book
Cuisinart TOB-135 Deluxe Convection Toaster Oven Broiler, Brushed Stainless