100% Whole Wheat Cinnamon Rolls
If there is such a thing as a "healthy cinnamon roll recipe", using 100% whole wheat flour has to be the place to start.
Here in Colorado, the seasons are beginning to change.  You can feel it in the air – especially in the morning.  In a week or so, we'll make it up to our cabin in the mountains outside Fairplay to see the aspens changing color. There's nothing better than the smell of fresh-baked goods on a crisp fall day!  Especially when the results are this good.
Everyone has a homemade cinnamon roll recipe.  I've waded through dozens of church and school cookbooks, and there's always at least one.  The variations are endless – in the dough, in the filling, in the baking process.  So finding one that works for you is important.
I modified a church recipe to make these 100% Whole Wheat Cinnamon Rolls.  I use all organic ingredients, but I've listed the recipe just as noted in the book – I'll let you decide how organic you want to make it.
Working with whole wheat flour has its pros and cons.  The pros include the health benefits of including the whole grain – the bran and the germ – which provide more nutrients and fiber.  The con is really time.  It just takes longer to work with whole grain flour to produce a baked good that has a good texture and tenderness.
I recommend letting this mixed, pre-kneaded dough rise in your refrigerator overnight for best results.  Yeast can be killed by overheating, but cooling just makes it work much more slowly.  Putting this in the fridge at around 7 or so will give you that first rise by 7 a.m. – and will provide plenty of time for the mixture to absorb the moisture it needs to soften the bran in the flour.
You may need to add some additional liquid if the dough feels too dry through the kneading stage. The bran will absorb a lot of water through the process.  The kneading will also help bring the dough back up to a uniform room temperature so you have no problems with baking through.
I find that refrigerating the kneaded dough for 30 minutes before rolling helps it to keep it's shape as it's rolled out. You don't want this dough to be too thick.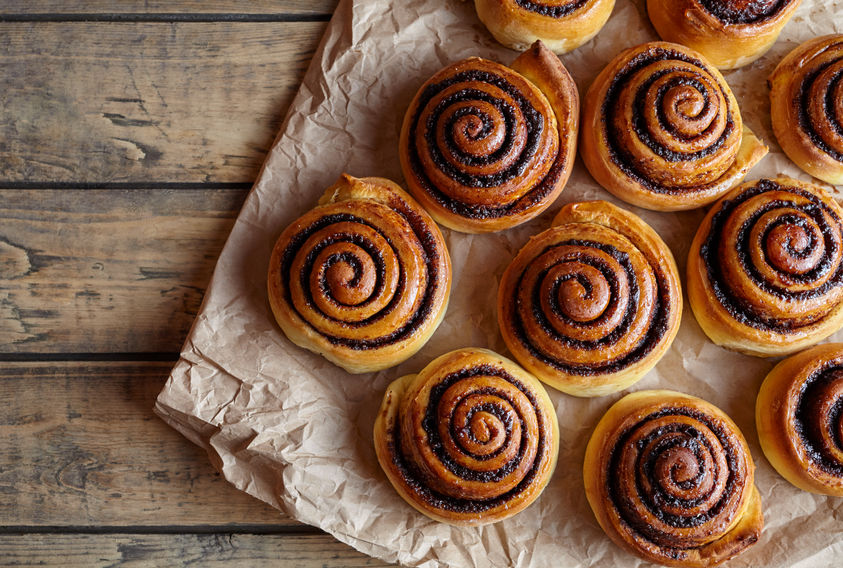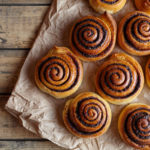 Print Recipe
100% Whole Wheat Cinnamon Rolls
I modified an old church-cookbook recipe to make these 100% Whole Wheat Cinnamon Rolls.  I use all organic ingredients, but I've listed the recipe just as noted in the book – I'll let you decide how organic you want to make it.  
Ingredients
Rolls
1/3

cup

Warm Water

110F

2

pkg

Dry Yeast

1 1/2

cups

Sour Cream

1/4

cup

Honey

4

tbsp

Butter

1/2

tsp

Baking Soda

2

tsp

Salt

2

lg

Eggs

6

cups

Whole Wheat Pastry Flour
Filling
8

tbsp

Butter, divided

2

cups

Brown Sugar, packed

1 1/2

tbsp

Cinnamon
Frosting (Optional)
8

tbsp

Butter, softened

4

oz

Cream Cheese

3

cups

Powdered Sugar

1

tbsp

Milk or cream

1

tsp

Vanilla extract

or Maple, or Orange

Water for thinning
Instructions
Combine the warm water and yeast in a bowl

In a saucepan, heat the sour cream until warm and smooth, but not bubbling.

In a medium bowl, mix the brown sugar and cinnamon until blended.  Cover with plastic wrap and set aside.

Combine the honey, butter, baking soda, salt, and eggs with a mixer in a large bowl.  Add the sour cream and mix until it cools to lukewarm.  Add the yeast water.  Add half the flour and mix to form a medium batter. 

Switch to a dough hook, if you have one – the paddle will grind too hard for your mixer.  Otherwise, add two more cups of flour and mix with your hands or the hook.  Continue to add remaining flour just until you form a dough that pulls clean. Cover the bowl with plastic wrap and let it sit in the refrigerator overnight.

Place the refrigerated dough in your mixing bowl or on your counter. Knead the dough for about 6 minutes on the mixer, or 10-15 by hand until it's soft and elastic. 

Split into two equal pieces.  Wrap in plastic and refrigerate for 30 minutes.

Roll one piece into a rectangle about 13" X 18" in size.  Melt 4 tablespoons of butter and spread evenly over the dough.  Sprinkle the brown sugar filling over the dough, coming to 1/2" of the long edge but overflowing on the short edges.  (We'll roll up the long edge and the filling will bubble out the top of the cut rolls.)

From the long side, roll up the dough delicately, starting with just your fingertips – no pulling or stretching.  Once you get it started it's much easier to roll it all the way to a long cylinder.  Pinch the seam closed tightly.  

With kitchen shears or a dough scraper, cut the cylinder in half, then half again, and then cut the individual rolls at about 1″.  Place the rolls in a greased 9″X13″ pan.  Leave a little room to expand.

Repeat with the second lump of dough.  Let the rolls rise for about 30 minutes to an hour.

Bake at 350F for 25 minutes.
Frosting
Mix the butter and cream cheese until blended.  Add the flavoring, then the sugar with the milk or cream. (I drape a very light tea towel over the mixer to keep the powdered sugar from coating my kitchen.)  

Finally, add water a tablespoon at a time just until the frosting will barely pour from a spoon – about 3 tablespoons.

When the rolls are done baking, let them cool for about five minutes, then pour the icing generously over the rolls
I recommend a silicone mat to use when baking your rolls. It prevents sticking and makes cleanup so much easier. Here's a great, reasonably priced option from Kerekes – The Chef Station: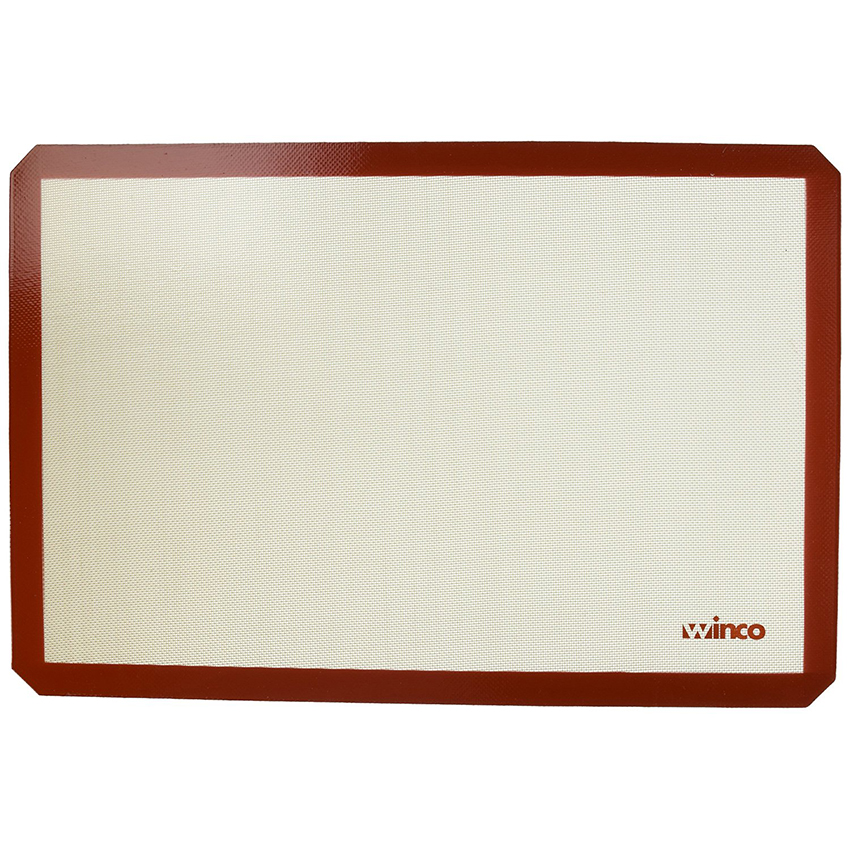 Winco Silicone Baking Mat, 11-7/8″ x 16-1/2″

Questions? Comments? Check out my post on Baking with Whole Wheat Flour, and leave a comment below.